Mental health awareness is one of the YDWG's objectives for 2018/19
When it comes to physical health, everybody seems to be concerned about it and tries to live an acceptable lifestyle. Nevertheless, the mental aspect happens to be quite forgotten. We had a talk with Desireé Van Langen (member of the Youth Development Working Group), and Sara Þöll (member of OBESSU), to take a deeper look into the importance of mental health, and how these young organizations are trying to contribute towards improving the youngsters' situation.
Raising awareness on dealing with mental health issues was established as one of the YDWG's priorities during the Yerevan's EPM of 2018, since stress and burnout have become a global epidemic affecting up to 25 percent of students and professionals. In order to accomplish this purpose, the focus group has set up a Mental Health Taskforce in which they work on materials and sessions about burn-out, stigma reduction, promotion of self-care and positive mental health, and laughing workshops.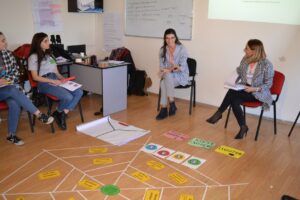 For the moment, only AEGEE-Tbilisi (Georgia) has given a Mental Health Awareness Workshop, and the participants said that they were inspired and motivated. The YDWG plans on organizing at least 50 activities in approximately 30 antennae, everything oriented to promote positive mental health and provide wider resources of information. One of these sources is the Informational Handbook For The Promotion of Positive Mental Health, a free guide written by Georgian psychologists Maia Khositashvili and Tamar Jananashvili, that will be published online on the YDWG's social media webpages. Regarding their accounts, February is their Youth Development Action Month, so they have a Facebook event with daily posts that includes relax challenges.
It is also noteworthy that AEGEE was one of the organizations signing OBESSU's project Mind our education, a campaign that demands an adequate environment to fully access education which begins with the appropriate psychological support. According to their survey conducted among their members, around 66,7 percent of students confessed that school environment is highly stressful, and therefore this can lead to poor day-to-day and formation conditions. Taking into account that OBESSU is an organization that fights for students' rights, this topic defined one of their aims for 2018 and was registered in their policy paper. They also participated in the mental health panel organized by Mental Health Europe, and are working on spreading their word throughout Europe which stands as proof of the increasing importance that youth working groups are giving to this topic.

All in all, remember, mental health is the base to a happy life. If you are struggling with mental health issues, know someone who is suffering from this, or just want to enlarge your knowledge, you should follow the YDWG accounts.But most importantly, don't be ashamed of seeking help from professionals and those who love you.