Have you ever wondered why it is so difficult to explain to anyone what AEGEE is about?
Starting with the facts and figures is easy (40 countries, 200 antennae etc.), but making an impression with fancy words like "interdisciplinary" will not have the same effect in all cases.
"And what are you guys doing exactly?" – This is a tough one. From organising cultural exchanges and Summer Universities to striving for a peaceful Europe without borders, from making new friends around the continent to promoting active citizenship, by trying to grasp the impact that the European youth`s opinion could have on the future of Europe.
"How come I haven´t heard about you before?" – Valid point. According to many, the answer is simple: we are still lacking something that many other non-governmental organisations (NGOs) have already perfected and have been benefiting from for a while, and that is a clear image/representation and being established as an attractive brand. This is why the development of a powerful Visual Identity for AEGEE will be the next step on the rough way to success. Are you ready for it?
"Oh, not this again…" – Some of you might say, but stay with us for a moment. Never underestimate the psychological impact of a well-known logo or a familiar shape. Marketing specialists have already mastered the art of guiding our attention span, through carefully planned stimuli, a distinctive set of colours or an eye-catching logo. Brand recognition is one of the key elements in today`s fast-moving society, where our perception scale is narrowing down, but our WiFi-dependency is growing incessantly.
Do you see what is happening here? There are a set of already established images in our minds, influencing us on a daily basis. Since we cannot turn the tide, we might as well take advantage of it – and conclude all the hard work that has been done so far to make our AEGEE more attractive and more distinguished from other NGOs. We do not have to look far to get some inspiration and stay motivated in the progress.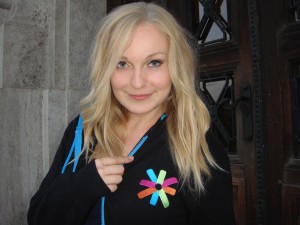 AEGEE`s Visual Identity is not only the corporate image for externals, but also the feeling of belonging for members; a membership to be proud of. There is no one-line answer to the question "Who are we?", but there is a way to work around the subject, trigger curiosity, build up interest, encourage involvement and just like that, your local has a new member, congratulations!
Some of us are here for the parties and some of us are here to make the world a better place; the opposing sides might never be on the same page, but that does not mean we cannot be unanimous in our love for AEGEE and unified in our representation for its promoting.
Written by Réka Salamon, AEGEE-Debrecen