This year, AEGEE-Debrecen and AEGEE-Sibiu joined forces to organize a unique joint Traveling Summer University (TSU), The HungaRomanian Adventure. Participants were offered a unique chance of getting familiar with the antennae's surroundings in Hungary and Romania. In the end, 25 brave AEGEEans participated, teaming up with 30 organizers and helpers.
Participating in this TSU gave everyone the opportunity to get acquainted with the local spirit: true Central-Eastern-European hospitality and tasting Hungarian and Romanian culture. Also included was getting to know why so many people get mesmerized by Tokaji wine and pálinka. Trying some traditional folk dances and handicrafts and then getting refreshed a bit in famous, local spas were some additional treats.
On top of all the fun activities, numerous cultural, historical, geographical and local language workshops as well as AEGEE presentations were incorporated into the programme. But we will let some participants tell you about it.
Oscar Petreñas Campos (AEGEE-Madrid):
As the gates of the plane closed, I had the feeling that, as if by magic, everyone turned to become Hungarian, even though I was still in Spain. I thought 'OK you are alone beyond this moment, I'm surrounded by foreign and unknown people'. This was more or less the feeling I had until we played the ice-breaking games in Debrecen, which helped me gain confidence. After that, in a few days I realized how amazing all the people were there.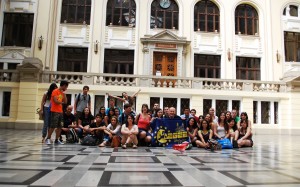 To tell the truth, I had never thought about going to Hungary or Romania, and this was the third Open Call I applied for. I just happened to experience 'The HungaRomanian Adventure', but I don't regret it at all!
I didn't have any special expectations, I just wanted to be in a country in Eastern-Europe, and I wanted to feel its lifestyle. I must say that I found a quite different lifestyle to the one I am used to, but I loved it. I loved the way cities are built in Hungary, so different from Spain, the old style trains, the wonderful thermal water facilities they have, such as Miskolc Cave Baths, or the swimming pools of Debrecen – a very good option to avoid the 'meleg'  [the heat] of the hot Hungarian summer days.
I loved the culture I discovered in Hungary, enjoying the workshop about traditional dances, o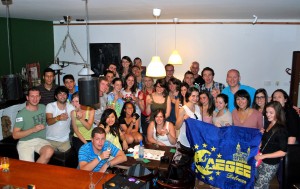 r trying the typical local cuisine and national drinks – I really liked 'Tokaji' wine, although pálinka was nice too. I must admit that the dishes were sometimes too spicy. I like spicy recipes, but I almost died eating 'magyaros' [Hungarian style] hamburgers.
Romania also had interesting places, like the Salty Lakes (Ocna Lakes) we visited, in which we could float without making any effort, or cover your entire body with black mud which is good for your skin (and for taking funny and original pictures)! It was also nice to walk around in Sibiu enjoying vanilla ice-cream and discovering the beauties of the city.
Checking some Facebook profiles of the future participants beforehand, I would not have imagined the amount of funny photos that we would share in a few weeks. This journey enabled me to enjoy the summer in a different way, and encouraged me to become a more active AEGEEan, and of course, to apply for more SUs next summer!
Heleen Yu (AEGEE-Leuven):
After being a helper and organizer in two Summer Universities, it was finally time for me to be a participant. It's a totally different experience, but it is equally fun. I have always wanted to visit Romania and Hungary. Even though I had never heard of Debrecen and Sibiu before, I decided to apply.
The first part of our SU was Hungary. Right before we landed at Debrecen Airport, my first thought about it was: are we landing in a field? It was the smallest airport that I've ever seen. So I had no idea about what to expect from the second largest city of Hungary anymore. It all ended up surprising me in a good way.
We had activities like the usual city rallies, but also typical Hungarian things like the infamous pálinka or 'Tokaji' wine tasting, eating some (weird) home-made Hungarian food, which was actually nice. We even saw the Hungarian grey cattle which you can only find in Hortobágy.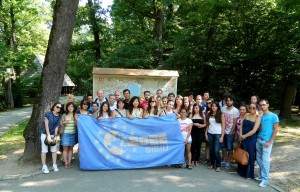 After ten days and a really long busride, it was finally time for Sibiu, Romania. It is a nice city, except for the houses in the old center, which are 'watching you'. They were a bit creepy. We only stayed there for three days but we visited the Astra Open Air Museum Complex, so I think I have a good idea about traditional Romania now. For me, the best part of Sibiu was the Salty Lakes. Even though I was a little bit sceptical in the beginning, it was a really unique experience for me.
And last but not least, a great Romanian Cultural Evening ended the last part of the TSU where we were introduced to delicious Romanian food.
Karlien Kruizinga (AEGEE-Groningen):
'The HungaRomanian Adventure' was my first SU and I had no idea what to expect, I had never been to Hungary or Romania before and I had never heard of Debrecen or Sibiu.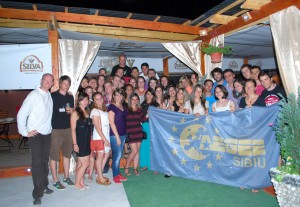 After the flight and another three hours train ride, I finally arrived in Debrecen where we got a warm welcome. We did a lot of things in Hungary and when it was time to leave Hungary we took a long, bumpy ride to Sibiu, a really beautiful medieval city. Even though we had only three days there, we saw the traditional Romanian life in the world-famous Astra Museum Complex, had a karaoke party and visited the, in the beginning very weird, but at the end very cool, Salty Lakes.
Then it was time to say goodbye and go back home. But it was called 'The HungaRomanian Adventure', so there had to be a literally adventurous part, and that happened when our bus unexpectedly broke down in the middle of nowhere in Romania. Yet, after a short yet stressful stop, we all continued our way and arrived safely in Hungary and we had a happy ending for an amazing experience!
Written by Oscar Petreñas Campos (AEGEE-Madrid), Heleen Yu (AEGEE-Leuven), Karlien Kruizinga (AEGEE-Groningen), Balázs Kovács (AEGEE-Debrecen)