The Network Commissioners are currently choosing where they will host the autumn Network Meetings. It is already known that AEGEE-Brescia will host for the Rainbow area but others are still in the application process. What do antennae get out of organizing Network Meetings? The AEGEEan interviewed two different antennae about this.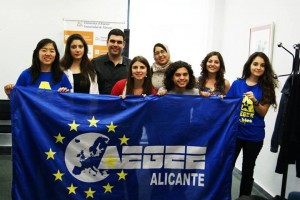 Carmen María and Sora Chung from AEGEE-Alicante as well as Paulina Galas from AEGEE-Gliwice spoke with The AEGEEan about the two different Network Meetings that they helped organizing this spring. Two different events with few things in common. Network Meetings are usually organized twice a year in the areas of the different Network Commissioners and therefore it is done in close collaboration with the Network Commission. Gathering board and active members of antennae to  talk especially about cooperation between the antennae and the usual fruitful outcome of the event makes it very important in many members' perspective. That's why The AEGEEan interviewed the two different antennae about their interest in hosting the Spring NWM Alicante & NWM Silesia and how it went.
The AEGEEan: Why did you apply to organize the Spring NWM?
AEGEE-Alicante: It was something we wanted to do for a while. We applied two years ago, but we didn't get it. This time, we knew we had to, some of us had enough experience organizing events and the team was very motivated to host the event.
AEGEE-Gliwice: Before the applications for organizing the Spring NWM, we got a proposition to take on this task together with AEGEE Katowice. At this time, we had a small number of members to take on this challenge alone. We agreed. And so began our joint adventure over the work on the project. It was a great opportunity for us to check our ability and demonstrate strong commitment and work, be able to develop our skills and learn something new from each other.
The AEGEEan: How did it go with the organization of the NWM?
AEGEE-Alicante: It was simple but complicated at the same time, we didn't need to worry about the program, the accommodation and meals were provided by the lodging, so, we "only" had to work on the logistics for workshops, coffee breaks and social program for almost 80 people. We wanted to give this NWM a special touch and take care of every detail, so we even prepared some surprises for the three participants who were celebrating their birthday during the weekend.
We also worked hard on the fundraising and step by step, we were getting everything: we needed, notebooks, pens, bags, snacks for coffee breaks. Even a transport company collaborated with us by bringing the notebooks from Girona (Barcelona) to Alicante. Thanks to this, we were able to offer better coffee breaks and prepare all the surprises.
AEGEE-Gliwice: Initially it was hard because of the fact that the entire board of AEGEE-Gliwice was involved in organizing the Network Meeting Silesia, but the common sharing of responsibilities and the support of members of the antenna. We acted together with AEGEE-Katowice, but also together with those who from the beginning were not involved in the project. This makes that the entire antenna identified with the project with each enjoying its success and it gives a lot of satisfaction.
The AEGEEan: What challenges did you have?
AEGEE-Alicante: Maybe, organising an event in a town where none of us were there before. We only knew what "oldies" told us from the last event held in Moraira about four years ago and the info we could find through internet. Until the day we went to visit Moraira, we didn't really know for sure what we could offer for workshops, social program, and all the logistics. The City Hall of Teulada-Moraira helped us a lot with it, they even lent us a projector in order to be able to have parallel sessions.
AEGEE-Gliwice: Selecting the appropriate deadline for project meetings caused us a big problem due to the large number of people working on the project in each  locals. We came together for a solution that the meeting may be held alternately in Katowice and Gliwice, which gave us the opportunity to better know the area and the city in which we operate. The big challenge for us was to obtain the project partners due to the relatively large number of student organizations operating at the Silesian University of Technology directed to technical aspects. However, by working together with AEGEE-Katowice managed to gain the support of several companies.
The AEGEEan: What was your favorite part of organising the NWM?
AEGEE-Alicante: Everything, our motivation since we saw the open call to host this NWM, the moment when we decided to apply, the excitement we felt when we sent our application, the joy when we knew we were chosen, our first organizers' meeting, designing the official images of the NWM, contacting companies and public institutions and receiving positive answers from them, knowing the list of participants and starting the incoming, witnessing how this NWM was becoming real step by step, day by day, the stress of the logistics on the first day of the event, the NWM itself, the team, the participants, La Tripulación (our NetCom team), the trainers, the lodging and its staff, the parties, the meals, the evaluation post-event of the participants… just… everything…
AEGEE-Gliwice: In our opinion, when so many people where with us in Zabrze, was the favorite part of organizing this event. It was an amazing experience seeing people having a good time which appreciated our job. Nothing can replace that feeling, when you see that all your work has brought positive results. It is also worth mentioning that the best thing that happened to us is that we could learn from each other.
The AEGEEan: What do you think is essential for an antenna to have when committing to organising such an important event?
AEGEE-Alicante: A committed team and experienced people on the core team to guide and manage the event properly. People must be motivated to do such work and always willing to learn and improve personally and for the antenna.
AEGEE-Gliwice: Brigade of people full of willingness to act! It is true that without human resource we would not have been able to organize such a big event. It is not a secret that during the period preceding the NWM lots of us have their morale fallen. It is important to motivate each other and to keep up the positive AEGEE spirit in the teammates. People must have designated one major aim: "To organize a magnificent NWM what will not disappear from people's mouths for a long time. An event that will be called as "so far the best NWM that ever happened." Having that goal specified and working as a team are two fundamental things to achieve your ambitions.
The AEGEEan: Since both of you mention the importance of members, how do you work on keeping a high level of active members?
AEGEE-Alicante: We try to do local activities and meetings to facilitate teambuilding and knowledge transfer. We want to involve our members from the very beginning so they feel comfortable to participate and contribute.
AEGEE-Gliwice: To keep a high level of active members we are trying to conduct the integration projects in which we can meet each other closer. Twice a year we have Local Training Courses with two levels of education programs. After each meeting for all the members of AEGEE-Gliwice, we go to integrate with each other or we play funny games. What is more, we have volleyball games or movie marathons for our members.
The AEGEEan: How did you collaborate with the Network Commission?
AEGEE-Alicante: It was very good. We had Carmen María as link (she was in both teams) so we think the communication flow worked out quite well. We were pretty accessible and comprehensive with changes and so they did with our local needs.
AEGEE-Gliwice: The very first task in working as a group is to divide the responsibilities between members. That's how we started. Some of us were assigned to work with the accommodation issue. Others got the 'burden' to organize food, parties, place for workshops and other, less significant stuff but still connected with NWM, which makes all these responsibilities important. While we were focused on our job, the Network Commissioner was absorbed in the organization of the workshops – preparing schedule. It should be taken into account that they are divided into thematic paths: European, Adventure, Local, Personal Development and Board. In addition, he has created the application form that after being fulfilled by applicants was essential in our decision whether someone qualifies or not.
The AEGEEan: Why would you encourage other antennae to organize a NWM?
AEGEE-Alicante: For us it is an important event and it can help newbies to understand the importance of the statutory events, to get to know more members from our area and to motivate themselves to keep participating and become more active.
AEGEE-Gliwice: Organizing this kind of event may be, and usually is, exhausting for whole team. However, the satisfaction from being a cog of a machine responsible for making the NWM possible gives extra power and rises spirit to do even more and keep up with work vortex. According to someone's words: "No risk, no fun", we should all follow this quotation trying to take risks, because they may bring more benefits than cons to us. If you are longing for a chance to develop yourself and to spend great time with many inspiring people, don't hesitate to apply for this challenging position. Become a member of group that is working on such an incredible event like NWM!
The AEGEEan: What else are you working on in your antenna now after the Network Meeting?
AEGEE-Alicante: We are currently working on organizing our Summer University, we have implemented the Buddy program for the first time in the University of Alicante, we are also working together with ESN-Alicante in a booklet for Erasmus incoming. And we have applied to host the Fundraising European School. Apart fromthat we have local activities and meetings to facilitate teambuilding and knowledge transfer.
AEGEE-Gliwice: We would like to increase the activity of our working groups: HR, FR, PR, Cooking, Sport and Film WG. We also have integration trips like a three days tour in the mountains.  We organized a Summer University in 2012 and we would like to do it once again in 2015.
Written by Patricia Anthony, AEGEE-Zaragoza