They were recently chosen as Local of the Month and for a good reason. AEGEE-Leiden is going strong and what they are in particular good at is hosting events! The AEGEEan interviewed Marije Arentze from AEGEE-Leiden about the details behind their antenna hosting the spring Network Meeting (NWM) earlier this year.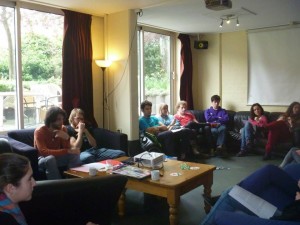 The AEGEEan: Why did you apply to organize the Spring NWM?
Marije: Initially, it was an idea from our group of friends to help out Dominique Lenssen, who was the Network Commissioner at that time, and who was having a lot of trouble finding a local to host the Spring NWM. Since for us the idea of not having a Spring NWM in the Dutch network this year was unacceptable, we told the board of AEGEE-Leiden we would be willing to help her out and organize a basic NWM if no other local wanted to. And so it happened. But, what started out as a minimalistic plan, ended up as an event that we all worked for with a lot of creativity and enthusiasm, and it turned out to be a great success.
The AEGEEan: What experience do you have with organizing events in your antenna?
Marije: We also organized the Spring NWM last year, and we did it with more or less the same people this year. I can truly say we are a well-oiled machine. Besides, AEGEE-Leiden organizes a Summer University and a New Year Event every year, our yearly Show Your Color party for the whole network and a lot of local activities and trips, etc.
The AEGEEan: What else have you been working on in AEGEE-Leiden this spring?
Marije: Recently we organized the "Week of Europe". A week in cooperation with many other local student associations and national institutions, full of debates and workshops around the European Parliament Elections, in the first week of May. Even the Dutch Prime Minister, Mark Rutte, was present to give a speech here! This project was organized by our Foundation. Next to that we have our Summer University coming up, three trips (a general members weekend on the countryside, a summer trip to Split, Podgorica and Dubrovnik and a hitchhiking competition to Prague), and many local activities.
The AEGEEan: How do you work on keeping a high level of active members?
Marije: It starts with good recruitment. This year we welcomed around 60 freshmen in September, and the key is to make them bond. This year we had some very strong mentor groups, who still have dinner together and see each other regularly. We have our introduction month in September, with cool activities twice a week, where new members bond with their mentor group members and other freshmen. Then we organize the Local Training Course (LTC) and start up our committees right after, so everyone becomes active directly. Once they joined a committee, members will visit our social drink regularly, if not every week, and so a new generation of active members is born.
The AEGEEan: How did it go with the organization of the NWM?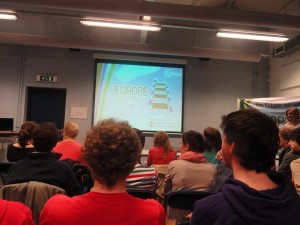 Marije: Perfectly! I honestly cannot mention a problem we encountered. Everything went smoothly, no one was stressed, we were relaxed and had time to have fun with the participants. It was very convenient that the sleeping location and the congress location were at walking distance, and  that we had breakfast at the sleeping location. Leiden is such a small and cosy city and the weather was good, which helped a lot. Another high asset was that we had a lot of AEGEE-Leiden members to help us out. They helped cooking dinner, getting lunch, assisting trainers, guiding and hosting participants; everything was taken care of.
The AEGEEan: What challenges did you have?
Marije: The hardest challenge was getting enough participants. When the first deadline was approaching, we had only eight applications. Luckily, in the end we had almost 40, which is more than enough for a Dutch NWM. After that we needed a lot of information from them (arrival and departure times, allergies, etc), but we only managed to get all the information after a lot of spamming. But that is of course no exception in AEGEE.
The AEGEEan: What was your favorite part of organizing the NWM?
Marije: For me personally, that was the cantus on Saturday evening. A cantus is a traditional Dutch/Belgian students activity with a lot of singing, "punishments" and drinking beer. Our cantus was led by AEGEE-Enschede. We had little more than 50 participants, and it was a great night. Singing songs and getting drunk together is just a great bonding experience, especially with students from all over Europe. Even the AEGEE-Aachen Polar Bear was present.
The AEGEEan: What do you think is essential for the antenna to have when committing to organizing such an important event?
Marije: Good contacts with university and other locations. Flexibility and willingness to help from their side is very important to make the program run smoothly. But most importantly: enough people. Our team of main organisers consisted of four people (including Dominique it makes five). Ideally, the main organizers do all the preparation and don't have big tasks to do during the event itself. The small tasks like running errands, cooking, doing city tours, moving stuff etc. should be done by groups of helpers, a lot of freshmen in our case. The main organisers themselves are there to overlook everything, communicate everything with everybody, solving and avoiding problems. In this way, no one is stressed, and no big problems suddenly occur.
The AEGEEan: How did you collaborate with the Network Commission?
Marije: In most cases, the communication between the Network Commission and Local Organisers is the biggest problem in organizing a Network Meeting. However, in our case, because Dominique is from our local, this was no problem at all. We see each other every week anyway. We had a common group on Whatsapp where everything was discussed, and one big Google spreadsheet with all the information. Decentralizing information is key: Everyone knew everything, and so communication was very easy.
The AEGEEan: Why would you encourage other antennae to organize a NWM?
Marije: Because it is a high profile event, which is good for the visibility of your local, and a very good chance to make a good impression. As a small antenna you can learn and grow from organizing a Network Meeting, because organising a big event is always a bonding experience for the team. Thirdly, it is a chance to introduce new members of your own local to the European Level, because they have the chance to attend sessions. And of course it is lots of fun too!
Written by Patricia Anthony, AEGEE-Zaragoza