The Public Relations Committee (PRC), the body responsible for supporting AEGEE-Europe in the field of public relations with the aim of improving the communication within the association, has two new entries in their Speaker team (ST): Ksenia Lupanova (AEGEE-Moskva) and Jelena Stanković (AEGEE-Beograd). Ksenia and Jelena are respectively the new Speaker and Vice-Speaker of the PRC, positions that were formerly held by Réka Salamon (AEGEE-Debrecen/Aachen) and Panagiotis Barlampas (AEGEE-Athina).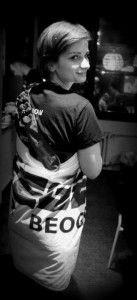 Both Ksenia and Jelena have a long-lasting experience in the role of PR in their locals: Ksenia is studying Architecture and was the PR responsible of AEGEE-Moskva for a year and a half, whereas Jelena studies Marketing in Beograd and has a four-year-long experience in public relations in her local. These two energetic AEGEEans are excited about their new roles and really motivated to do their best: "I chose to candidate for the Speaker team because I  realized that for me it is a treasure, exactly what I want to do in AEGEE, where I can contribute the most for now", says Ksenia. Jelena has the same positive view and thinks that this new experience in the PRC represents a perfect opportunity "to do something creative, inspirational and motivating."
Our two new Speaker and Vice-Speaker are grateful to Réka Salamon and Panagiotis Barlampas, whom they consider inspiring and one of the main sources of motivation in their new adventure in the PRC. That is why Ksenia and Jelena will "have big shoes to fill". Anyway, they are not scared about this new challenge because "when you do something that you love, you do it with pleasure", according to the new Vice-Speaker.
Enthusiasm is fundamental, but so is sense of responsibility. Ksenia and Jelena know that, that is why they are ready to work hard and keep on learning in order to reach new important goals: "We would like to continue with the AEGEE Fair, as it was an amazing experience to make it as a team and we got really good feedback, so based on our try in Patra we will apply again for Agora Cagliari. During the summer period we can concentrate on developing the AEGEE photo Database and intensively keep up with bringing the Visual Identity to Network", says Ksenia. Another important project is the development of an online platform to support the locals in their public relations activities, by giving tips and transferring knowledge to the AEGEEan PR Responsibles in all over Europe.
They have great plans for the future, but in order to reach their aims, one of the hardest challenges to face is the lack of active members in the committee. In order to obtain new members and motivate the passive ones, according to Jelena, "it is necessary to inform people about the importance of this committee, by promoting the PRC during relevant AEGEE events, like the Agorae".
If you are interested in working or developing your PR skills, you can join the PRC by visiting their Facebook page or their site.
Written by Larisa Smajlagic,  AEGEE-Verona