A lot of students dream about spending one or two semester abroad in a foreign country. And why not? The experience is amazing; you get to meet all these new amazing people from different countries with various backgrounds. You get to go to parties and stay out as late as you want. You can go on trips, see a country and experience live to the fullest. Erasmus life is like a rollercoaster ride. You go up and down, up and down and everything is so exciting. The sad part is at the end of the ride, when you have to get off the train.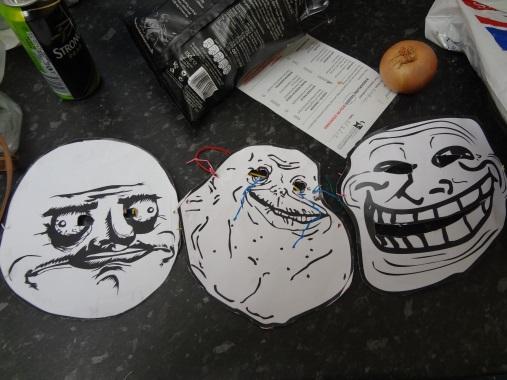 When I came back from my Erasmus period in the UK in June of 2013, I was excited to see all my friends and my family back at home. It was nice to show everyone the pictures I made and to tell people about my adventures. It was really nice for about three weeks and that was when I started to miss everyone from my Erasmus. Yes, we still keep in touch via facebook and whatsapp and I email my best friend from my Erasmus weekly but it is just not the same. You can't go to a party and create crazy masks before going there, you can't go over to their house and have a movie marathon. You can't talk about missing your home with them because you are already home (and people might think you are crazy if you start talking about home when you are already home). You are back in your old life, and it feels like a safety blanket and you appreciate it, but it is just less exciting.
Am I overreacting? I might be, who knows? But that doesn't mean that some people don't experience a post-Erasmus-depression or The Erasmus Blues as it is called by those who actually went on Erasmus. Anyway I know more who have experienced the Erasmus Blues. For example a friend of mine went to America for a semester in the beginning of this school year. At first she was scared to leave her home but when she came back from America she was just excited as I was. She had such a brilliant time and made so many friends and it was in one word: amazing. I know you may think we are dweeps who spend all their time complaining and complaining is so hipster nowadays. But I honestly think Erasmus Blues (yes, I am sticking with it) is a real thing.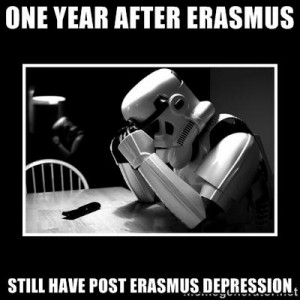 So what did I do to not dwell on the exciting life that I left behind? You simply get up every day and do your thing. I know I sound sappy and yes, I may have mourned for a couple of weeks. I thought quite a lot about the awesome time I had and I spend a lot of time talking to and about my Erasmus friends. But I also went to see my friends from home and since it was summer I spend some time working as well. For me it was important to get out of my house and to experience life again. Honestly some days I felt like laying in my bed all day and not getting up because life just wasn't that exciting but then again I didn't experience all of those amazing things by laying in bed. What also helped was making a photo album. I had all these pictures and I figured I had to do something with them so I spend a year making a photo album. It was nice to recall all those memories and put them together in a book.
To conclude my story; my Erasmus experience was amazing and I learned so much about myself during that time. You should try to make the most out of that experience during and after that period. Keep being that open-minded person you were during your Erasmus period and enjoy your memories. In the end the experience was worth the goodbye.
Written by Majka Geerts, AEGEE-Nijmegen