This August, the collaboration between three organising antennae, 26 volunteers and helpers from AEGEE-Pécs, AEGEE-Piliscsaba and AEGEE-Debrecen made it possible for 21 participants, representing 13 nations (including Hungary as a hosting nation) and coming from 23 universities, to visit eight Hungarian cities during the fifteen days of a one-of-a-kind all-Hungarian AEGEE travelling summer university entitled "SPAice Up Your Life With Hungarian Culture".
During the Summer University, the group visited all cities with an AEGEE-local in Hungary and even more than those. Pécs, Szigetvár, Palkonya, Orfű, Piliscsaba, Budapest, Hortobágy and Debrecen were all among the destinations, creating a pretty comprehensive rush through Hungary, offering participants a closer insight into the Hungarian language, gastronomy, culture and history. Let's see the highlights of this Summer University, as described by Mar Valero Mas, who is a member of AEGEE-Alicante!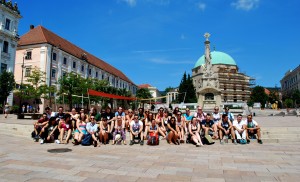 After months of waiting for it, the experience finally started. The first stop was Pécs, where we were received by the lovely members of AEGEE-Pécs, who were travelling with us all throughout the whole event. It were five amazing days with incredibly good weather (it seemed like the week before it was raining cats and dogs!), where we got the opportunity to discover the city of Pécs, European Capital of Culture in 2010, through a funny city rally.
Then, we visited the Fortress of Szigetvár that was defended by the heroic Miklós Zrínyi against the huge Ottoman army in 1566. It is one of the most important national heritages of Hungary. Here, we had the chance to enjoy a performance of how soldiers used to live and what weapons they used when it came to fighting, letting some of us take part in the demonstration.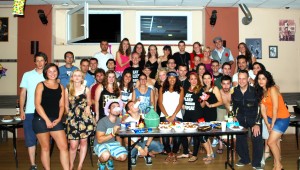 Later on in Pécs, we took a very particular class at the university, namely a Hungarian course. Although some of us couldn't really repeat what we learned in Hungarian, as we do not have a super power! Later that evening, one of the most successful activities took place: the wine tasting in Palkonya, hosted by Mokos Family Cellar. Having been the Cultural Village of Europe in 2007, this small place is part of the famous Villány wine region, which is one of the major wine regions of Hungary.
The day after an exhausting wine tasting, nothing was better than chilling out at a beautiful lake of Orfű with a breathtaking landscape.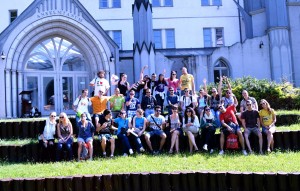 Then, it was time to leave Pécs and we set off to Piliscsaba with the nice members of AEGEE-Piliscsaba, a small town 24 kilometres away from Budapest. Despite the fact that the weather was not really good there, we were able to relax in an incredible lodging with amazing views. During our stay in this lovely place, we took some heated Hungarian folk dance classes, so now we are able to dance as good as Hungarians do!
The next stop was our weekend in the capital city, Budapest. After a tiring trip, we got ready for a boat trip on River Danube, which definitely was a unique experience. Later, we could experience the vibrant nightlife in Budapest – totally worthy of trying! The day to go for sightseeing in Budapest arrived. During the morning we visited Gellért Hill, a 235 meters high hill overlooking the Danube and the Citadella, which is at the top of the hill, where we enjoyed the astonishing view of the city. We also visited the Buda Castle, the historical castle and palace complex of the Hungarian kings in Budapest, through a funny city rally. After, there was a break for a typical Hungarian lunch to get some extra energy and the sightseeing had to go on again! We enjoyed a guided tour in the City Park which started at Heroes' Square ("Hősök Tere") with a smart and funny guide who taught us a lot about the history of Hungary and Budapest in particular.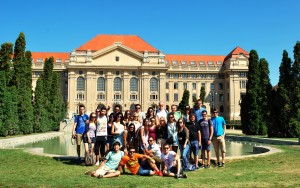 Then it was time to say goodbye to Budapest and also time to leave for our final stop: Debrecen, the second largest city in Hungary. During the sightseeing day, we had a university tour in the morning and in the afternoon, after the city tour, a treasure hunt allowed us to discover the city by ourselves. One of the most expected activities arrived, namely the pálinka tasting evening! It was a very nice experience and everyone survived (more or less!).
We had the opportunity to visit Hortobágy National Park, a park rich with folklore and cultural history. Hortobágy is a steppe, a grassy plain with Hungarian Grey cattle, Racka sheep, Water Buffalo, and horses tended by herdsmen.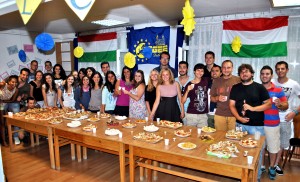 And finally the 20th of August arrived, which is the official birthday of Hungary. Debrecen is home to the Flower Carnival, so we got the chance to join the celebration and we watched spectacular flower floats decorated with thousands of flowers marching through the streets. Once lunch was finished, we had one of the funniest workshops, this time about "National Stereotypes", where participants of different nations could, by playing different roles, introduce the stereotypes of their countries. To finish the day, we enjoyed the celebratory fireworks, and there was no better way to do it!
Without even noticing it, the last day of the travelling summer university already arrived. We spent it relaxing in a local thermal bath all together. We enjoyed a great evening at the dorm together, saying goodbye to each other, which is always hard! The last morning was a silent one, because everyone was leaving or had already left, but with so many great memories and the promise to meet again – somewhere in Europe!
Written by Mar Valero Mas, AEGEE-Alicante