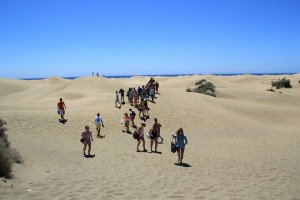 As summer is generally perceived as the favourite season of the year, there is always a lot expected from it.  One of the best ways to fulfill these expectations is the Summer University (SU) program by AEGEE. It is almost impossible to have a bad time in an SU, and each year the expectation, the wanderlust and willingness to meet, brings a bunch of people together somewhere in Europe to live in person this unique experience. And this year, for me and 41 other participants it was Las Palmas.
Flying from middle Europe, the heat on the airport was quite a shock, but fortunately the Canarians built their biggest city in the north of the island, where clouds were protecting us most of the time from being completely sunburn.
And there it was, ride to the city, walk to the hostel and from the start it could be felt that the atmosphere here is different: more relaxed, warmer, Canarian.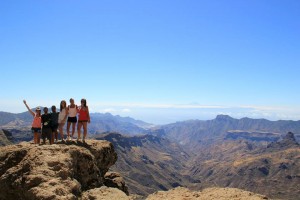 Ahead of us there were two weeks, so intense that I still need the booklet to remember everything we did. As it normally is, the first days were very interesting, with a lot of expectations, uncertainty and other mixed feelings while waiting for other participants to arrive at our paradise to be. We had an easy start to the SU, with a late wake up call, workshop on cultural communication and a lovely afternoon at the famous Las Canteras beach. But there was much more in the bag for us, starting with the next day when we hit the trail to Roque Nublo rock, the trademark of Gran Canaria, situated in an amazing natural park; the landscape seemed to me like it's taken out of some unrealistic picture.
However while we were still getting used to different perception of time here (because 10 German minutes is not same as 10 Spanish minutes, let alone 10 Canarian minutes) there was no mercy when it came to waking up in the early morning. Because despite the effort of our organizers, who were compassionate enough to gently wake us up (once including live guitar solo), it's not easy after we were "on duty" most of the nights.
Our day activities were full of education: we acquired a lot of cultural and historical knowledge as well as new sport skills. And as hard workers at day, we also had to balance that out at night. And trust me when I say, Canarian parties are great. Whether we partied with sixty thousand people in the  traditional la Rama festival in Agaete or we learned some salsa moves at a club, it was nice because we did this together with the people we came to like more and more as the days passed by.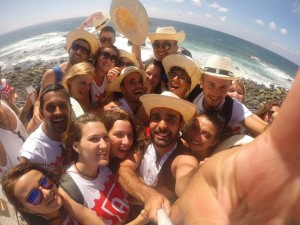 The thematic of the SU was healthy living, so we also had a range of sport activities. Besides hiking we also did kayaking, biking, volleyball and most important surfing. I think all AEGEEans are by default adventurers, but still it was not difficult to adapt to surfers lifestyle. No rush, watching the sun traveling across the sky and then hit the waves, trying to stand up on the surfboard. But the board doesn't wait, it moves constantly, just as we did. And with our super organizers it was not difficult to keep the balance in these days, when they were guiding us over the small continent of Gran Canaria. The island definitely deserves this nickname because of its versatility. After the high peak of las Nieves (1949m), sand and even more sand was waiting for us. Known as the Dunes of Maspalomas this area can really make you feel like a traveler in the middle of the Sahara desert. But of course it was not difficult for us to quickly find a way to have our feet in the air and our head on the ground (piece of advice: if you ever roll down the sandy dune keep your mouth closed).
Unfortunately, also in paradise, days are passing by not asking anyone's permission and so did our SU. It was amazing and a big round of applause for our organizer team for all the work they have done.
I'll skip saying the goodbye part, because I think everyone reading this knows how it is and how comforting the famous saying "See you, sometime,.. somewhere.. in Europe. can be"
And back home when people ask me, how was your summer holiday? I just say great and smile while I remember my fellow participants, amazing organizers and great time we had together. I will miss it and maybe, just maybe I will also miss the always present shout "Guuuys c'mooonnnn".
Written by Bor Žlender, AEGEE-Ljubljana
Photos by: Javier Ramírez Quintana, AEGEE-Las Palmas