In Autumn Agora Cagliari, the new Summer University Coordination Team was elected. Georgia Grolliou (AEGEE-Thessaloniki) is the new Project Manager, Ioana Duca, Financial Director of AEGEE-Europe, is the Comité Directeur appointed member, Ksenia Lupanova (AEGEE-Moskva) is the publication responsible, Suzan Dilara Tokac (AEGEE-Eskisehir) is the PR responsible and Antonis Triantafyllakis (AEGEE-Heraklio) is the IT responsible. From the 3rd to the 5th of December, they met in Budapest in order to draft the new SUCT outline. Here you can find some of the new ideas they had.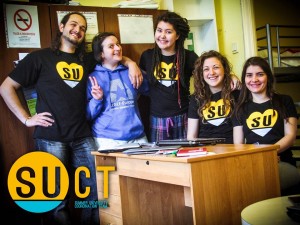 As this year will be the year of the unusual, SUCT did an unuSUal meeting, which (unlike the others that were hosted in the CD house in Brussels) took place in Budapest – in the center of Europe, city of ravishing bridges and lights. It's members were running from one event to another and two of them (Georgia and Ksenia) arrived from the PRES in Poznan. The remaining three members (Antonis, Suzan and Ioana)  were getting ready for the Network Meeting in the city. An apartment became the SUCT home and they did not leave it for two whole days in order to prepare for the most unforgettable SUmmer experience for all AEGEEans.
Georgia Grolliou, the project manager, was the last one to arrive and, since it was her birthday just a couple of days before, they threw her a proper SUrprise birthday party. After a nice traditional Spanish dinner and late night talks they drank their milk and went to bed early. The next day started with a famous AEGEE wake-up call by Financial Director and many times SU Coordinator, Ioana Duca yelling "AEGEE Peeople Come oon Noww Leets Goo Pleeassee Come ooon noww!! You are late agaiiinnn!!!!" And the day started with a beautiful breakfast.
Brace yourselves, a new Theme is coming: GREEN SU
Thousands of AEGEEans, from all around Europe, going somewhere in Europe and gathering for 15 days… spending and wasting is unfortunately inevitable. The thing is, how can we minimize this and turn the tables to our favor? By being more sustainable, using green materials and of course raising awareness through workshops and applied activities. You can either choose GREEN SU as your main theme or combine it with another theme, such as Sports + Green or Culture + Green. And yes, it will be a PLUS for you. The Greener your SU becomes, the higher your ranking will be in the evaluation. Everybody will be Green, High and Happy.
Ready to be a Super Mario
Not only being GREEN, but also other things can give you extra points. SUCT is being very generous and we want to give you a lot of extra points and smiles. More thematic workshops, enriched content, more compulsory sessions (other than the two obligatory ones), and of course our milestone Action Agenda and implementing it to your SUs rewards you with more points. Throughout the year SUCT will be in cooperation with ACT and together we will do our best to ensure the effective implementation of our Action agenda in the SUs. In order to do so, ACT will prepare guidelines for the organizers, including tips, suggestions, workshops and activities to teach people about the Focus Areas and make them ACTive on them…
Last but not least, one of the crucial issues that AEGEEans, the voice of Europe, have to focus on is Disabled Members. We should improve and adjust our activities according to the needs of our members. The SUs which are available for disabled members will be awarded with extra points as well. So get prepare to run around and collect mushrooms (your extra points) while doing amazing things for your participants.
Don't Compete – Be Creative!
Since the idea of giving many many points was well received within the team, another idea was quicly raised: why not give a real award to the ones who deserve it? This year's extra awards will be for the following categories:
– The GREENest SU
– The Best Interactive Activity
– The Best SU T-shirt Design
So get ready to release the creative thoughts in your mind and pour them into your SUmmer!
Our Best Companies, Outgoing Responsibles
Their responsibility is of crucial importance, as they are the ones keeping the project alive with their interactive communication with members, attractive presentations about the project and personal charm to motivate members to participate in a SU. The information they will give to the members is highly important, so as not to deviate from the aim of the project. Creating realistic and appropriate expectations in the members' minds, explaining the real purpose of the project and what is expected from them during an SU are among the essential duties of Outgoing Responsibles.
Having follow up sessions is something the SUCT highly expect from Outgoing Responsibles this year. After the SU period ends and everybody returns to their antennae safe and sound, with lots of unforgettable memories, the Outgoing Responsible should catch those happy thoughts and turn them into productive ideas. OR should meet with the participants so they can share the experience, discuss pros and cons and also to ask how they would like to continue their AEGEE life. As most of the SU participants can tell you, after the project, they came closer to the association and were part of great projects.
 Have you ever participated in a SU? Have you ever wondered about the magic of SU? Do you want to know about SU stories of notable AEGEE people?
A new database is coming! Including more than 100 old/new members of AEGEE who have participated in the SU project which changed their lives and owe all the great work they've done for this association to that great SUmmer. Be ready to discover the secrets of SUccessful members and share their experience.
As you read on, these are the core topics of the upcoming year. Is it all? Of course not. New merchandising, guidelines for organizers, helpful workshop ideas, lots of support and fun is waiting for you along the way to the SUmmer 2015. Don't forget that we are AEGEE, and we never walk alone!
Written by Summer University Coordination Team