During Autumn Agora Cagliari, the Election Observation Project was established as an official project of AEGEE-Europe. After having organised five missions in Scotland, Bosnia and Herzegovina, Moldova and two in Ukraine, the project is already preparing new missions for 2015. We spoke with the Project Manager Thomas Leszke (AEGEE-Köln), Content Manager and Publication Responsible Marije Arentze (AEGEE-Leiden) and Fundraising Responsible Anna Gumbau (AEGEE-Barcelona) to discover something more about the past year missions and their future plans.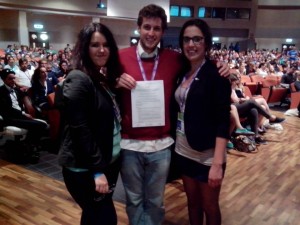 After the first meeting during Autumn Agora Zaragoza, the Election Observation Project grew constantly and right now it has fifteen active contributors "who are literally from all corners of Europe – and even one AEGEE member from Tunisia!" as Thomas states. The adventure of the Election Observations started with the first mission in Ukraine in May, followed by Scotland in September, Bosnia and Herzegovina and Ukraine again in October and Moldova in November.
Marije was Mission Coordinator for Bosnia and Herzegovina and she was in charge of nineteen other observers who visited 45 polling stations overall. "The EOM to Bosnia and Herzegovina was an amazing experience", Marije says. "It was my first time observing elections and I was in charge, which was an extra challenge. Everyone was very serious in his role as observer, which was great to see. The day after the mission, we gathered a lot of really sharp and critical observations, which was very rewarding to me."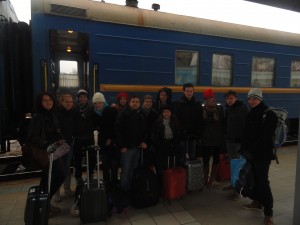 For Anna being Mission Coordinator was also very important: "Moldova was an extremely exciting destination to observe, due to its dilemma of whether strengthening their ties with the European Union or staying close to Russia." The twenty-two observers came from nine different countries and they took the chance to understand better, and in a unique way, the political situation in the country by talking with some journalists in the Central Election Commission after the counting session. With the final report on the way, Anna gave us a sneak peak of the observation: "In general, we didn't observe any majors flaws at the election day, but there were still several things to be improved, since a big majority of voters were not very aware of the voting procedures, the voting was sometimes not really secret, and there were even (very few) cases of group voting."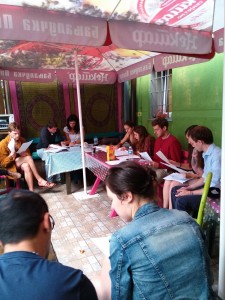 For Moldova, the Project decided for an alternative way of funding: they launched a crowdfunding campaign managing to collect more than 900 euro in a bit more than ten days from AEGEE members and externals. This decision was made considering the fact that tickets to Moldova can be very expensive and observers needed some kind of compensations for their expenses. "Considering the fact that it was the first time that we tried it", says Anna, "and that we organised it on a very short notice and we even had technical problems with the crowdfunding platform, I am not that disappointed with the result". The Network responded well to the initiative, even starting one of their own like Jorge Sánchez Hernandez who launched the "sofa and blanket challenge" on behalf of AEGEE-Alicante and AEGEE-Dresden.
After this intense year the long-waited signature of the contract took place during the closing plenary of Autumn Agora Cagliari. "Although the plenary session was a bit messy and we did not have the opportunity to present the reports from our missions to Ukraine and Bosnia", Thomas recalls, "it was a great feeling to sign our official cooperation with AEGEE-Europe and to get the support of so many AEGEE members!" A great support that was followed by another recognition.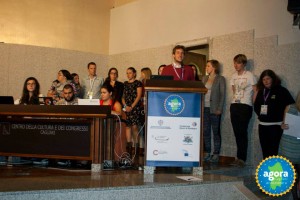 In The Golden Times annual review, the EOP was elected as the best project of 2014 (even though the project was established officially only in late 2014). Asking about why they think so many people named the project Thomas says: "I believe that our project appeals to a wish that many AEGEE members have: to make a direct, obvious, tangible and personal contribution to our European values. We do a lot of discussing in AEGEE (which is good and necessary) but few projects have offered such concrete and challenging activities in the recent past."  Marije adds that "what we do is very attractive: you get to travel, explore another country and meet other cultures. I cannot think of an AEGEEan who does not like that".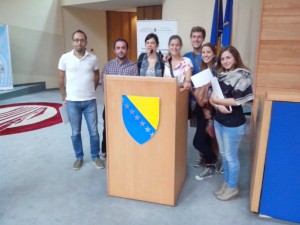 What is next for the Election Observation Project? "At the moment, we are planning ten EOMs in total to countries such as Estonia, United Kingdom, Turkey, Poland, and our favourite country, Ukraine", Thomas says. "Additionally, we might also go to the regional elections in Catalunya that were announced not too long ago. You can see the full list of 2015 EOMs on our website." Not to forget the internal observation missions during Agorae. The EOP managed to run two OM during Spring Agora Patra and Autumn Agora Cagliari and an OM during Spring Agora Oviedo might be expected.
You can find  theElection Observation Project on Facebook or by visiting their website.
Written by Erika Bettin, AEGEE-Venezia