This summer I was a participant of the Travel Summer University (TSU) Fasten the Belt in Belarus, which was been organised by AEGEE-Minsk and AEGEE-Grodno. The TSU through the beautiful Belarus was simply amazing and beyond awesome. We were 15 motivated participants from Spain, Italy, Germany, Czech Republic, Slovakia, Bulgaria, Turkey and Ukraine, all of us ready to know the country better and to have the best summer ever.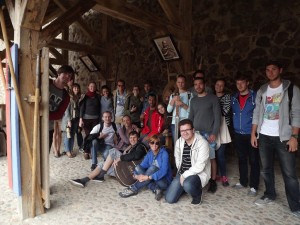 Initially we all signed up to Belarus for exploring an unknown country for most of us, and to dive in both the foreign and enticing Belarusian culture. However, that's just half the story since we were equally ready to rock the dance floors of Belarus once the music went up and  to party throughout the nights once the sun went down in our best AEGEE spirit and make our stay memorable.
Along our TSU, we were accompanied by a core of stellar organisers from Minsk and Grodno. They managed our daily agenda from waking up from the previous night's hangover, to skillfully prepared breakfast, to tying our shoelaces for long and well-planned day trips, to finally singing us Belarusian good night songs when we were at home. We, as participants, were also unanimously amazed by how many motivated and personally interested helpers were on board during many days and nights, always ready to make us happy and feel like at home.
So how did the TSU operationally go? In a nutshell, our TSU organisers took us to three distinct parts of beautiful Belarus: Minsk, Naroch and Grodno.
The first week we stayed in the capital: Minsk, where we enjoyed celebrating the Belarusian Independence Day on the 3rd of July together with organisers and locals. We also grabbed the chance to take part in the very traditional Pagan Kupala Night celebration in the nearby village of Zaslavl, where we prepared flowery crowns, played games, sang chants and danced together in an amphitheater to celebrate the summer solstice. Later that night we joined a giant bonfire and danced around it with locals. We felt very happy to partake and live the atmosphere of the city during these days and day-by-day we were becoming fully and truly Belarusian.
We visited some museums in Minsk like The National Art Museum, The Sculpture Museum of Zair Azgur or The Museum of The Grand Patriotic War. We were also on the roof-top of the National Library and enjoyed a unique 360° birds-eye view over the city.
We also took the bus to the famous and reconstructed village of Dudutki, where we learned about Belarusian life in the countryside of the last centuries. Through a number of small workshops, we got a glimpse into the medieval professions of beekeeping, pottery, music, blacksmith, coin-minting and vodka-distillery. Some of us were lucky to bring home souvenirs after some professional challenges. Finally, we took a day off from our cultural agenda and biked along the park Drozdy to enjoy the great weather, chill and swim in the river Svislach.
The international highlight in Minsk was, without a doubt, the European Night which was celebrated in a lovely cottage outside the city agglomeration. We first sampled the best European foods, drinks and arts and danced on an improvised dance floor. Swings in the garden elicited interesting conversations and those who managed staying half-way sober and awake till the next morning even enjoyed watching the sun rise from a swimming pool.
After Minsk the next stop was the wild nature in the middle of nowhere close to Naroch, the largest and bluest lake of Belarus. We survived together in a cosy cottage which likely never had seen this many visitors all at once. Without much connection to the world to distract us, we had the perfect setting and atmosphere to know each other better. We began feeling like a true family.
Talking about activities, we of course swam in nearby lakes, went for a long, strenuous and totally enjoyable bike tour. During a day the weather did not look so bright, we went to a public swimming pool to get our share of sport.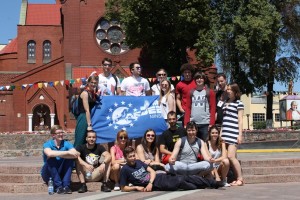 For many of us, these were the most enjoyable days (and I do not say this lightly because all days were great), since we were very close with nature and in a never ending sweet embrace of friends that loved each other more and more day by day.
Then, unfortunately, we had to leave Naroch, but we were also excited for the beginning of our final adventure: Grodno.
On our way to Grodno, we had two stops. The first in Gervyaty to see one of the two Unesco heritage churches of Belarus and the second in Lida, to visit the old castle and taste its famous beer which was quality-checked by our German participants and approved.
Once in Grodno, we had a number of insightful workshops about Belarusian dances and arts, we played extreme city games and challenges and finally we had a lot of fun with pub crawling, freak party and karaoke-night. Our second European Night, in Grodno, was held in a similar setting as the one of Minsk: in a lovely cottage in the countryside where we could be as AEGEE as possible.
During these days we spent together, we learned, laughed, cried, shared special moments and experiences that we will never forget and essentially discovered unforgettable Belarus, a great country with incredible people always ready to help you when necessary.
I would like to thank the organising teams of AEGEE-Minsk and AEGEE-Grodno for this memorable TSU and for turning a good summer into a great one.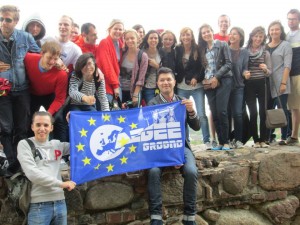 I wholeheartedly recommend every AEGEEan to visit this country, and not to be afraid of getting the visa, if you follow every single step that our friends from Belarus give you, you will not have problems to achieve it. Therefore, let yourself be impressed by beautiful Belarus. I'm certain you will fall in love with the country and its citizens.

Written by Yolanda Villalba, AEGEE-Zaragoza