For the first time, we collected nominations for Local and Member of the Month during the Autumn Agora Kyïv Fair. We received a lot of nominations and, after some consideration, we elected our Member of the Month (MOM) – Agora Edition. The recipient turned out to be Philipp Blum from AEGEE-Aachen, who is also the newly elected IT and Publication Responsible of the Summer University Coordination Team (SUCT). We asked him some questions to get to know him better.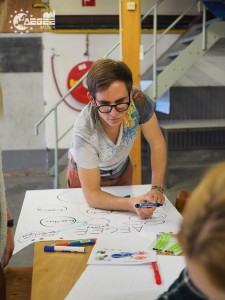 The AEGEEan: Philipp, please introduce yourself!
Philipp: Always a kid, sometimes serious. I'm 24 and doing too much for AEGEE. Full of sarcasm and inappropriate jokes (but I was forbidden to use in this interview): being politically correct is not my style.
How does it feel to be nominated MOM – Agora Edition?
Amazing! It was an amazing Agora for me, where I think I was very active and visible, but I didn't expect this. Motivation for even more to come (he smiles, ed].)?
Who do you think nominated you?
What about you, Eri?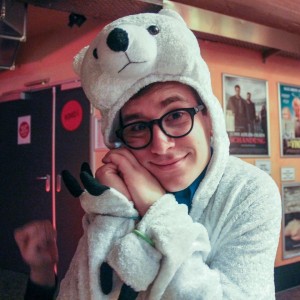 You were President of AEGEE-Aachen. How was the experience of running the local?
It's been an amazing year, in which I learned a lot and had a lot of great feedback from my fellow board members. It's definitely a great feeling to lead and not to follow. In the beginning, I was not sure how the fellow board members and I would handle the situation, because most of us had been in the board already, which meant a change in the hierarchy. Luckily, this went very well and we had great times together. Towards the end, there was a very tiring period where my head was constantly full of dates and checklists. A lot of tasks were concentrating at the same time, we had meetings almost daily and we had troubles finding people for a new board. All in all, it was a bit hard to let go in the end, because it was an awesome year.
What is the best memory you have about being President?
When I first met our Summer University participants, I was actually celebrating a good friend's birthday in a pub, and they by chance came to the same bar. The responsible was like "and this is our President" and everyone came and said hi to me and we had a great night. That was a very happy moment for me and I think it finally made me realise what it's like to be a President.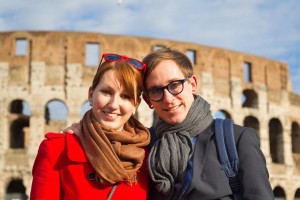 This year you were Creative Director of Key to Europe. Tell us more about your job and how the final product turned out?
That was a great experience. I was very happy to work together with Vincent Bass (AEGEE-Enschede), Erika Bettin (AEGEE-Verona) and others in the team which made it acceptable even if at 2am all your files seem corrupted. When in Kyïv, I couldn't wait to see it and I think I was just looking through it for two hours. The colours really looked gorgeous, and I am very happy with it.
Why did you decide to apply for such a position?
When I saw the previous Key to Europe, I knew that I didn't want pixelated images to happen again. This, combined with the fact that I planned to quit the board and would have time, was basically it.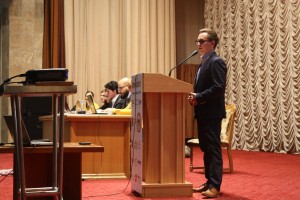 During the Agora you were elected in the SUCT and for one year you will cover the position of IT and Publication Responsible. How did you prepare for the role?
I bought a handbook "PHP for dummies", so I think I will be able to manage the website (he smiles, ed.). No, to be honest, I am doing freelance web development, I did my Bachelor project in PHP and study computer science. I enjoy it, and I am confident I can manage the website. As for the other task: I often have to order materials for our local, and I know what it's like to have a deadline for those, because otherwise they are just not around. After working for the Key to Europe I became confident enough to apply for the position of Publication Responsible for such a big project.
You have already started your term with a team meeting in Bruxelles. How are the vibes so far?
That was a really short-term idea, and I am really happy it worked out. I didn't know Yevgeniya Gagarina (AEGEE-Kyïv) and Carolina Alfano (AEGEE-Salerno) at all, so I was very curious how it is going to be working together. Until now, it's awesome. It's only the beginning of November, and it feels like we already did quite a few things. But in the big picture, I see that we have a lot of work ahead, and I am happy we started early.
Seven candidates and four positions and yet you smashed it, receiving the impressive number of 233 votes out of 260 available. How thin is the air up there?
I went trekking in Nepal two years ago so I am used to it.
Always smiling and in a good mood and energetic. This was one of the reasons why you were nominated. What is your secret?
I drink champagne for breakfast, my motto is "Why not?", and I am pretty much an optimist. Mostly, there is no reason why you should believe something will not work, so believe it will.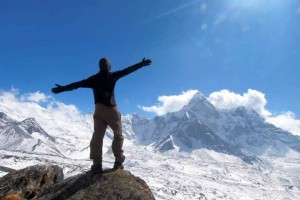 Last but not least, let's play a little game. Explain you and your personality using the letters that compose your name (I.e. P as Pacifist, H as hilarious, I as iconic).
Perfect
Humble
Intelligent
Lazy
Written by Erika Bettin, AEGEE-Verona