One of the aims of our organisation is to foster educating members able to think critically and outside the box, but at the same time to understand the political reality and society, therefore the importance of civic education. During the planning part of EPM Burgos in 2015, the idea to start a campaign to strenghten the teaching of civic education was first proposed and it later developed into the "More than education- European Citizens' Initiative". We spoke to Maria Maris, AEGEE- Cluj-Napoca and currently the CD assistant on communication, and she gave us a useful, clear and short guide to it. 
The AEGEEan: Why Civic Education?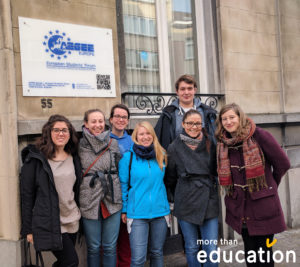 Maria: For us, civic education means learning critical thinking, political participation and open-mindedness. Civic education is the attempt to teach and show people how the world works, so they can become active and responsible citizens. Also, AEGEE is doing non-formal civic education [she smiles, ed.]. Didn't we become more active and responsible citizens because of AEGEE?
What is the European Citizens' Initiative (ECI) ?
The European Citizens' Initiative is the 1st and ONLY tool for direct democracy in the European Union! ECI means collecting 1.000.000 signatures in one year throughout Europe from at least seven EU Member States. People have the chance to participate directly in the development of EU policies. With their signature, citizens call on the European Commission to make a legislative proposal about a certain topic – in this case improving civic education in the whole Europe!
Why did you decide to have this campaign?
To put it clear out there: civic education is the way to a functional democracy.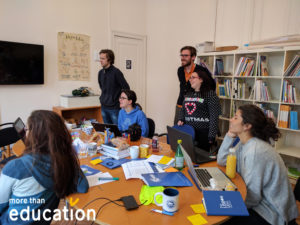 We strongly believe that a democracy relies, for its legitimacy, on active and responsible citizens. We all know that at the heart of democracy are people. This should make it clear that a democracy can only function and be successful if citizens are active and involved in their societies. Teaching civic competences at school is crucial for a democratic society.

Civic education in Europe is currently insufficient and incoherent. Therefore, teaching civic competences should be strengthened and coordinated throughout Europe.
That is why "More Than Education" calls on the European Commission to set up a long-term agenda for coordinating civic education among EU members states, create benchmarks, offer space for exchanging best practices, strengthen financial support programmes for consultation and networking projects in civic education policy, organise periodic evaluation and, all in all, support member states in their responsibility of providing civic education. Shortly: bring all EU member states to talk and work together on civic education and make civic education more popular in the EU.
And of course… Because it is awesome!
The idea to launch an European Citizens' Initiative  was included in AEGEE's Action Agenda during the European Planning Meeting in Burgos in February 2015. Civic education is one of the four focus areas of AEGEE and starting an ECI supports the aim of setting civic education on the political agenda at all levels.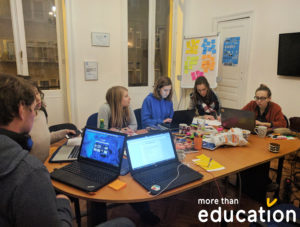 Who is part of the task force?
We currently have a team of 20 people that work on different tasks and subteams. Maybe it is important to mention that besides external relations, PR, FR and so on we have the national coordinators. They are responsible for the strategy of collecting signatures, making new partners and recruiting and coordinating ambassadors for the ECI in their own country. Currently, we are looking for more national coordinators. If anyone is interested and want to have more information about it, please contact us at contact@morethaneducation.eu.
What can locals do to join this initiative?
Here you can find a useful document with all the guidelines for locals.
To sum up:
#WHAT – We want to put civic education on the European political agenda.
#CivicEducation – means learning the competencies, i.e. skills, knowledge and attitudes, required to be an active, democratic and responsible citizen.
#WHY – without education there is no real democracy.
#HOW – By collecting 1.000.000 signatures for ECI.
#ECI – The European Citizens' Initiative (ECI) allows one million EU citizens to participate directly in the development of EU policies, by calling on the European Commission to make a legislative proposal.
#WhatYOUcando!
#SIGN the ECI
#LIKE us
#Donate www.morethaneducation.eu/donate/
#Collect signatures!
#Promote the ECI in your local
#Be part of the ECI Task Force
#Be CIVIC and EDUCATED!
Written by Erika Bettin, AEGEE-Verona