Last January, AEGEE-Nijmegen organised a workshop about Sign Language (Civic Education Focus Area). For this reason, they were chosen as ACTive Local of the Month of January. We spoke with Daisy Brugman, President of AEGEE-Nijmegen, to find out more!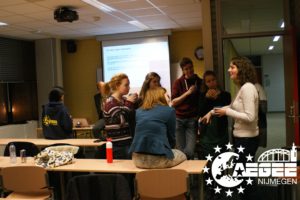 ACT: Which emotions did you have when you knew that AEGEE-Nijmegen was chosen as ACTive local of January?
Daisy: We couldn't believe it actually! We were overwhelmed with joy after re-reading the e-mail. Thank you for the title, it makes us even more determined and enthusiastic to organise more activities!
Why did you decide to organise a workshop about Sign Language?
Every year our committee Formal Activities organises different formal activities varying from language workshops to lectures. After brainstorming they came up with a workshop about sign language. One of the members of that committee was following that subject for her studies, so she contacted her lecturer who gave the sign language workshop.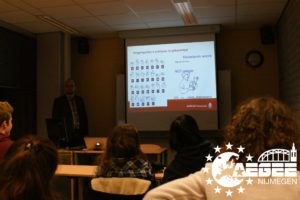 What was the result of the workshop?
We invited a teacher who gives the course 'sign language' at our university. During the workshop he first explained what sign language actually was and how it is in practice. Then we started off with learning some basic signs. In the end we even translated parts from our website! So the members who remember the signs can now promote AEGEE in sign language.
There were around 14 members of AEGEE-Nijmegen attending the workshop. We heard only good things about the workshop from the members and the committee was really content with the results! I think that thanks to this workshop more people realise how different it is for a deaf person to communicate.
How do you inform your members about the Action Agenda/Strategic Plan?
We tell our new members about the Action Agenda and Strategic Plan during our introductory period. During every introduction we always have one information evening about AEGEE-Europe! We also inform our members by our newsletter, Facebook page and website as well as by face to face talks.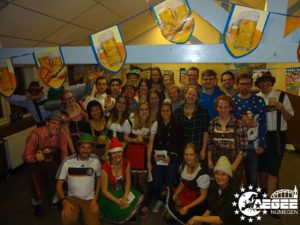 Do you have any other activities related to the Action Agenda/Strategic Plan?
We organised a few Action Agenda activities this past year. For example we had an improvisation workshop, a first aid workshop and a Dutch course. Our highlight of the year was the Network Meeting in April, which included multiple topics related to the Action Agenda and Strategic plan. I hope we can organise even more activities in the upcoming months!
Why should other locals organise activities related to the Action Agenda/Strategic Plan?
Because the Strategic Plan gives locals a goal to aim and the Action Agenda gives locals a path to follow. It makes us stronger as an association if we have the same goals!
Do you have any tips for organising thematic activities?
You should see the guidelines as a help and try to think outside of the box! It always leads to the most interesting and creative activities! Also, don't forget to organise something that is close to the interest of your members.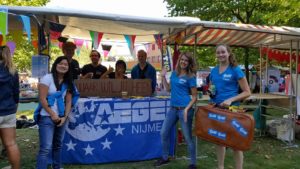 Can you tell us a bit more about your local? 
AEGEE-Nijmegen was founded in 1986 by Bart Kruitwagen. Every now and then he still drops by at our weekly social drink. Currently we have our 31st board, called 'Infinito', running the local. We are very active in and around Nijmegen. Last April we welcomed our 200th member and we have about 50 active members spread over 13 different committees this year, who made it possible to organise a lot of amazing activities varying from members' weekends to lectures about gender equality. Besides these activities we also organise different trips, exchanges and hitchhiking competitions. This year we already went to Brescia, Dublin, Prague, Cluj-Napoca and Sofia!
Characterise your local in one sentence. 
We go to infinity and beyond, we are limitless!
Written by Elena Efremova, on behalf of the Action Agenda Coordination Committee