AEGEE-Torino is situated in the North-West of Italy and was founded 25 years ago, organising an Agora in 2004. Currently consisting in around 100 members (40 of whom are active), the local has being blooming in the past three years, organising more and more (thematic) activities. From the 4th to the 8th of May they hosted Spring NWM Not a Waste of Money, which allowed them to stand out of the crowd and earn the title of Local of the Month of May, just months after receiving the nomination for ACTive local of the Month. We spoke with current president Giulia Melis, who aswered our questions.
The AEGEEan: Present your local.  
Giulia: We have around one hundred members among which forty are really active! Of course, that's thanks to our sex appeal, but above all thanks to our local activities which are not only an occasion to socialise and to have fun but also an opportunity for recruiting. Each month we organise several events, and  the biggest one is the Aperitivo linguistico: USE YOUR TONGUE! with around eight hundred participants each time. Among others I can mention Mix&Match and DrunKaraoke which, together with the two Welcome Weeks (one in September and one in February) are the events dedicated to international students. Last but not least the Buddy Program with EPOG students (Economic POlicies in the age of Globalisation – Erasmus Mundus Master's course), it is at its third edition, and the inspirational Europe Café.
This year was really productive also at the European level thanks to the organisation of the Spring NWM, to the new adventure with our twin AEGEE-Ioannina and the involvement of some of our members in Committees, Commissions as Subcommissioners, Working Groups and Interest Groups.
You have been elected as LoM of May. How does it feel to receive this recognition?
We are really glad to receive this recognition. When you work hard it's always rewarding to know that someone appreciates your efforts. In addition it's a stimulation to try to do our best day by day, especially for the new members.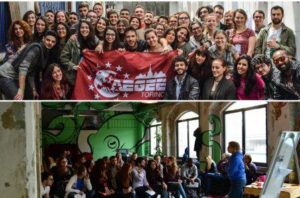 One of the reasons of your nomination was the organisation of the NWM: not a waste of Money. How did you come with the idea to organise a NWM and managed to succeed in it?
The idea was in the air already with previous boards and this year we put it into practice. One of the reasons was to test us, our organisational skills and our ability to work as a team. It was also an opportunity to understand the proper role for each member of the team. Someone said: "Give yourself a new challenge every day and try to overcome it", that is the philosophy behind our choice. Furthermore, we were aware of our strong local dimension, so we wanted to bring to Torino the AEGEE spirit for those members who never had the possibility to try it.
How did we managed to succeed in it? Passion, hard work and cooperation. Every member put in this event his contribution and we managed to reach the right equilibrium and work as a really good team.
One of your famous activity is the Aperitivo linguistico (Linguistic Happy Hour). What is the concept behind it? Why do you think it's so successful?
The Aperitivo Linguistico is perfect place to socialise, through it we are trying each month to create a familiar, comfortable and suggestive atmosphere where students from all over the world and young people in general can meet, talk, know each other, practise languages, share and mix their stories having fun. People have the opportunity to live the AEGEE spirit with AEGEE-Torino mood  for one night.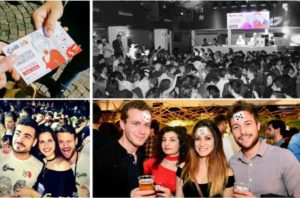 The format of the event is simple: take your half card, find your other half and Use your tongue, finally do it over and over again! More cards, more known people, more new friends! Before I joined AEGEE, I was always at the Aperitivo as a participant, I went alone, with friends or with people met in the previous one. In this way I also met AEGEE-Torino from which I can't be away now. Why am I saying this to you? Because the Aperitivo Linguistico isn't only a good experience for who participates, but it's also an important opportunity for our local. In one event we can do fundraising, promotion, recruiting, training of new members and team building.
About its success, it's a complicated question! I'll try to be clear and concise. The Aperitivo linguistico has a really long history, the first one was done in 2010, but it started to grow only in the last three years. The idea and the passion were necessary, but not sufficient to get to this point. Good organisation and strategy are also fundamental. In 2014 the board focused on weaknesses of the event and worked hard to find good solutions. They perfectly answered to the "5W" questions for organise a great event, i.e. Why? What? Who? When? & Where?, and found the key for the turning point. Since then we're working hard in order to improve even more and to maintain the experience unforgettable. So I think it's so successful for three reasons: its authenticity, our determination, and a bit of luck which never hurt!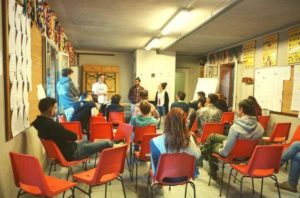 During the Agora you have been mentioned during the Action Agenda interim fulfilment for your European Cafè. How did you have the idea? How did you develop it?
Yes, we are really proud of the Europe Cafè. Thanks to it we were also chosen from the Action Agenda Coordination Committee as ACTive Local of March. The idea born in the philosophical mind of one of our old presidents, Sergio Genovesi. In his own words:
"EC aims at leading international youth present on the local territory to discuss relevant issues concerning European politics and culture. Therefore, the EC provides the opportunity to compare their ideas about European problems with different approaches and points of view to both local and international youth."
During the current year, the board decided to invest more energy on it because we felt the need to have an open space of discussion. Every month Stefano and Roberto, responsible for this event, prepared a small presentation about the topic chosen. It will be the opening of the Europe Cafè, after that the discussion is open and anyone can share his/her opinion. The topic is chosen taking into account current processes in Europe and participants requests.
Europe Cafè is a simple event with an amazing impact on participants. If you are curious check the article about it!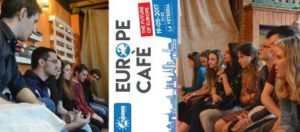 How is AEGEE affecting your community?
Torino is a big city and it is not easy to measure our impact on the community. For sure, we are able to create spaces for sharing and discussing and probably a lot of new friendships, relationships and collaborations started during our events. I think that helping young people who move to Torino to find their new dimension is already a great thing.
In addition, this year we started to collaborate with external partners like start-ups, other associations and the municipality of Torino with which we're planning some activities with the purpose to involve more young people in the social dynamics of the city and to promote active citizenship.
What is your motto? Can you describe your local in one sentence?
To be always ourself, because differences are awesome!
What are your upcoming activities?
This year was really full, but we're not tired. Now all our efforts are on the Summer University W.I.N.E. – Water Isn't Nutritious Enough which will be in collaboration with the Civic Education Working Group and Drink-Wise. It is another project to whom we all feel attached. This will be the second edition of that fantastic immersion in the Torino and Piedmont atmosphere: Italian style, superb food, the best wines in the world and the madness of AEGEE-Torino. After that, holidays to recharge our batteries in order to get ready for September!
What is the future holding for AEGEE-Torino?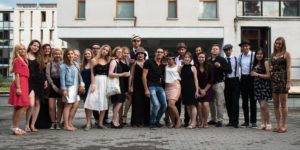 You are so curious! For three years AEGEE-Torino has been improving itself, we found a common vision of our local and we're working to ensure that each of our members feels part of a big project. New elections are close and the aim of current board is to be strongly supportive for the new one in order to turn all AEGEE-Torino plans into reality.
Because yes, we have plans, or better, we have dreams! We're working on collaborations and projects and starting to plan new ones, our intention is increasing our holding in the future and our hope is that you hear about us for handsome reasons. I love mystery, so no spoilers! You will discover them!
Written by Erika Bettin, AEGEE-Verona