Comité Directeur Member for 57th Agora AEGEE-Europe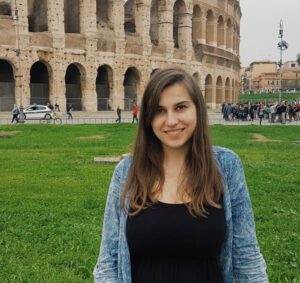 With the Agora right around the corner we at The AEGEEan are interviewing the candidates to give you an small insight into who the person is behind the face. Here we have with us Oksana Prokopchenko, running for the CD member position of AEGEE-Europe.
INTERVIEWER: Hi Oksana. Firstly, thank you so much for your time for this interview. For those who have never heard about you, could you introduce yourself and for which position of the CD are you candidating?
OKSANA: Hey there! My name is Oksana Prokopchenko, I am Ukrainian and come from AEGEE-Sheffield. I have recently graduated from a Masters Course in French Literature and now running for a position of CD member, responsible for network development.
I: A CD position requires teamwork in AEGEE, how do you see yourself fitting in a team? What are some of your skills that would keep the team motivated?
O: In my opinion, one of the things that could keep the team motivated is a good teambuilding. So I definitely hope to have this, to make sure all team members know each others' strengths and weaknesses, as well as find best way to work smoothly and communicate effectively.
I: Say, there are some policies that you do not like but they go through in consensus. How do you see yourself compromising with the decision?
O: If the team by majority makes a decision, then the whole team should stand by that decision, no matter what personal opinions are behind it. I am totally ready to compromise for the decision of the team.
I: What area of AEGEE would you like to focus on as a member of the CD? What are some of your skills that help fit this role?
O: If I get elected, I would like to take over the portfolio of Network Director. As a part of Network Commission and Speaker team in the last year, I believe I have a good grasp of that field in AEGEE, and would like to use my expertise and ideas to work on network development. Of course, there are other tasks that I would be interested in dealing with, but the exact task distribution should be decided by the newly elected team altogether.
I: A CD member requires meditating skills to work with working groups and local bodies, and there's bound to be conflict. In these situations, how would you bring two contradicting bodies to a negotiating table?
O: As a Network Commissioner, I had some experience dealing with sensitive situations like that. In that position, I saw my role as identifying the issue as soon as possible as the person working closely with my locals, and bringing two sides together by involving Mediation Commission that is doing a marvellous job behind the scenes. I am a firm believer that conflict situations like these should be dealt with by competent mediators, who would be able to help resolve a conflict and not make it worse.
I: Looking at your experience, you've been in different countries, from your native one, Ukraine, and in the United Kingdom, where you've been on the AEGEE-Sheffield board. How it was that first experience of being in charge of a local antenna?
O: It was indeed a life-changing experience for me :) Running an AEGEE local in a foreign country was challenging, but extremely exciting! It gave me a new perspective on how different the reality of locals is in all corners of our network, but how similar we are in European values we share.
I: Focusing on the programme you are presenting to the Spring Agora of Bucharest, one of the most remarkable points of your program is the better cooperation between CD and Network Commission to create a strong Network. Which steps should be done to reach this goal?
O: First of all, I would like to build up on the amazing work that has been done in that direction by the previous CD. I believe that CD-NetCommie couples is a very beneficial system that allows NetCom to get to know more about the work of CD and communicate it to their locals, but at the same time helps CD members to be in touch with the network reality and closely connected with what's happening on a local level.
I: It's interesting the point related to locals, in whom you support a Health Indicators tool and defend that locals have to help each others in different fields, connected with thematic topics and activities. Is there any initiative that you have made in a local level that could be used in future cases?
O: Health Indicators tool is one of the things I'm most happy about from the work as Network Commissioner. Together with Network Director we developed a self-assessment system, that allows local boards to analyse their current situation, identify problems or needs of the local and based on that, create a development plan with the help of the NetCommie. As part of the system, we have an opportunity to see locals that are strong in particular fields and are willing to help others, and those locals that would like to receive help in those fields. So we are now working on how to connect those locals in the best way possible.
Of course, for maximum efficiency and coverage, we need to make sure that the tool is used by the whole network. If our proposal on Antenna Criteria passes at Agora Bucuresti, we will be able to fully implement Health Indicators system as a common self-assessment tool for all locals.
I: In order to enlarge the presence of AEGEE across all of Europe by founding new locals, which countries really need the presence of the association?
O: In all, of course (laughing). Seriously speaking, I think many areas of our network need stronger representation of AEGEE, but I would need to make further research and analysis of the situation and of other NGOs experiences, in order to identify the priorities in network enlargement.
I: Could you explain to us what the founding trips organized by CD and NetCom consist of?
O: Founding trips are somehow similar to NetCom trips, but instead of visiting locals, the travelers visit cities where AEGEE doesn't exist yet. I would like to build on the great work that was already done by previous CDs here, and continue working in that direction.