Comité Directeur Member for 57th Agora AEGEE-Europe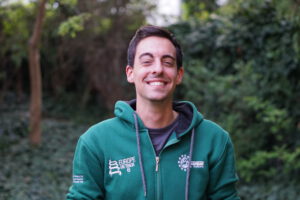 With the Agora right around the corner we at The AEGEEan are interviewing the candidates to give you an small insight into who the person is behind the face. Here we have with us Álvaro González Pérez, running for the CD member position of AEGEE-Europe.
Interviewer: Welcome to this interview! Can you tell us something about yourself? What was the moment when you've realized that AEGEE is for you?
Alvaro: I am crazy about languages and am a true-born grammar nazi. I also love music and play the guitar. And I deeply hate beetroot but in Poland I realised I love beetroot soup. For the readers out there, if you want to know me more in-depth, I invite you to check my candidature!
When it comes to joining AEGEE, I realised it was for me since the very first info-evening, as I had already been organising events for international students in my own city, although in a less structured manner. The fun part made me enter in a way, and its political and advocacy aspect made me stay.

I: The CD position requires teamwork in AEGEE. How do you see yourself fitting in a team? What are some of your skills that would keep the team motivated?
A: I have worked in several teams over the years, both in and out of AEGEE, and be it as leader or not: in a social entrepreneurship programme before joining AEGEE, in the moderator's team of the LIG, as Coordinator of the European Citizenship Working Group, in my last job as Project Assistant, as Ambassador of Europe on Track, … In each of these positions I learnt more about myself when it comes to working in teams, and I got to improve myself as a team-worker.
Right now I am writing this from a train on the way to Brussels, on the very last day of the routes of Europe on Track. Being a whole month 24/7 with another two people can certainly be challenging in many situations, but I can happily affirm that I am very satisfied when it comes to our team dynamics. From my side, some of the skills I have that were helpful for this are a high-level of empathy, initiative, and passion and capacity to motivate other people.
I: Say, there are some policies that you do not like but they go through in consensus. How do you see yourself compromising with the decision?
A: Well, I am very much a supporter of democratic processes, so even though I may not agree with all decisions that may be taken during my term if elected, I certainly will not go against the will of the majority unless we are talking about a deeply unfair situation under my view.
I: What area of AEGEE would you like to focus on as a member of the CD? What are some of your skills that help fit this role?
A: As I mentioned in my application, I would like to work on the External Relations and Projects portfolios.
When it comes to External Relations, I already have experience in external representation within AEGEE, especially as coordinator of the ECWG, and I have attended several events, during the past two years that I have been living in Brussels, in representation of the network.
Also, I do not know if I would call this a "skill", but definitely the fact that I am very much acquainted with the so-called "Brussels bubble" and with the institutions, organisations, and NGOs of interest for AEGEE, is definitely a huge asset.
The Externals portfolio also deals very much with external projects of AEGEE, such as DIVE, GENDERS, YEP 2.0, MEMS, etc. As I have been very close with all CDs since CD 54, I am also familiar with these projects and with their general functioning. Before joining Europe on Track, I was also working for half a year for an association called TEPSA (Trans European Policy Studies Association), a network of Think Tanks and research institutes all around Europe, and I was working on two EU funded projects: VIADUCT and SEnECA. My experience working for those projects can definitely aid me at the time of starting to work on similar projects for AEGEE.
That last point applies as well for the Projects portfolio. When it comes to the more content related aspect, I have been working solely on content ever since I joined AEGEE: as coordinator of the AEGEE European Day of Languages 2016, moderator of the Language Interest Group, coordinator of the European Citizenship Working Group, and Ambassador of Europe on Track.
All the way until today, I have been improving and learning more out of each AEGEE and non-AEGEE experience, and I have also developed other skills that I would have never thought I could develop: whereas in my day-a-day life I prefer spontaneity, professionally I have become much more structured, results-oriented, and time-bound.
It is a combination of skills and experience that makes me fit for this, I would underline.
I: A CD member requires mediating skills to work with working groups and local bodies, and there's bound to be conflict.  In these situations, how would you bring two contradicting bodies to a negotiating table?
A: When it comes to two different bodies, it definitely depends on the source of the conflict, but as a CD member one of the possibilities would be to take the initiative to set a meeting with both bodies to talk through it, and finding a compromise between both of them.
When working in a team such situations occasionally arose, and although I cannot say I have specific guidelines to deal with them, I can affirm that when this has happened, I have acted swiftly to solve the conflict.
I: How will your experience outside AEGEE help you to better execute your duties in the CD?
A: When it comes to the task-related experience, I have already mentioned my experience working on projects out of AEGEE in a previous question. It is also worth mentioning that in the social entrepreneurship programme ("Think Big", from O2) I participated before joining AEGEE, I developed a skill I'm particularly fond of and deem very much necessary when working in the field of NGOs: proactivity.
It is not so much experience-related but attitude-related. The best projects in AEGEE, the biggest conferences, the decisions to organise an Agora, to come from the initiative of a few, that bring with their idea other people into the team. The most successful ideas stem out of pure proactivity. You cannot bring innovation with old methods and always doing the same, and I am always ready to be that person who initiates and brings upon successful and new ideas.
I am also a an avid traveller, lived abroad for almost 4 years, and am very much used to intercultural settings. This is particularly useful in order for me to be able to adapt to different scenarios.
I: Say in a Tweet what AEGEE has brought to you during the last 4 years of your membership?
AEGEE has provided me with the platform to learn 2 new languages, to speak without fear in front of crowds, to coordinate an international team, to debate with high-level decision-makers,… and it even helped me to decide what I want to do in life: working in the world of NGOs.
I: Which of your competitor candidates you'd be willing to share your role with and why?
A: This is a hard question, and particularly this year, because the level of the candidates is quite high and I believe most of them would do a splendid job. I'll shortlist it to 3.
My first answer would be Hanna Alajõe. I have already being working quite a lot in Europe on Track 6 with her, and I would definitely like to keep working in the CD with her, as both with regard to our skills and experience, we complement each other quite well, and she definitely is a very professional person.
I shortly worked with Oksana Prokopchenko as well during my term as coordinator of the European Citizen Working Group, when she organised a conference on Brexit in Sheffield and asked the Working Group for support. I was very positively surprised, and have also only heard positive things of her during her term as Netcom.
I also am very interested and curious about what Daniel Amësz could bring to the CD and to the network as president, since he has a very strong profile when it comes to leadership, team-management, and conflict resolution, which are in my opinion some of the most important skills one need to have as president.