Never underestimate what you do in AEGEE: what you learn here can help you discover new strengths in your personality, hone your skills and boost your career! Let us inspire you. In cooperation with the Youth Development Working Group, the AEGEEan launches a series of career stories which all started thanks to the invaluable experience gained by being active in AEGEE. This week, Renate van Breugel presents herself.
Renate van Breugel, AEGEE-Leiden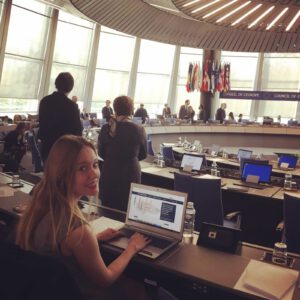 My name is Renate van Breugel and I was the Treasurer and European Affairs Officer of AEGEE-Leiden in 2015-2016. During my board year I was lucky enough to have met several interesting people. One of those meetings happened during a lecture that I had organised with our European Committee. This was a lecture about IS and the consequences for the Netherlands. We had two Dutch Members of Parliament and a Dutch European Parliament Member to debate the issues relating to IS. After this lecture I stayed in touch with one of our Dutch MPs and she offered me an internship with her, which I gratefully accepted. Thus my first internship began. I was her shadow for more than three months and I learned a lot from her. To this day I am very grateful to her for giving me the opportunity and believing in me.

After this internship and the experience I had gotten from AEGEE and our Dutch Parliament, many more followed. I've done internships at De Brauw Blackstone and Westbroek, the Permanent Representation of the Netherlands to the Council of Europe and one at the Council of Europe itself. Right now I am doing my masters in Public International Law and I hope to work for an international organisation when I am graduated.

Without AEGEE-Leiden and my board year I would not have had the connections that helped me to get my internships. They all followed one after the other, it really was like a snowball effect. Though my internships had not that much to do with my Treasurer tasks, my board year helped me to develop lobbying and management skills, which come in handy when doing an internship or working in your job. Also stress- and crisis-management are things I have learned during my board year. Those skills always come in handy.

At that time I did not realise how much you learn and how much you grow when you are in charge of an organisation like AEGEE-Leiden, but looking back I can say that it has definitely helped me prepare for the real grown-up world. Furthermore, AEGEE-Leiden has given me a wonderful friendship with my two board members Stefan and Fleur, which will hopefully last a lifetime.

I would recommend my fellow AEGEEans to make the most of your time with AEGEE. Go to as many events as you can; apply for a board year; make international friends; learn as much as you can, but above all have lots of fun and do not be afraid to fail!