Never underestimate what you do in AEGEE: what you learn here can help you discover new strengths in your personality, hone your skills and boost your career! Let us inspire you. In cooperation with the Youth Development Working Group, the AEGEEan launches a series of career stories which all started thanks to the invaluable experience gained by being active in AEGEE. This week, Julia Krebs presents herself.
Julia Krebs, AEGEE-Osnabrück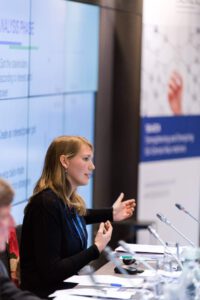 My name is Julia and I started studying international relations and management in my hometown in Germany in 2009. After my bachelors, I went to study European Studies in Osnabrück. Even before I moved there, I already looked for something international that I could do in this small town. That is how I found AEGEE: Once I had arrived to Osnabrück, I went to AEGEE meetings and got immediately involved as Treasurer. Thanks to my involvement in AEGEE, one of my professors encouraged me to apply for the College of Europe, a very prestigious school for European politics. I had previously never thought about applying there, since my grades were not the best, but my professor encouraged me to apply anyways. In hindsight I think that having AEGEE on my CV definitely helped me in being accepted at this university.
After having finished my masters, I started a job at a big German private foundation. I worked there in a junior position somewhere between an intern and a project manager. This entry level position was very popular which is why I asked my bosses why they chose me. During the job interview, I had to write one exercise that included a question about project management and event organisation. My bosses told me that this exercise had set me far apart from my peers because it became clear that I had worked in projects before and I knew what to take into account when organizing events – a skill that I definitely acquired through my engagement in AEGEE.
After one year at this job, I changed jobs to the job that I have now. I am a project officer working for a research network called TEPSA – the Trans European Policy Studies Association. We have members from all over Europe that work on EU affairs in their country. I think it is already becoming clear that this is the perfect job for an AEGEEan. My organisations feels a bit like AEGEE for grown-ups. We have General Assemblies every 6 months where all members come together and it is always another member that is organizing it. Apart from the institutional insight into networks that I gained from attending numerous Agorae and other meetings in AEGEE, I found one thing especially useful: working in international teams. Not only is our team in the office very international, but also I am working mostly on one project that deals with EU-Central Asia relations. In this project, our partners are based in 11 countries which means that we have to communicate mostly online, something that I also already experienced a lot during my AEGEE time.
All these skills helped me a great deal in getting jobs but also in succeeding in these jobs. However, the most important for me were not certain skills or experiences that I have acquired throughout my AEGEE life but the people. You don't only find friends for life but you also build up a European network all over Europe and also in Brussels.