This summer AEGEE-Riga has had its 10th Anniversary event and just few days ago, AEGEE-Riga's European days of Languages (EDL) celebrated 10 years of existence! Yes,  along with the whole development process of the antenna, every year the EDL was the project that represented AEGEE-Riga on the local level and became our tradition.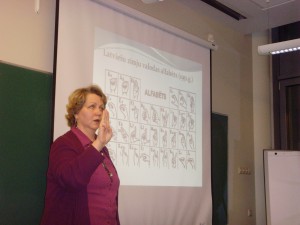 This year, in 3 days time, with 12 different language lessons and around 200 attendants, we spoke Turkish, Danish, Icelandic, Chinese, Spanish, Italian, Norwegian, Lithuanian, German, Georgian, Latgalian (dialect in Latvia) languages and expressed ourselves in sign language. The leaders of the lessons had different backgrounds and experiences, but all of them were passionate about the language they presented – teachers and representatives from the language centers, international students, workers from European Voluntary Service and local volunteers.
The general objective of the event is to promote the importance of intercultural dimension and show diversity of nations by getting acquainted with different languages. Participants were introduced not only with the basic phrases and tips for everyday communication, but also with cultural aspect through dance, music, games. It was a unique opportunity to meet and speak to native Georgian, Turkish, Spanish, Lithuanian, German people. It offered a chance to find out all the details and realise that we can live together, share the same interests, and have common needs in this world. For the majority of the participants it was a surprise to have a deaf-mute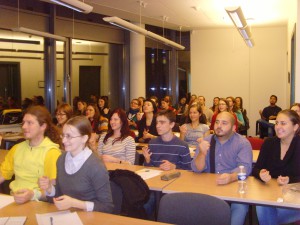 person showing the signs they use in order to communicate and survive nowadays. Who could believe that the dialect of the Latvian language – Latgalian – and Latgalian culture, traditions have to struggle so much today to be preserved, still known and spoken in Latvia in couple of years.
We believe that there is a space for discussion and contemplation about related topics and people will be aware of the importance to preserve each language, each culture, nation, tradition and stay united in diversity!
AEGEE-Riga is full of enthusiasm to continue development the project of EDL even further with fresh, creative and new ideas and celebrate more and more birthdays of this event.
written by Diana Ondza, AEGEE-Riga