The participants of the Pre-EBM "Passing through the legends in Turkey before fighting for the future" got to experience all types of weather during their preparation for the EBM
Upon arrival to Istanbul for the Pre-EBM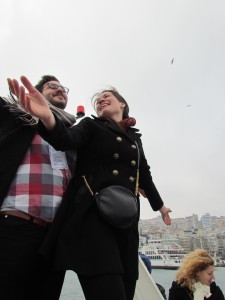 Titanic moment captured by AEGEE-Rotterdam member Sybren Porfírio
it seemed like summer – 15 degrees, the sun was shining! Maybe for some this might not sound as much but the majority of us arrived from countries with freezing temperatures below -10 degrees. The weather was far from the only enjoyable thing in Turkey. AEGEE-Istanbul had arranged the best food that I have personally ever had in any AEGEE event, and buses drove the participants everywhere. Furthermore, the organizers and helpers from their lovely Twin-antenna AEGEE-Beograd were always present to help with answering questions and waking up the participants with smiles.
Little by little the weather then changed into what seemed more like fall: with rain and wind, just as we were going on a boat to watch Istanbul from another side. But in the end it did not really matter because beautiful moments such as the rendition of the Titanicmoment that was made by Chair person Yvonne Antonovic and organizer Tunc Ciftci which spread joy and laughter among the boat where AEGEE people were warming each other with hugs and by doing one of the most popular energizers from Spain – Melon-Sandía – Yes, on a boat! When in the end it got too cold, people moved downstairs to enjoy the famous Turkish tea.
The fun continued and next step in the program was getting on the road towards another Turkish city. Many people will probably find it very strange if you tell them an anecdote starting "Yeah, so we went partying the last day we had in Istanbul, had a really nice time, and then went back to the hostel, took our suitcases and headed towards Çanakkale at 3 AM," but that is exactly what we did after three days of sightseeing and partying. As soon as we arrived in Çanakkale, as you can imagine, everybody was exhausted after being in a bus for five hours and then afterwards on a ferry for approximately 30 minutes, but on the other side awaited us happy AEGEE–Çanakkale people with loads of energy and motivation to make sure that their participants were having the time of their life. The weather was still not helping  as we slowly moved towards a very cold wintry one, but this allowed the participants to get enough rest before the legendary European night would begin. AEGEE–Çanakkale had arranged it to be at a club just for the Pre-EBM'ers and live music was provided by the band of AEGEE–Çanakkale member Can Bezgen's band: "Batı Yakası" who were doing covers of famous songs like "Yellow" by Coldplay and much more melodies that made the audience sing along. This is a band with many ambitions of entertaining AEGEE members in statutory events, and there is no doubt that they have the skills to make the people dance and sing; hopefully they will reach their goal of playing at the Agora Enschede.
In order to write about every single amazing thing that happened in the pre-EBM I would have to write a novel rather than an article but there are two more important things worth mentioning. AEGEE–Çanakkale provided a workshop about the importance of sign language, which was a very clever way to organize a workshop on an interesting topic that required high interaction but also entertained the participants at the same time. Then, next stop was in an old church in which AEGEE–Çanakkale had been innovative with an idea of another way to keep up the energy during the event was through organizing the FIRST EVER fashion show in Çanakkale. It was set up just as the American TV show "Project Runway", just as a Turkish version, of course!Designers were chosen who then picked their models and together the teams started creating outfits for different themes such as; love, fighters, and party clubbers. Professional photographers made sure to capture every moment from the designing process to learning the choreography to the actual final showdown which included runway shows coordinated by a beautiful presenter, and music and cheers from the engaged audience filled the old church with noise.
The organizers were put on a test towards the end as the weather changed into conditions that reminded the participants of being on the North Pole. There was snow everywhere, which was not a problem until the electricity went out in the whole town, but again it was not as big of a problem because candle lights kept us warm and the bus that was scheduled to take the participants to the EBM at 3 AM arrived three hours earlier after great coordination by the organizers and the participants headed towards Izmir.
In the end the organization from the Turkish locals amazed me because their energy, smiles and hard work made the participants have the time of their lives and I am sure that every single participant has the eager to return to Turkey as soon as possible. The best way to put it into words is to look at the quote by Polish participant, Natalia Walczak; "It was a very food-centered event (and I loved it). I hoped it would be good, but it was much more than I expected. Thank you!"
Written by Patricia Anthony – AEGEE-København
Photos provided by Melda Çalışkan, Brian Zammit, Anıl Gökmen and Sybren Porfírio.