"Getting Employed – The non formal way" is the name of a youth exchange which took place in Lyon, from 20th May till 27th May 2012, thanks to AEGEE-Lyon and the support of the Youth in Action program, Lyon Town Hall and the program "Prodige".
This Youth Exchange "Getting employed – the non-formal way" was about offering a space where
participants were invited to be critical and analytical about youth unemployment and volunteering in
Europe and to learn some tools how to behave as European citizens dealing with a common issue for whole
Europe. Moreover, it was to explore the concept of European citizenship because participants were
coming from EU and non EU countries.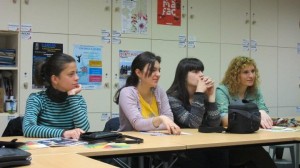 It was possible to gather people coming from countries such as Albania, Bulgaria, Georgia and France with different realities and cultures who could present and talk about their countries' situation on different levels (social, cultural, economical), which helped to increase our awareness about these issues.
As soon as all participants arrived in Lyon everything seemed very well prepared. Fortunetely, it was not just an illusion. The opening ceremony took place followed by team building games and group dynamics, in order for participants to get to know each other. As it started, it was noticeable that coming from different nationalities, different cultures and having different ideas, our only big aim was to widen our knowledge and have a good time together.
In the upcoming day people who participated met a group of active members of French association who shared with them their knowledge about volunteering, the way the association works, its tasks and so on. This helped to get an insight into how an association working on the cultural field is functioning, and to introduce them to a new form of volunteering.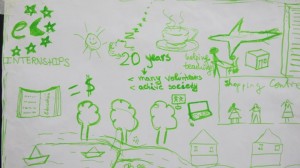 Another memorable moment was when every night a group coming from different country had to present their country. It was organised in such a way that other people had the possibility to get a lot of information about other countries such as economical problems faced, youth unemployment rate, traditions, culture, way of thinking, food, drinks, dances etc.
And for sure, during those days what could not have been missed was the city tour of Lyon.
Unfortunately, days were passing so fast and time to leave came. It was a sad moment to say goodbye
to everybody but the hope that everybody will meet each other  again somewhere in Europe made it somehow easy. In the end of this event we realized that this Youth Exchange was the right one because it helped everybody to understand how to promote different kinds of voluntary work and to identify which skills required by the labor market are provided by Non-Formal Education and volunteering better than by formal education.
Furthermore, it helped to promote voluntary work in the local community and non formal education as
an alternative for gaining skills valuable for professional development.
"Anyhow, after this great experience I believe that we should continue working with AEGEE on this issue and promote it to our members because resolutions are always between us not somewhere. All together
we could always generate new possibilities and alternatives to change our world where we live and make it better. We can shape Europe."
Written Erald Aga, AEGEE-Tirana