What do you know about Spain? What is the first thing that comes in your mind when you hear the name of this country? Probably corrida (bullfighting), paella, sunny beaches, the sea, crazy parties… and festivals! One of the most famous Spanish festivals is San Fermín, which is internationally known as the event of running from bulls in the streets of the old part of the city. It takes place every year between the 7th and the 14th of July in Pamplona.
This July thousands of people joined this amazing event, and among them were a group of AEGEEans with white clothes and red scarves (typical elements of San Fermín). They visited the most important places of Pamplona, enjoyed Spanish songs, danced with the 'charangas' (small bands in the streets playing famous and funny songs), discovered the fire of bulls and got a bull running workshop in the bullfighting arena. After that, the participants could rest and relax in a cozy camp with the swimming pool.
Thanks to an active group of AEGEE-Valencia, the San Fermín event became a reality, and from an exchange with a group from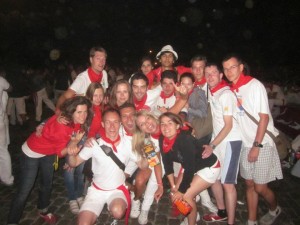 AEGEE-Moskva, it converted into a truly international event with 26 participants from Russia, Czech Republic, Germany, Italy, Poland, Portugal, Spain and Turkey. During these five days of the event, they had the opportunity to enjoy the festival from the inside, to feel the atmosphere of happiness, freedom and nature.  Along with two days of pre-event in Madrid, also organized by AEGEE-Valencia, the participants had the opportunity to spend a full week in the warm Spanish atmosphere, and could fully enjoy Spanish culture.
But who is going to describe this event better than the participants?
Julia Blynskaya (AEGEE-Moskva, Russia):
"It is difficult to describe San Fermín better than it was done by Hemingway. It is an amazing, unusual and exciting festival.
For me this festival will be always associated with four names… Pau Valero, Tono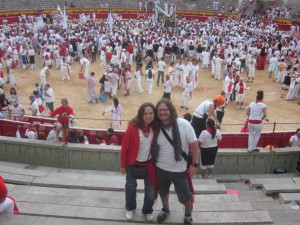 Tormo, Consu Rodenas, Alexandre Belda. They are kind, cheerful, cooperative, friendly, creative, talented, patient, polite and responsible heroes of the AEGEE-Valencia organising team. Thank you, guys!"
Aleksandra Paluszkiewicz (AEGEE-Poznan, Poland)
"Dear AEGEE people, my post event depression has already started… I had the best time ever with all of you during San Fermín and I really, truly cannot believe it has been only a week. It was like pure joy and fun for me.
The organisers were really cool and very helpful. We never had any problems with communication with them, even before the start of the event. And the event itself was great, what else can I say? It was my first experience with AEGEE but definitely not the last!Anyway, I already told everybody that next year I am applying for San Fermín for sure!"
Written by Consu Rodenas and Ekaterina Malysheva, AEGEE-Valencia