Summer University "Riga Heartbeats Forever!" organised by AEGEE-Riga has recently finished – with loud cheers, farewell tears and warm embraces.
"Veselā miesā vesels gars!" – From the healthy spirit to the healthy body! – this Latvian proverb was the motto of this Summer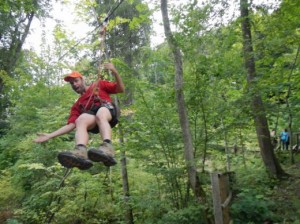 University, and that is why the programme was filled with different activities supporting the idea of the event: lecture about healthy lifestyle, workshop about healthy eating habits, Latvian traditional sauna in theory and practice, morning gymnastics in the park, and other green, energetic and salutary exercises. Participants also experienced some challenges like an unexpected five kilometer hike from the train station to the cottage house in the seaside village, chilly swim in the Baltic sea, and a day in the rope adventure park "Mežakaķis" [Wildcat] in the picturesque Sigulda. The participants acknowledged that, in order to maintain good health, we have to pay attention to what we eat, therefore the organisers were very careful about the menu for these two weeks.  For example, offering high quality and healthy home-cooked dishes made from local products, harvesting vegetables from backyard gardens, opening mum's homemade jams, encouraging eating rye bread instead of white, not missing the most important meal of the day – breakfast. Cake tasting workshop "When the Taste is Tastier" in the café "Mierā" caused gastronomic excitement impossible to put in words because, as many participants revealed, they had never tasted such delicious on-site baked cakes.

The timing of the event was well planned because it coincided with three-day-long Riga City Festival which offered an opportunity to participate in extra activities like rowing competition, aeronautic show, and visits to exhibitions, markets and concerts. But the highlight of these days was watching amazing fireworks. Each participant visiting Riga was interested to learn something more about Latvian culture, traditions and history. Therefore they highly appreciated the workshop about Latvian culture and language, as well as the Latvian traditional dances session. While listening to the lecture about AEGEE on the 25th floor of the office building "Sun Stone", the view from the window on Riga's rooftops and church towers created unfeigned delight. By cleaning up the botanical garden of the University of Latvia, we proved that AEGEE is all about volunteering. The participants also had a possibility to show their artistic skills and other talents in such activities as karaoke, "AEGEE's Got Talent" show and the contest "SU Pop-Street".
During the Summer University we explored, experienced and completed some things which are impossible to write down on paper or type on keyboard, but those moments will be kept in our hearts forever. Friendships, love, surprises, and much more occurred in the magical city of Riga. The organizers of the Summer University "Riga Heartbeats Forever!" hope that for each participant these two weeks were the best, most valuable and adventurous event of this summer.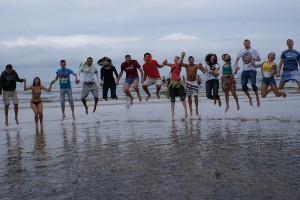 The Summer University in Riga would not have happened without a group of motivated, hard-working and creative AEGEE-Riga members that dared to contribute five previous months to make it come true. Also, organisers are grateful to all sponsors who supported "Riga Heartbeats Forever!"
Written by Diana Ondža, AEGEE-Riga