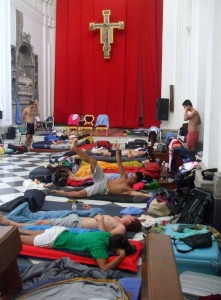 AEGEE-Napoli seems unstoppable this year! After a New Year event and the Spring Network Meeting in May, they prepared another event, "2 Eat, 2 Play, 2 Love",  the second edition of last year's successful summer event. Like last year, participants had the chance to visit Naples and its surroundings, like Caserta, Salerno (where they joined the ongoing Summer University and created an amazing group) , the Amalfi coast and the nearby islands. Anyway many things changed since last year. For example, accommodation. Instead of a classic gym, participants and organizers had the chance to stay in a deconsecrated church in the heart of Naples' historical center.  The church still shows its crucifix and the sepulchers of some Neapolitan citizens.
If one of AEGEE's aims is bridging Europe, sometimes it also works in bridging countries within themselves.  One of the many examples is Northern and Southern Italy. Annibale Cianci from AEGEE-Treviso was one of the participants in the last New Year event in Naples and he decided to come back for the summer.
Annibale, how long have you been an AEGEE member?
It has been almost one and a half year. I  found out about it after I quit university. I hoped to make up for it.
Why did you decide to go back to Naples just a few months after your last event there?
It was a lucky coincidence. I was not chosen for any Summer University and I was not able to find any suitable open call. All of a sudden, while I was in Rome with my family I read about the event in Naples. I had such a nice time in Naples last time so I did not want to lose to opportunity to go there again! As Latins used to say: "Carpe diem" ("Seize the day"). The people there are so wonderful – it takes just a few minutes to become their friend. They are very productive as well; I contacted them at midnight and in half an hour my trip to Naples was perfectly planned!
How does it feel to sleep in a deconsecrated church?
Some participants were afraid of the sepulchers. I had no problem about it. Now I feel ready to sleep in Dracula's castle! I was a scout and I also know being in AEGEE will lead you to sleeping in strangest places in the world.
What was your opinion before visiting Naples for the first time?
I have already been there some years ago on my own so I had no prejudice about the city at all. I discovered new things, but I had only positive experiences, all my expectations were confirmed. My family used to live there, so luckily I am not that kind of northern guy with strange ideas about the South.
Now that you have seen Naples – both in winter firing up to welcome a new year, and in summer under a blistering sun – is there any chance you would like to go there again?
Definitely. It is not all about visiting places and museums, I will go there to meet those people again, I promise! On the other hand, I would also like to visit some new European countries with AEGEE.
Written by Claudio Armandi, AEGEE-Napoli