Come with me for a few minutes and learn about an awesome AEGEE project!
The EuroArabs on the move
I went to the Comite Directeur (CD) house at the end of July for a few days with Sandra Oborska and Morgana Hoarau from AEGEE-Kraków. We dedicated three full days working on the EuroArab project with the help of Gizem Karsli and Luis Alvarado Martínez from the CD house.
Some of us from AEGEE have been working for a while on EuroArab related activities.  As for now, we are six AEGEEans in the EuroArab team: Agnija Kazusha and Ilona Nuksevica from AEGEE-Ogre, Sandra Oborska and Morgana Hoarau from AEGEE-Krakow, Karolina Mazetyte from AEGEE-Kaunas and Diana Lesko from AEGEE-Debrecen. We are so ready to launch the official EuroArab project within AEGEE. Therefore, some of us gathered to agree on the basics of project which will run for 2 years.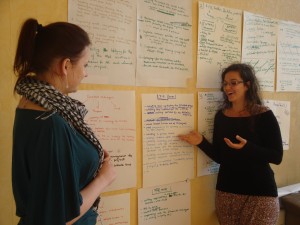 What are the EuroArabs doing?
The purpose of the project is to establish and maintain good and prosperous relationship between young people in Europe and Arab world.
The EuroArab project is focusing on creating awareness, promoting cooperation, peace, mutual understanding thus bridging Europe and Arab world; creating knowledge, sharing ideas, exchanging values and providing direct experience of current situation in Europe and Arab world for European and Arab youth; empowering youth, strengthening and developing active civil society.
We are now recruiting team members. Our core team will consist of AEGEE and Arab members. This is something new in AEGEE. Normally, our team members all belong to one of our local antennae. However, this project will be different. You know, how would we  have a Euro-Arab project without Arabs? That would be funny. I can assure you it will be an interesting experience to work with young people from the Arab world, such as Yemen, Lebanon, Palestine, Algeria or Sudan. The open call is already published by Announce-L. Check it and apply if you like it.
Future activities with the EuroArabs
Let's see now what we have planned so far for the project. We are working on implementing training courses and case study trips on intercultural project management, capacity building, conflict resolution, peace building, democracy, youth participation, volunteering and youth rights. One of them is going to take place in Kraków in December. AEGEE-Kraków will host Egyptians from their partner organisation, SHIFT, based in Alexandria, and Polish youngsters from AEGEE -Kraków to discuss democracy and political transition on the examples of Egypt and Poland and exchange best practices.
We are going to be present as well at all Agorae. Next time you can all see us in the autumn Agora, in Budapest, where you can join our workshop. We are planning a webseminar where young Arabs will also join us through Skype. Moreover, as the next EMB in Valletta will deal with EU neighborhood relations with all countries that currently are gathered under the European Neighborhood Policy, there will be a lot of talks on EuroArab relations with us.
There are going to be policy making seminars as well. One of them will be a seminar on intercultural dialogue. We want to have intercultural dialogue introduced in the curriculum of schools in Europe and the Arab region. We will work on developing the content of such course in the EuroArab context.
Last but not the least, we are planning on creating an AEGEE Euro–Arab website where young Arabs and Europeans can connect to each other and discuss various topics in order to get to know each others' culture and society and you can be up-to-date about our activities.
There are plenty of more ideas which you will hear about very soon.
If you have questions, do not hesitate to contact us at euroarab@aegee.org!
I would like to also draw your attention to the articles which had been previously published thanks to our EuroArab friends in AEGEE:
The Euro Arab youth cooperation is officially getting started
Bridging the gap between Europe and Middle East
Experiencing real diversity in the EuroArab Project
Written by Diana Lesko, AEGEE-Debrecen