The biggest event of a small antenna –  AEGEE-Porto Invicta Summer University. 22 participants from León to Helsinki came to Porto and enjoyed the diverse program.
After months of preparation, the day has finally come. Participants arrived during the afternoon of the 27th July at the hostel were the group stayed for three nights.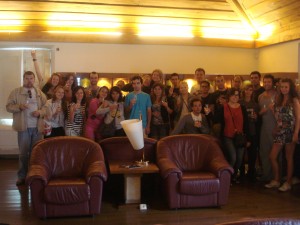 The crew started to feel Porto's soul in a pub, while having a coffee, after some ice-breaking games. Participants continued to discover the city in the next days, with a city-rally, a bus tour and some visits.
The event turned greener on Monday, when we went to the greener part of Portugal – Minho – on a green bus. The municipality of Monção was visited under the burning sun, which was balanced with the fresh water of the river, the day after, while rafting in Melgaço.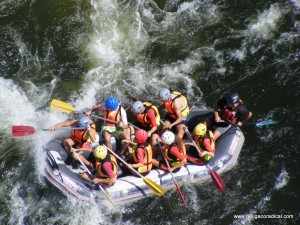 The afternoon was spent at the swimming-pool, laying down on the grass. A tasting of Alvarinho, a green wine produced only in Monção and Melgaço, followed on the next day.
It was then time to come back to Porto. Among some more visits and flash mobs around the city, there was time for a nice souvenir workshop, a surf lesson and the famous European Night.
One more event in the story of AEGEE-Porto Invicta. An event which enriched everybody, in a social as well as in a personal sense. Different people, different cultures and different personalities were together. These ten days will be long remembered by all, and we hope we can meet again… somewhere in Europe!
Written by Katy Dias, AEGEE-Porto Invicta