Recently, a competition took place on the Events Committee's Facebook page in order to find the best AEGEE event picture of 2012. One of the people who took part in the competition was Balázs Kovács from AEGEE-Debrecen. His efforts in this competition were rewarded by a second place for the head picture of this article. Therefore, The AEGEEan took the opportunity to interview Balázs about the competition.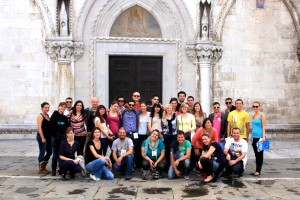 The AEGEEan: Congratulations for getting the second place, why did you take part in the competition?
Balázs: Thank you. Since the eligibility criteria made the competition available only for a quite limited audience, I thought it was an excellent opportunity to win easily and to thereby promote the past event, the Events' Committee and AEGEE European Schools in general.  The process of collecting "likes" also shed quite some light on such trainings among our active local members in AEGEE-Debrecen. Last but definitely not least, it also provided the organising antennae with a little bit more publicity.
What do you think about European Level bodies creating competitions in order to increase their visibility? Do you like it?
I think such initiatives are very much needed to build a larger group of (constantly-engaged) followers online.
Concerning the fact that only six photos were able to generate a bit more than 500 "likes" in 10 days, I believe that similar publicity stunts will presumably be able to increase the number of individual followers of the respective bodies to a more remarkable extent in future. The "blue" social networking website is the necessary asset if it is used accordingly.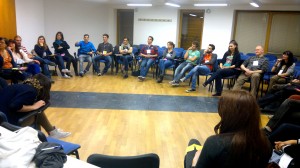 What was special about the PRES event? Why was it a good event for you?
In terms of its content, our trainers (Pavel Zbornik, Zsófia Komaromi, Mayri Tiido, Katre-Helena Käppa and Eleni Baltatzi) were doing their best to equip us with the most of useful theoretical and practical knowledge related to creative writing, communication skills, public speaking, media relations, handling social media, website building, PR strategy and crisis management.
The beautiful town with the cozy hostel, the sunny October, yet spring-like, weather, the indestructible enthusiasm of the participants and the captivating workshops at the university also all resulted in bringing together AEGEEans from 13 nations through countless memorable moments.
On top of it, the organisers from AEGEE Nova Gorica / Gorizia and helpers from AEGEE Maribor arranged a variety of different social programs from sightseeing and wine tasting all the way to late night parties, European Night and a meeting with an ambitious impersonator.
Take a closer look at the true AEGEE Spirit the whole event was dominated by here.
(…or in some countries rather here.)
It has been a while since PRES ended, do you still keep in touch and work on PR things with the other participants?
Luckily many of us stayed active in AEGEE thus I have already had the chance to meet with many of them again for multiple times. We try to keep in touch online and we regularly help one another with the promotion of each other's international events.
How has the experience you gained in PRES affected your involvement in AEGEE?
Although I think I have already been quite active beforehand, it was highly-motivating to become more active in the organisation.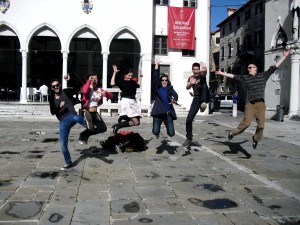 If you were to encourage others to take part in a European School event, what would you tell them?
You are an AEGEEan. The simple fact that you are among the 13,000 European youngsters who have had the chance to discover and benefit from some of AEGEE's non-formal learning opportunities is a privilege. Yet, only a small group of these young people embarks on the intense journey of participating in European Schools. The ones who do so, they literally go for a continent-wide brainstorming with fellow-volunteers, from all over Europe.
It is almost like a global fair of brains for free. The diversity of the individual participants based on their different cultural and personal backgrounds offer an incredibly precious insight into different realities and coping techniques with the discussed tasks. The difference between formal and non-formal education is that during the latter one, the trainers and the participants are all there for learning from each other by contributing to the common good.
During European Schools everyone gets inspired and even more motivated. They have an indescribably unique atmosphere, one can only understand once (s)he has already attended one. Skipping these events will leave you never realize what you have been missing out on. If you participate though, you will wish for more ESs so make sure to do yourself a favor, go grab the opportunity and apply for an upcoming ES.
Written by Patricia Anthony, AEGEE-København