A few months ago a new AEGEE United Nations Liaison Team was elected and The AEGEEan interviewed half of the team in order to introduce Alvaro Espinosa, Andrew Bartolo and Alin Florin to the Network and their positions in this new team. 
First of all, Alvaro Espinosa (AEGEE-Santander) and Alin Florin have been doing many things in AEGEE while Andrew Bartolo, who usually goes by the name Chucky, is a rather new face to many AEGEEans. However, he has actually been around AEGEE for a couple of years already.
 "I first heard about AEGEE at a freshers week stand back in October 2011 when I began university but I got to know a lot more about them last February, at UNEP's international conference for youth in Nairobi (Kenya). I was part of the organizing committee and was involved in running a "workshop" session every night of the conference, as I am (at least for the next three months until my term ends) the youth representative with UNEP in Europe. There I met Luis Alvarado Martinez who explained fully all the amazing work AEGEE does and I was hooked from there! Throughout the rest of the conference I got to understand just how effective and hardworking the organisation is and decided that I had to be a part of it! Coincidentally EBM was being hosted by AEGEE-Valletta, my hometown, so I got to be inducted into this amazing sphere very quickly!".
What made you interested in applying for the UN Liaison Team?
Andrew Bartolo: Through my work with the UN, which you can say started in 2010 (and more officially in 2011) I have come to realise how vast the positive impact of the United Nations can be, and more than their impact I have also come to appreciate just how much they value the "youth voice" we strive so much to get heard! I feel that as a body the UN understands us young people, and wants us to take the initiative and use the platforms they provide as much as possible.
As I have previously said, I also greatly admire the work AEGEE does, so as soon as I heard of a possibility for the two to meet, work and grow together… how could I ignore such a chance?
Alvaro Espinosa: Well, I have been doing a lot of work on the last three years at local level (first as PR and nowadays as Vice President) not to mention the work we are all doing in the Tripulación through this term. However, I have been looking for a long time an appealing position at European Level; position that I couldn't find for different reasons till I saw the OC to become a member of the UN Liaison Team.
I have a Bachelor's in Laws and I focused my career on international law and international institutions, not to mention that I have worked before for the UNDP which is one of the bodies I am dealing with. So, I guess this is what I have been looking for during the past two years.
Alin Florin: There are many aspects and arguments! I have been working for the Liaison Office towards OSCE, the Organization for Security and Co-operation in Europe, since 2012 and decided to extend my duties within the Liaison Office because I believe I made great experiences in linking AEGEE and international organisations. The United Nations provides a great number of opportunities to get our students' network involved and the fact of living in Vienna gives me the big advantage of meeting UN staff, attending conferences or gathering information easily since Vienna is one of the four headquarters of the UN.
Moreover, I know since the very beginning of my law studies that I want to work in an international field. I was very active on local level, in local boards and after one year I started to get involved in projects and bodies on European level as well. In the Juridical Commission I faced many challenging situations and developed my skills during two terms and at that time I was parallel in the local boards of AEGEE and ELSA / European Law Students' Association in Vienna. Therefore, I decided to keep track on linking organisations for co-operation on European level but specialize more on international relations – so the Liaison Office was the only possible intersection, right? During the first term as Liaison Officer towards OSCE I realized the opportunities AEGEE has by co-operation with the big international players and I wanted to be part of the game in AEGEE.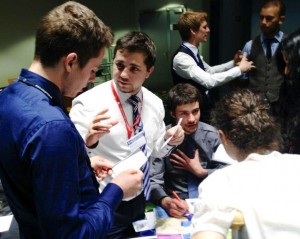 Alin – You have been doing many things in the European Level of AEGEE, what makes you keep going and being so active?
Alin: Simply, I am an adventure addict so AEGEE is what I need. But the motivation to involve myself is also based on the opportunities AEGEE has provided me such as developing myself, seeing many countries and being part of an unprejudiced, cross-border melting pot. I remember all the amazing atmospheres during events, meetings and particularly the experiences I have made on European level during Agorae – especially within the Juridical Commission and so part of the Chair team – that pushed me further and further. The deeper you are involved the better your insight is and you find your place, the topics you want to work on and suits to your abilities. So in the end it is not a matter of duties anymore, you simply love what you do. Moreover, I was working with young and talented people in international teams. All colleagues I was working with are now close friends of mine and in the last years I had the honour to host some of them at my place every once in a while, which was always great fun. So as I said, AEGEE is a place where we can learn, gain new experiences and grow but also make the most out of aspiring minds.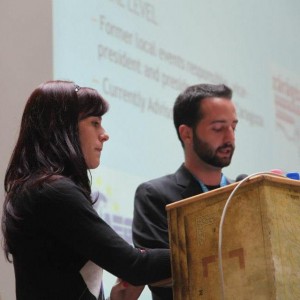 You are a whole team work on the United Nations, what have you been working on so far with this new interesting position of yours?
Chucky: Currently we are an exceptionally motivated team of officers and have divided the various UN bodies according to the strengths of the individual. Work done so far varies from getting AEGEE accreditation within the different bodies, introducing ourselves and what we do, and having a better understanding of what they do, to giving suggestions and feedback on papers or documents to be presented to them, and in turn, the member states of these bodies. It is only been a few weeks but we have already found and used numerous occasions across the different institutions to really get our message across!
Alin: We have been drafting the base of an entire new body by Code of Conduct, activity plans, arranging online meetings and a future meeting this summer in Brussels. We have had meetings as a team and individual ones when it was necessary. Now we are focusing on the UN institutions, which we are appointed to. In my case it is ECOSOC – the Economic and Social Council, one of the six main bodies of the UN and also the Secretary General's Envoy on Youth. For both I could already acquire knowledge over the new opportunities we have in hand and join several online conferences. I am co-operating with external partners, Working Groups and local groups. We have applied for and will participate in several United Nations' programmes. In my position towards OSCE I am working together with Comité Directeur members on projects related to human rights and conflict resolution. In the last months I had several promising meetings with OSCE representatives and business travels.
Alvaro: Adding to what we have been working on our visibility we have been working with social media and hope readers will follow us on Faebook (https://www.facebook.com/LOofAEGEE?fref=ts). Here you will be able to find all the opportunities offered by the UN for youth. Last but not least, we will create a Twitter account for the UN Liaison Team as soon as possible because it wouldn't be possible to publish everything on the FB page.
How has it been so far?
Alvaro: INCREDIBLE. The group of people is amazing, I didn't know many of them and the ones I knew was because I casually met them maybe in some Agorae but I cannot say that I had an opinion about these guys before, and having good interpersonal relations are the key to success.
Alin: I have to say that I am really enjoying working for AEGEE, being part of this strong, international team and pursueing together for our students' network aims. And this as much as possible next to my studies. The communication here works efficiently, the officers are highly motivated and we have enough possibilities to link relevant bodies for projects and meetings. So there is enough work to do and has to be managed next to our studies and travels.
What will you be working on in the future with the Liaison Team?
Chucky: If there is one thing that I have learnt it is to never try and guess what will happen, whether you want to or not you get attached to an idea and find it hard to change your mind! That being said in terms of where we see this going: we are currently working on an activity plan which we hope will highlight who we are, and what we plan to do in the near future, and in the long run.
Ultimately we hope to provide the Network with information, a chance to have their opinions heard (via feedback sessions or conference opportunities), as well as a better understanding of the UN how they work, and how we as young people can work with them.
Alvaro: I will be working with NGOs and other Civil Society Organizations which are UN System Partners (this program is Called "UN and Civil Society") with UNDEF (United Nations Democracy Fund) and finally with UNDP (United Nations Development Programme) which is the biggest one and the most challenging. The truth is that the only one which I really know is the last one; that is why the team created a shared document to add all the information we can find about this bodies because we are starting from scratch with no knowledge transfer. It will help, not just us, but also future teams and AEGEE.
Alin: AEGEE will organise several meetings in the field of international relations and democracy. As the next project I hope we can visit the Human Dimension Implementation Meeting of OSCE with an own AEGEE delegation in September and get involved in the projects of the UN Secretary General's Envoy on Youth. The international partners we are working with are on a super high level and provide an overwhelming pool of possibilities for co-operation. I am looking forward to a successful term with this new team and a valuable output for our AEGEE members.
It is always great to see motivated and enthusiastic people working together on such important things for AEGEE. Hopefully soon we will learn even more about the UN team and also introduce the rest of its members to the Network.
Written by Patricia Anthony, AEGEE-København