AEGEE-Zaragoza was founded on January 24, 1998. More than 15 years of history, with lights and (some) shades. It is a big antenna with 146 members, a number they are eager to raise every year but do not complain about. Here's the story of our Local of the Month from December, the organizers from the past Autumn Agora 2013!
Former Network Commissioner Pilar Lop is from Zaragoza herself and for her the Agora was even more special having her friends organising such a huge event and she has seen the antenna grow: "It is quite funny to see that, when I joined the antenna was living a small crisis because most of the board that year was formed by new members who came back motivated from Summer Universities and now only a few years later we are a very big family that cannot live without seeing each other."
Sara Alcolea, who people can remember from the opening ceremony, has been part of the antenna for more than four years agrees and adds "Board members were leaving Zaragoza so it was a kind of a critical moment for the antenna. I think the time we appeared was like water flowing again in a dry river. Without control. But they managed to lead those "crazy newbies" and we quickly "got the flow". Since then, the antenna has been growing and growing even more every year. Nowadays we are a huge antenna with a high number of active members (35) and I have to say remembering all the paths travelled during these years makes me very happy and proud."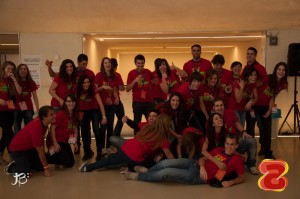 For her one of the highlights was realising that after all the work done, all the time spent, effort and dreams they can say "we have been able to organise an AGORA!" and confesses that during the event she had some great moments when she forgot the rush, stopped and thought to herself: "Wow, this is really happening".
When asked about how AEGEE-Zaragoza celebrated having organised such a big event, Sara affirms that the celebration also happened during the event. "Celebrating the success (after solving the problems, of course) every day and night kept us full of energy and motivation. That was also a very good point of the ZarAGORA team. The motivation was always high. Even if tired, you would always get smiles and hugs from the team and some participants that were around." Beatriz Nasarrre was the President of the antenna the past year and for her there were two highlights: The first is the difficulty which was cleaning all the food elements (trays and cutlery) because it seems so easy but it was a really hard task impossible to do it alone by the cleaning team, so we had to help them and when finished, we were really exhausted. The second moment of difficulty was the closing ceremony, where we could be happy of our hard job and see how people said thanks about that. It was a very beautiful moment."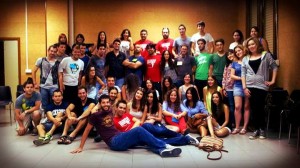 Jonathan del Castillo Gil has been in AEGEE-Zaragoza for ten years and has been a part of two very different Agorae in his city. With the Expo in 2008 the whole city was positively refurbished and equipped and he says that people face Europe in a more active way making it easier to involve government, University, companies and media. He adds; "2003 organisers are still for me real Heroes. They had to solve a lot of last minute problems like hosting cancellation. We all remember that Old Agora as something crazy and fun as we did a lot with really few things. They have been following closely the organisation of Zaragora to help us to improve ourselves giving valuable advise. Both Agorae have a warm place in our hearts." In those ten years Jonathan has really seen the antenna grow having survived hard conditions in the past; "In Zaragoza we imposed a horizontal structure to make sure everyone feels important. We worked hard to integrate every personality and promote them to squeeze their skills to improve AEGEE-Zaragoza. In my case I had to be a tough dictator when I became president in a year of a complicated collapse. I love excess and performance and I think everyone accepted "that theatrical icon" as a way of Team-building. Most of the brilliant minds that produced this Agora come from those hard times."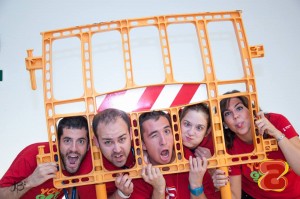 The main organiser of ZarAgora, Chema Rueda, repeated the importance of strong friendships; "The most important is the fact that the people who will work together know each other perfectly because we believed that this makes people work together in a better way." Jonathan highlights the new members: "We all had our respective obligations and precise tasks to fulfill, but everyone was always aware of helping wherever it was necessary. I was impressed by all the newbies, really young people, with few months' experience as members of AEGEE and no idea about the craziness exploding in an Agora. They put in all their energy and positive feelings, always smiling to raise the project and keep this idea of doing it transparent and perfect."
Of course organising an Agora had to be celebrated and when Sunday came and cleaning of the Congress Palace had finished almost the whole team went to the spa to relax and have lunch together. "It was a really cute moment because the whole team was with a very big smile on their faces after such a big success of the event. Nowadays, we are thinking about doing a big meeting for all the organisers, but we are waiting for the final result of the event to see if we can do something more," Chema tells The AEGEEan.
In terms of finances the question is still up in the air about how much money AEGEE-Zaragoza will lose. The support from the more than 30 sponsors was determinant for the great success for the event, however, it does not keep the Aragón antenna for paying for the event. "As far as we know, there are some other European student associations that work on the European level to get some important grants from Europe to organise their statutory events. Why don't we do that also, since we do a lot of effort for other things at European level? Why doesn't AEGEE apply for European grants to organise their statutory meetings? That's the question I asked myself every morning when I woke up lasts months seeing the economic problems we had. Maybe there are other important things to do on the European level instead of working on these basic needs," Chema raises an interesting question. Maybe the ZarAgora organisers can help AEGEE-Patra with the upcoming Agora with sponsors' advise. Chema assures that the help that AEGEE-Zaragoza received from Márton Demeter (main organizer of Autumn Agora Budapest 2012) and Alexander Sieber (main organizer of Spring Agora Rhein-Neckar 2013) was very important and of course AEGEE-Zaragoza wants to help the Greek organisers to get their success in the same way!
Last year, AEGEE-Zaragoza had a very large board (16 members, plus advisory board) but this year they decided to have a small, agile and efficient board instead (five members, plus advisory board). Javier Aguerri was recently elected new president of AEGEE-Zaragoza and he is full of motivation after being treasurer, IT responsible, Local Events and ZarAgora organizer. He agrees that it is a challenge to take over after the large board from the past term, that did an exceptional job. But he also feels very fortunate of the pool of fantastic and numerous new members of whom many were helpers at the Agora.
As many other antennae across the Network, AEGEE-Zaragoza works with the Erasmus students and have increased the activities this year. Following the tradition, once the University starts they organise the famous "Erasmus Welcome Week" with the aim to make members and Erasmus get to know each other and so that together they can discover the different traditions of the autonomous region of Aragón and also Spain.
It is especially good for involvement of the new members: "It helps a lot as it is very useful for the members in order to learn how to organise and be in charge of events and activities. All this knowledge acquired with this Erasmus activity has been very useful to face big events such as the Agora," Beatriz says. Members of AEGEE-Zaragoza sweat every week in salsa dance lessons or with the newly created running group that faces the wind every week. Two years ago AEGEE-Zaragoza used to organise language exchange activities but they were cancelled, but as a new great step forward they are trying it again and so far it works out great! Additionally, AEGEE-Zaragoza also travels all over Spain through organising several trips each semester. All of these activities have a coordinator and, depending on the needs of each activity, more people to organise them. But the board (especially the Local Events responsible) supervise everything and their problems are discussed in the weekly meetings of AEGEE-Zaragoza and the mailing lists, so everybody is more or less up-to-date and can participate when they wish.
Fresh from organising the Agora, AEGEE-Zaragoza is ready to host a new event; this time a Local Training Course (LTC). Public Relations & Fund Raising responsible in the board Carlota Castel is one of the coordinators of the event and says "The situation in AEGEE-Zaragoza right now is quite unusual. We have a lot of relatively new members who have only experienced two events: their first Summer University as participants and their first Agora, as organizers. Now it is time for them to learn more about AEGEE and to become active members who are able to organise projects by themselves, so most of the workshops are related to the practical part: How to organise a project, how to use social networks properly, how to use online banking and more" It is an LTC that is organised in Zaragoza every year and always a success in terms of team-building and also a great help to clarify the ideas and improve the skills of the new members.
What Javier is eager to focus on with AEGEE-Zaragoza is to ensure that the newest members are well prepared when they will be the ones in charge of the antenna. The LTC is one tool to achieve this result but also frequent workshops about different topics (basic knowledge of accounting, video and text editing, PR… etc) that will boost everybody's aptitude to work in AEGEE.
Another important aspect of PR for Carlota is to continue the excellent relationship with the University and make them and the members know that AEGEE-Zaragoza is much more than a Summer University project. There is no doubt that AEGEE-Zaragoza puts in a lot of effort for promotion. This can be seen by the high number of members and also the fact that fresh from the Agora, two days, they promoted the antennae at a student's fair at the university and promotion will be intensified in a few months in connections with the SU application period where posters, presentations of AEGEE, flyers, stickers and hopefully drawing even more attention to the antenna! In terms of FR the idea is to keep a good communication with the sponsors of the Agora, especially Lindt who made the event a lot sweeter!
AEGEE-Zaragoza had two European Level events in a short period of time: European Structured Dialogue in July and the AGORA  in November. That left them exhausted but they are already planning the Summer University and a weekend event in spring. Ending the interview Javier informs The AEGEEan about his ambitions "Finally, it is just a very innovating idea and I still have to talk with my board about it, but I may propose to the antenna to organize another European event (but not an Agora) in the next year. Maybe something like a European School or a Network Meeting. We will see!"
It will be interesting to see what AEGEE-Zaragoza comes up with next, Jonathan Gil predicts the future to be very bright saying "The close future of AEGEE-Zaragoza has its roots in the Zaragora. I'm sure 2014 will be probably the best year of the antenna."
Written by Patricia Anthony, AEGEE-København