AEGEE-Oviedo organized last December two outstanding events to celebrate their 25th anniversary, as The AEGEEan had recently reported. Firstly, a ceremony at the University of Oviedo with many remarkable members and the founders of the local. And secondly, they threw a big 25th Anniversary party with AEGEE members coming from all over Europe, which turned out to be a crazy New Year's Event, too.
Laura López Montero, member of AEGEE-Oviedo since Summer 2012 and current treasurer of the antenna, has been the coordinator of both events, which have unanimously turned out to be very successful. Hence, Laura has been elected as our Member of the Month in January for her hard work and enthusiasm. The AEGEEan has interviewed Laura this past week, and you can get to know her in the next EBM Lublin!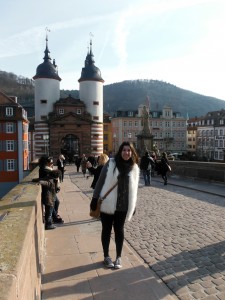 First of all, Laura, congratulations for being our Member of the Month! For those who don't know you yet, could you tell us a few words about yourself? And when and how did you join AEGEE?
Well, I'm 23 years old and I'm now in my last year of Tourism degree. I am a member of AEGEE-Oviedo since Summer 2012: one of my closest friends was already member of this big family and he encouraged me to join. I started my way celebrating the fifth anniversary of AEGEE-Santander and since then I have been working as an active member and nowadays I am the Treasurer of my local and very proud of all of them.
You were nominated for your oustanding job in coordinating the events of AEGEE-Oviedo's 25th Anniversary. What was your motivation to take up the challenge?
When we started talking about the event I realized there would not be another opportunity of organizing something like that again. It was a great moment to defend our identity. We had several goals: we wanted to celebrate an unforgettable birthday surrounded by all those people who made these 25 years possible, we wanted to show all our work and efforts to the university, while asking for their support at the same time and, of course, sharing this special date with AEGEEans from all over the world  to enjoy it like never before!
AEGEE-Oviedo had to be given its rightful place and finally my expectations were more than fulfilled.
We have heard that a wonderful Anniversary ceremony was organized in Oviedo. What can you tell us about it, for the ones who were not present?
Our 25th Anniversary Event was held at the Historical Building of the University of Oviedo with the presence of the founders of the Antenna, several members from that moment until now, the current board and some representatives from the University. It took about two hours and then we had lunch all together in a restaurant near that building.
It is always a pleasure to listen to old members; old members who still love AEGEE and can understand us better than anyone else. They gave their speeches and told us stories about their time as members of the association. They touched our hearts! In fact, more than one person ended up crying because of their words. It was amazing.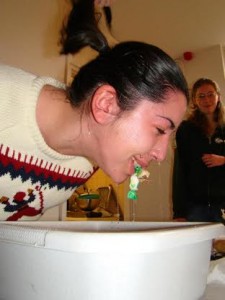 I have heard that you also invited many remarkable guests and speakers, who were they?
Well, we can say Luis Alvarado Martinez, current president of AEGEE-Europe, was with us somehow. He could not come to the event, so he recorded a video for us from Brussels. Miguel Gallardo Albajar, current projects manager of CD, was one of our guests. He was also member of our local some time ago. It was a great honour to welcome him. And, as I told you above, the founders of the antenna and some other people who made these 25 years possible gave their speeches. Besides of AEGEE, some representatives from the University celebrated this important day with us.
You also organized a New Year's + 25th Anniversary event. From the point of view of the coordinator, how was it?
It is complicated, I cannot deny it. Of course, there are moments you feel tired and overwhelmed because of the situation but finally every effort has its rewards. After all, you only keep the good memories. That's the truth. Furthermore, I was not alone along the way. Other members of my local supported me and we worked together as a team. This is the key. Without them, it would not have been possible and this is also their success.
And did AEGEE-Oviedo get many gifts for its anniversary?
First gift was its anniversary logo, made by one of our board members. Besides that, we received many others. From original videos and photo albums to a pretty girl for our mascot (Castorín)! Our participants thought of every one of us and they made Castorín happier than ever.
What are your tips for other AEGEE members to organize events? What have you learned in this time?
Just love what you do, motivate yourself every day and everything will come to you in the right moment! Learn to be patient and to trust people, build a good team, and everything will be fine.
AEGEE-Oviedo has some very active and experienced members in the European level. What about you; would you like to get involved in it?
Of course I would like to do it, it is one of my next goals. I don't know when and how, but I will do it. There are several topics I'm interested in, I just need to find some time and everything will be done! I'm looking forward to taking one step forward.
Which has been the most inspiring AEGEE member you have met?
Not a member, but an event. Without any doubt. It was a Youth in Action project which took place here in my country more than one year ago. It was a great project and an awesome team, I was really really lucky! After it, I started helping my local until now. Contrary to many other AEGEE members, I enjoyed my first SU after being an active member for almost a year.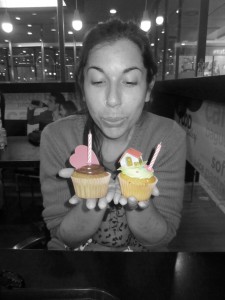 Tell us a bit more about yourself: which are your hobbies outside AEGEE?
It is not so easy organize your time when you have to combine your studies with AEGEE, but anyway I always find some time to go to the gym and do some exercising or read some pages before going to bed. I like languages too and I attend my Russian lessons twice a week. I'm also lover of speed, so any time of the day is good to go for a ride by car and switch off from the world!
How would you describe yourself in three words?
Stubborn, cheerful, and open-minded.
And what about your AEGEE plans for 2014? Are we going to meet you in any event soon?
Continue working hard and learning. My next goal is EBM Lublin. It is the only statutory event I haven't ever been to and I'm really excited about it! I'm looking forward to living this new AEGEE experience.
We wish Laura the best in her next plans and we look forward to meeting her! And remember that YOU can nominate the next Member of the Month at the following form. We look forward to your nominations!
Written by Anna Gumbau, AEGEE-Barcelona