Cluj-Napoca is  a Romanian city located in the heart of Transylvania, but no AEGEEan needs to be told this because she/he already knows it. AEGEE-Cluj-Napoca organized many events lately : Human Resouces European School, YVote convention "Pluralism of the media" . The NWM is coming soon and so is their Summer University. How do they manage to do all these? The AEGEEan interviewed  Alice Mogojan, President of AEGEE-Cluj-Napoca and main organizer of the YVote convention.
    The AEGEEan: Tell us the history of the antenna: how old is it? Do you have many active members? How did all started?
Alice: AEGEE Cluj-Napoca was born in 1991, 9th of May, on Europe Day. This day was elected to emphasize our purpose to erase all the prejudices among the historical, social and cultural differences though Europe.
Our antenna is the first one from Romania and one of the firsts in Eastern and Central Europe. I cannot say that we are a very big antenna with a lot of active members, but the members we have are really interested and devoted to AEGEE projects. And I think this is the most important thing in a team; to have people that really care for what they do… everything will be well and on time organized in this way.
     How come you decided to host the Y Vote convention "Pluralism of the Media"?
Let me tell you how I think it happened. During Agora Rein-Neckar from Germany, there was a stand where two beautiful girls were talking about Y Vote Project. This seemed very interesting to me because at the same time I was implicated in a non-AEGEE project (a local one), but with the same idea – let's show to students why it's important to vote.
I had some stickers with Rock the Vote (that was the name of the project), we made a sticker exchange and I talked a bit with the girls about Y Vote aaaaand… in October we got an email asking us if we want to host one of the Y Vote conventions from 2014.
"Of couuuurse" was our answer and we were really happy because we have the chance to organize another big event and hopefully with European funds, a fact that happened in the end. We won the project, got the budget and organized a greaaaat event, as the participants and trainers said.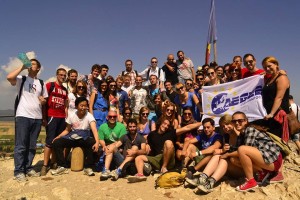 How did the members received the news of facing the organization of another important event? In autumn you also organised the Human Resources European School, which was a great success.
Oh, it was a great feeling. Since May we were a new board and it was like a challenge to have all these events in one year: HRES, Y Vote, NWM, and the traditional SU.
And about how our members faced the idea of another important event… I think everybody is much more excited if we are going to organize bigger events. You always have to do something new, and that makes you to be active.
In AEGEE it's really important to be part of a European event, to see how everything works… then you know the real AEGEE spirit, not when you just talk about them.
     Now, NWM it's next. Are you ready? How is the preparation going?
For all of us it will be our first NetWork Meeting, so it's going to be awesome because we will have a lot of things to learn about European level and how to keep the members active. A lot of new members are implicated in this event, which is good because they will learn more about AEGEE, about AGORA and maybe they will want to become active at a European level next year, who knows?!
The preparation is great. Actually we have everything done. It will be nice because we will be in a cottage from a village around Cluj-Napoca. We will have a city tour in Cluj Napoca, but after that we will breathe fresh air for 3 days. Everything you have to do, you will do it better when you are in nature, far away from civilization and the hustle and bustle of the streets.
    How about your SU?
Our Travelling Summer University around Transylvania for meeting Dracula is already a tradition. This year will be the 12th TSU organized by AEGEE Cluj-Napoca.
We do not have sea and sunny beaches in Transylvania, but we have lovely Carpathians, legends, traditions, castles and a big character – Dracula. Everybody loves him. We love him. He brings us questions from tourists that we would never think about ; it's really fun. Oh, and let's not forget about vampires. Muhahahaha!
Every SU was a crazy one. Everybody was happy that they chose our Summer University and they broke the stereotypes they had or they heard about Romania; and that's very important for us – this is why we love the AEGEE spirit.
This year we will sleep in 4 different places: 3 beautiful cities and in a cottage on the mountain. We will visit at least 4 castles, we will have rafting, a day in the biggest Adventure Park in Eastern Europe and a trip on Transfagarasan, the best road in the world, according to Top Gear.
"I'm ready to play, coach Dracula!" will be a TSU based on sport and culture, so we will have contests, a lot of activities, great stories and all combined with our 58 degrees water (famous ţuică). What could be better? We are sure that you will fall in love with Transylvania!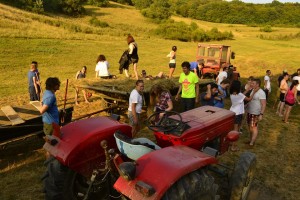 What is the secret of being so active and organizing so many important events?
Well, I don't think that we have a secret for this. In my opinion, the most important thing is to trust your team when you coordinate something. If you trust them, then you will work as a team and everything will be done perfectly and on time.
Also, it is important to have friends on your local, not to be just AEGEE members and to be really interested on the projects that you are going to organize. At least, this is how it works for AEGEE Cluj-Napoca.
     There is no doubt that this antenna has plenty of resources and motivation. What's next? Agora?
Hmmm… AGORA is a big event and we have to think about it seriously because if we want to do it, we want to be perfect! In 2015, Cluj Napoca is European Youth Capital, so… but wait, I cannot tell you more because we do not like to talk about something and not be able to do it; we prefer to do it and after that we can talk about it (with a huge smile on our face :D).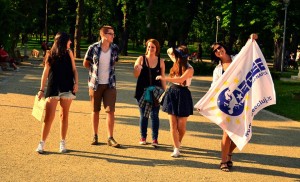 Written by Cosmina Bisboaca, AEGEE-Torino