AEGEE-Sankt Peterburg was eager to host a Network Meeting (NWM) for a while and when the Network Commissioner Maria Arends started looking for a host antenna for the Autumn NWM, they presented themselves and the NWM will be in Sankt Petersburg from November 28th until December 1st.The AEGEEan interviewed the President of AEGEE-Sankt Peterburg Dina Sharonova about the Network Meeting and how visa issues will play a role in their NWM in November.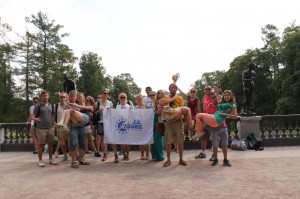 The AEGEEan: What made you apply to host the Autumn Network Meeting in Sankt Peterburg?
Dina: We are quite an active antenna, as we have two international events per year, however we haven't hosted an "official" AEGEE event for a long time. NWM is a great opportunity to contribute to the AEGEE network, show our members other aspects of AEGEE as organization (excluding touristic ones), get some PR on the international level, and gather all our friends around Nordic and other antennae to come to our city.
The AEGEEan: What is special about your city?
Dina: Saint Petersburg is the cultural capital of Russia with long and saturated history. Thus it has a beautiful old town, with a lot of palaces, cathedrals and museums, such as the world famous Hermitage. However urban life is also extremely fast and bright as we have 5 million citizens. So Saint Petersburg also never sleeps, just like Moscow. Also our city was recognized as the 1st top destination in Russia and 16th in the World.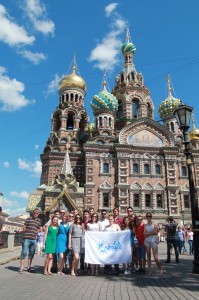 The AEGEEan: Who is part of your organization team?
Dina: For now, as we knew about it recently, we have only two people in our organization team: I am the main organizer, and Anastasia Kachesova is our treasurer, as also she has the same responsibility in the antenna. However we want involve as many new members as possible after the SU in the organizational process.
The AEGEEan: At the NWM Moskva there were few applications due to having to apply for a visa, do you share this fear?
Dina: Not really, as first of all, we have enough participants at each international event. Secondly, the idea of a NWM came in our heads, when lots of people, who we met during other NWMs and events, told us that they wanted  to visit Saint Petersburg. We hope that they will find the will to come to Saint Petersburg. So for European citizens it should be taken as a great opportunity to finally reach new places and countries. Moreover, even if it is NWM for Nordic Stars, we will be extremely happy to see people from Russia, Ukraine, Belarus and other countries that do not have a visa regime.
The AEGEEan: How will you help participants  to obtain a visa?
Dina: We already hosted plenty of international events, so we have an established pattern how to deal with visas. Usually on each international event we have a visa responsible, who is supposed to take care of  invitation letters and to send them to participants. Also this person explains all the details to participants and answers all their questions. The Procedure is not so complicated, but most European members are scared, because they have never faced  it before.
The AEGEEan: What are your plans for the NWM?
Dina: We know for sure that participants are going to stay in a hostel (no sleeping bag and mattresses needed), as usual we will have European night and probably pub-crawling. The other program is still under construction, as we don't have the main topic yet.
The AEGEEan: What topic would you like for the NWM to focus on?
Dina: As for informal topic, the dates are 28th of November and 1st of December so "brace yourself, winter is coming!" Winter is stereotypically known as the most Russian season of a year. Even if in Saint Petersburg winter is usually soft and mostly rains instead of snowing, let's keep our fingers crossed and hope for a real snow battle!
As for formal topic of trainings and sessions, although we haven't discussed it with our Network Commissioner Maria Arends yet, it will be nice to make an advantage, from the point that we are meeting in Russia, and talk about visa issues in cooperation with Visa Freedom Working Group. It seems like a challenge for European people to get it for one event, however for members from Eastern Europe it is necessary to get it for each and every event. Also now the topic of Russian-European relations is very urgent, and we could discuss this in cooperation with Eastern Partnership Project. And, of course, other topics that would be interesting for our participants.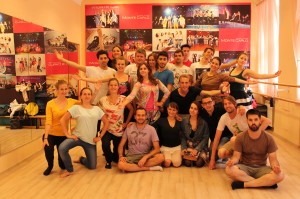 The AEGEEan: What other things are you working on in AEGEE-Sankt Peterburg?
Dina: Now we are mostly focusing on our Summer University: "The Spy School", which will be pretty soon, and then we are going to have a holiday break till autumn. In autumn we will start to work hard again as there will be several exchanges and maybe a Local Training Course.
Written by Patricia Anthony, AEGEE-Zaragoza