After hearing lots of interesting, fun stories from fellow AEGEEans about Summer Universities, I decided to try it out myself this year. Why not? Everybody likes a cheap vacation and discovering different cultures while getting to meet awesome people from all around Europe! I applied for different SUs and before I knew it I had packed my bags and was on my way to Burgos in Northern Spain. Although this beautiful city is just two hours by bus from Madrid, I had honestly never heard of it before and went on this Summer University with a totally open mind.  And I can tell you I did not regret my decision!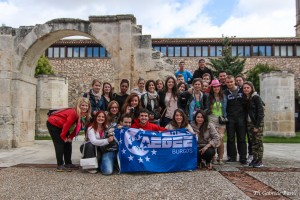 Once the event started, the party also started right away. Our home for the next 11 days was the University gym, but we didn't get to spend much time in it as every day was full of great activities to keep us entertained. This included being woken up at 9/10 AM by screaming Spanish and loud music with some tequila shots still in your system!
During the daytime we went to the beach of Santander, enjoyed cold beers at the San Miguel Brewery, went air rifle shooting, mountain hiking, we got to see the beautiful gothic Catedral de Burgos and the rest of the city.
But what would a nice day be without a party to end it?! That's why during the nights we had activities like the Suit-Up party, Professions party and of course drinks and drunk dancing at AEGEE-Burgos' go-to club Tin-Tin! The ingredients for these great nights were some crazy Europeans,  preferably cheap  Spanish alcohol and a bar you can dance on. For an even more interesting result you can also throw some karaoke in the mix, as we discovered! Now, concerning the European Night : I don't think I even have to speak of it, because most of us already know how these usually end. Or I can just summarize it in two words: Hungarian Palinka.
 To top off this awesome Summer University was that the last weekend we stayed at a really nice house in the mountains of Burgos with all the participants, organizers and other members of AEGEE-Burgos together like one big happy,crazy family. The whole weekend was filled with whipped cream, sangria, fun games (with the whipped cream and sangria of course!), beautiful sceneries and great food, like the paella we made during the cooking workshop. For me these last days where the most fun, because I really saw the difference compared to the first few days. When all of us arrived in Burgos we were total strangers to each other and maybe even a bit shy but towards the end we had became a kind of weird, huge family where everybody got along with each other and laughed together.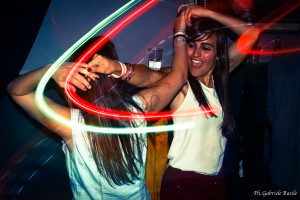 A few days after the Summer University the organizers posted a message on Facebook saying we now all have a new home in Burgos forever and are always welcome to come back. Reading that and knowing it was sincere I honestly had to hold back a tear. I realized I might not remember all the fun activities we had, but that I will always remember these awesome people I got to meet during these eleven days.
Thank you for everything, everyone! Hasta Luego and I hope to see you somewhere in Europe  again!
Written by Karim Breeveld,  AEGEE-Amsterdam