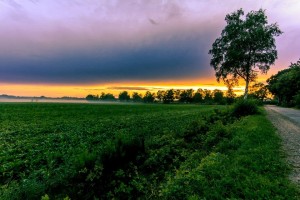 If people start thinking about travelling there is always a question that comes to our mind: which is the best way to travel? This Summer University gave us opportunities to try several different types of travelling.
Arriving in Eindhoven was easy, we got picked up by organisers who drove us to the scouting place that would be our home for the next few days. The environment in Eindhoven was perfect as you can see. To make the day even more interesting we started to play a Saboteur game while being dropped into the nearby town from where we had to find our way back. It was quite a fun game as we were divided into groups, we had to find our way back to the accommodation while texting with the other team in order to get the coordinates. The start of our SU was awesome, we were taken to an historical open air museum, where we could feel like people from the early iron age. We had the opportunity to try to light a fire with flint stones like cavemen and to dress up like a warrior. There, we had some old school punishment devices, which were used if the participant was not behaving well.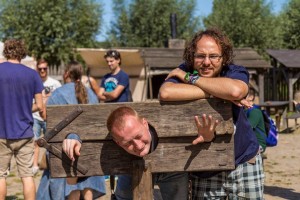 After this I felt confident that I can survive in medieval time style the whole SU, but I dropped that idea as soon as we had to cycle a few kilometers to the next park. I did not feel like walking the whole way, so I went back to the 21st century. After lunch we had a chance to play the second part of the Saboteur game, which consisted of walking around the park and looking at pictures of people we didn't know, but who apparently were really, really famous in the Netherlands. The peak of the day was our evening Saboteur grand finale that consisted of carrying big barrels, burning a rope until it breaks and filling a 1.5 liter water bottler with our mouths. It all went well until my team's saboteur accidentally spilled our whole water bottle and we lost. Despite that it was a good day.
Then we went to Nuenen to have a tour about Van Gogh. It was fun, we saw cows and a windmill that was featured in some of his paintings. After the tour we headed to our new accommodation place where we stayed the rest of the time in Eindhoven. The next day we got a university tour from where the brightest minds of Eindhoven come. Since most of us were quite new to the AEGEE scene, we had a great presentation about AEGEE to learn the basics.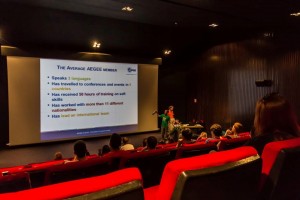 The next thing that was waiting for us was Amsterdam. Amsterdam was for me one of the highlights of the Dutch part, I am quite sure that I was not the only one. It's because everything was a bit different there, many things were legal, which are not in other countries. We used the train to get from Eindhoven to Amsterdam, which was easy and fast. Mostly we preferred to be as Dutch as possible, so we had bikes that we used to ride many, many miles. We actually had a bike trip from Eindhoven to Venlo that was about 60km long. After Venlo we had to go to Cologne not by bike, but by hitchhiking. For most of the people it was their first time doing something like this. Despite that, everybody was really into it and all went well, everybody arrived safely to Cologne. Most people said it was a really fun experience, although a bit boring because it depended of luck if you got picked up or not. It took me over three hours to get a ride.
Heading to Germany we had great hopes, because the previous part organized by Dutch people had been wonderful. And we were right, the German part was as awesome as the previous part. If you thought the Netherlands was a beautiful country, don't forget about Germany. It was as pretty as the Netherlands, even on a rainy day.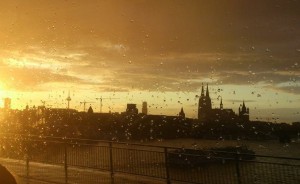 After arriving to Cologne we went to our scouting place, which was a nice house with a big garden were we had a huge tent to sit and relax in. The second day in Germany started out fine, everybody was up in the morning… well, sort of. We went to the city to have a great city rally (which my team won of course), it consisted of making a fake tour guide to the people near the Cologne Cathedral, finding Wally, collecting Kölsch laws and words and many more wonderful things. The evening ended with all the group members going to a karaoke bar. A big part of the group said that they couldn't sing, it changed instantly when well-known tunes started to play, almost everybody sang at least one song, the best of us sang more songs than I can remember. The next day was going to be even better, because in the evening there was an event of which you may have heard, it was the European Night. Every nation's finest AEGEE members brought the best of what they had to offer for us. People who had already done a great warming up in the European Night continued to go out to a club, where everybody could let themselves free and just dance like there  is no tomorrow. And they did, they danced. Then, a day at the lake. Well that was the original plan, but the weatherman thought otherwise and it rained the whole morning. So we dropped the plan to go to the lake, because we had our own little lake in the backyard. Sadly no one tried it. Instead we went to discover Cologne. Everybody was quite sad because it was quite the bad weather, but it changed once we arrived to the Lego shop, people's smiles got even bigger than Joker's from Batman, even the Grinch's smile was nothing compared to ours. Coming back the organizers had prepared a barbeque for us. It was good. The next day it was Brühl and Bonn time, Bonn was the old capital of West Germany. We were taken to the Brühl castle, everybody was really looking forward to seeing the mighty castle of Brühl. I am no castle expert but that was no castle, it was a big house that we might be called a palace. After Brühl's "castles" we moved forward to the city of Bonn, birthplace of Mozart (which everybody already knew of course!), there we went to the House of History where we got really detailed information about the history of East and West Germany, and we saw a real original moonstone!
Sadly this awesome time ended. The last party was a white t-shirt party where we wrote good things on each others clothes. I hope that all of us can join together for at least once somewhere in Europe! Thank you all for this memorable summer!
Written by Valter Kamarik, AEGEE-Tartu
(Pictures are courtesy of Maikel Wagemans, Rodrigo Lopez Díaz and Anton Yeshchenko)