AEGEE-Kastoria organised on the 25th of November 2014, the International Day for the Elimination of Violence against Women, a lecture with the support of the Counseling Center for Women and Victims of Violence of Kastoria.  The main organiser, Panagiotis Emmanouilidis, President of AEGEE-Kastoria, reveals information about this and other humanitarian events organised by its local and about the future "full of surprises" of AEGEE-Kastoria.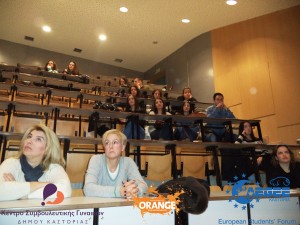 Kalimera, Panagiotis! Congratulations on the event.  It's fulfilling to see that young people are socially involved in important humanitarian events such as the elimination of violence against women.  What is your personal feeling on this matter?
Kalimera! Thank you for the good words. From my perspective, it is very important to be part of this event. The proposal came directly from the Counseling Center for Women and Victims of Violence of Kastoria. Honestly I couldn't reject it. After a long brainstorming, the idea came from the Center, and we had speeches about casual sexism, stereotypes in movies and commercials, labor law (protection of women's rights in the workplace) and a historical review.
Are there many cases of violence against women in Kastoria, or say in Greece?
If you make a research about this topic you will find a lot, but it will not be the absolute truth. I am telling you this because there are a lot of cases that will never emerge.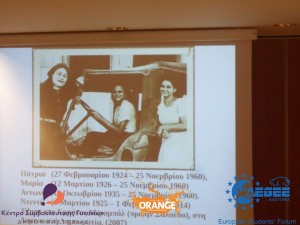 What was your target audience? Did you manage to reach it?
Our target audience were the citizens of Kastoria in general, but students in particular… We looked for a quality audience, rather than quantity. To answer your question: yes, we reached our goal.
Do you believe the lecture had an important impact on the participants?
Totally. Participants were very motivated. When the presentations finished, we had a workshop about our feelings and we made a video based on the importance of the day! The event went very well and I'm very motivated and happy about this.
Have you thought of implementing your event at the European level?
I will say only that I have already discussed it this with Counseling Center for Women and Victims of Violence of Kastoria. When we will share it, you will know it.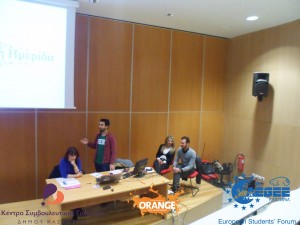 Have you done other humanitarian events in your local?
Yes, one of them was the "AEGEE-KastoriaA lights a candle for the people standing up for democracy in Turkey", the second was the "Free hugs for world peace". With the Counseling Center for Women and Victims of Violence of Kastoria we had already collaborated with the event "Bicycle ride, against violence against women". The future will be full of surprises.
What is the history of AEGEE-Kastoria?
AEGEE-Kastoria is only 3 years old. Nikolas Varveris is the founder of AEGEE-Kastoria. He was a member of AEGEE-Thessaloniki and, when he came for studies to Kastoria, the miracle happened!
We have organised a big variety of events such as three European level evens (one of them was unofficial), social meetings, thematic parties, humanitarian events and two exchanges (one with AEGEE-Thessaloniki and AEGEE-Tenerife and one with AEGEE-Zaragoza and AEGEE-Ioanina). And, as I said before, more is coming.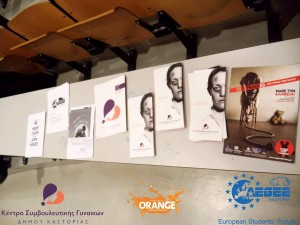 What are AEGEE-Kastoria's future plans at the local and European level?
I don't like to speak about our future plans, but we are thinking about organising a lot of things this year. Our main goal is to become more famous in our local community, so more people will get involved in AEGEE. We are a very new antenna, but we are trying a lot.
How is the AEGEE spirit in Kastoria?
The AEGEE spirit in Kastoria is very strong. As I said before, we are a new antenna, but we have shown to the whole Network how much we are into AEGEE and how truly motivated we are. My feelings about AEGEE are very strong!
Written by Gabriela Cioată, AEGEE – București