AEGEE is growing in the United Kingdom and most recently three girls each came up with the idea of starting a contact in Newcastle upon Tyne. Through the Network Commission they got together and started working on the paper works to become an antenna. The AEGEEan interviewed Laura Ferras, Laura Bennett and Helen Dryden about the life in Newcastle upon Tyne and their experience with AEGEE so far, as well as their plans for the future.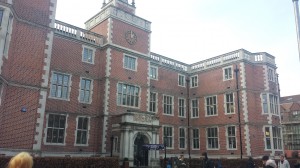 The AEGEEan: What is your background? Where are you from, how old are you and what do you study?
Laura Ferras: I am a PhD student in Biology, 24 years old. I come from France, Nancy.
Helen Dryden: I'm Helen Dryden and I study Chemical Engineering at Newcastle University. I am originally from Reading which is near London, so it was very different and exciting to move to Newcastle as it is so far away. I am almost 21 so it won't be long until I have completed my degree but I really want to stay in the area. The North East has a really strong sense of community and everyone is very friendly.
Laura Bennett: I'm Laura (Bennett, since we have two on our team!), I'm 22, in my second year studying BSc Zoology at Newcastle University and I'm originally from Newcastle too.
Where did you get to know AEGEE?
Helen Dryden: I have always loved travelling and was planning my next trip abroad when my sister mentioned that she had been on a summer university with AEGEE. I thought it was a great price and brilliant way to make friends. I went, thinking it was a group holiday away, but I learnt all about the organisation and their values and was inspired to help create a contact.
Laura Ferras: I discovered AEGEE in Lyon. I joined AEGEE because I wanted to attend a Summer University (SU) in Cagliari.
Why did you want to start your own antenna?
Laura Ferras: I have loved being a member of AEGEE and meeting young people from all over Europe and I would like to share the AEGEE spirit here where I am living.
Helen Dryden: I made so many good friends during the Summer University and met people from countries I didn't know much about like my friend Maria from Belarus, I would like to visit her sometime in the future. I know many people who would be interested in being involved if they knew about AEGEE.
Laura Bennett: I got to know about AEGEE when it was recommended to me by a friend. I worked together with the current president of AEGEE-London, Connor Russell, to run an exchange trip while we were both at college before university. A few years later when Connor discovered AEGEE himself in London he told me how it involved a lot of the opportunities we'd been so interested in exploring while at college. Since I was at university at Newcastle now, and there was no local contact or antenna, I thought it was a good opportunity to really get involved and introduce the organisation to other students in the area. A few emails back and forth with the Network Commissioner Maria Arends and I found out I wasn't the only person who thought Newcastle needed a contact!
How has the start-up been? Did you spread the word about AEGEE in Newcastle already? 
Helen Dryden: After contacting the Network Commission, I found that there were two other students who were keen to create the contact with me. I don't think I would have been able to do it alone so I was so pleased. It has taken three months to sort out all the paper work as our university has strict rules on insurance but we have persevered and it has been worth it.
Laura Ferras: So far I just started. I met Helen and Laura in December. They are the ones that did all the paper work to make this possible. I am currently doing a secondment in Durham but I will be back to Newcastle mid February.
Laura Bennett: We're still in early days with getting the word out and we're using university events like the Refreshers' Fair, which showcases university societies to interested students, to spread the word about what we're doing and why AEGEE is a great thing for students in the city.
How is your relation to the university?
Laura Bennett: We're set up as a society with Newcastle University, which means we can take advantage of the facilities they have and promote ourselves to the students with the university. We're hoping not too far in the future we can encourage another society forming at the city's other university, Northumbria University, and get the word out to as many people as possible.
Did you already attend any AEGEE events?
Laura Ferras: Yes I did. And I wish we will have one soon here in Newcastle. As far as I remember I attended one AGORA, one EBM (I know we say EPM now but when I did mine it was an EBM), three SUs, a Regional Training Course and a Local Training Course in Toulouse, which was my first event in AEGEE.
Helen Dryden: I attended TSU-Open Your Mind which was based in Slovakia and the Ukraine. I would really like to go back to the Ukraine so I am keen to save up and go to the Autumn Agora in Kiev.
How is the student life in Newcastle?
Laura Ferras: I moved to the UK in September but so far I am doing a secondment in Durham so I spent only few times in Newcastle. The only thing I can tell is that there are a lot of societies and the night life is very intense.
Helen Dryden: There are three universities in this city so there are students everywhere! It is extremely common to join a society and so through that, living in student halls and meeting people on your course it creates a really close community.
Is volunteering popular in your city? 
Laura Bennett: Student life in Newcastle is very lively and there's a reputation for us being a party city, and it's likely we'll be having at least one pub crawl meet and greet for members and interested people in the near future. We do also have a big cultural atmosphere and volunteering is a very popular activity among students for the experience it gives.
Helen Dryden: The RAG society (Raising and Giving) is particularly popular among students. It involves raising money for the local community through a magazine and events throughout the year, however there is also one week dedicated to RAG where more students are encouraged to join and collect money on the main shopping streets in teams.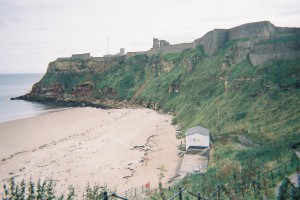 How is life in general in Newcastle? What is special about the city?
Laura Bennett: I think what's special about Newcastle for me is that, like other cities, it has its own specific and rich identity. Famously we're the origin of the Newcastle Brown Ale, and every year we host the Great North Run, which is always a great opportunity for fund raising and community spirit. But Newcastle's a brilliant city for having a long existing significance in many different aspects of culture. We have a proud history in theatre, sciences, music and sport. We even have our own dialect, Geordie! Which as a native I'm happy to demonstrate for anyone visiting.
Laura Ferras: Compared to other cities in the UK life is not really expensive, there are a lot of cultural events, people are very friendly but I can tell that their accent is hard to understand sometimes. As I said the night life is quite good and Newcastle is famous for that but what I really like in Newcastle is the diversity, you can meet people from all over the world here.
Helen Dryden: There is also a lot of beautiful scenery to visit in the North East. Newcastle is very close to the coast and there are many parts of Hadrian's wall which runs through the city.
What plans do you have for AEGEE in your city? 
Laura Bennett: As a new contact we're very much looking forward to a regular and varied social calendar for our members. We have plans for local events with students in the area such as trips to the cinema and theatre, as well as debates and nights where we explore cultures across Europe. Newcastle as a city also has some great festivals throughout the year we'd like to participate in.
Helen Dryden: Yes, and then gradually work our way towards Network Meetings and eventually a Summer University.
Will you be able to attend any Agora, EPM or NWM this Spring?
Laura Ferras: I will try to attend the next Agora, but I have to say that my PhD is taking all my time.
Helen Dryden: I unfortunately can't attend this Spring due to university work but I plan on attending the Autumn Agora in Kiev. I almost went this summer but my plans changed which I really regret.
Laura Bennett: In the end, we're definitely planning to represent ourselves at an event in the near future, we just need to get together over our university timetables and work out when that will be.
How is the topic of eurosceptism? Does it affect your plans for the antenna?
Helen Dryden: I believe this is the perfect time for Newcastle to be a contact as our generation will become more open to being part of the EU by having more communication with other nations. In the near future there will most likely be a vote for whether to stay in the EU so the society will remind people of the positive aspects of being part of the EU.
Laura Ferras: If the referendum about Britain's membership of the European Union takes place, it will probably be part of our plans to do different conferences about the EU at the University.
Laura Bennett: Exactly! Eurosceptism is a huge topic in the UK at the moment and doubly so in our region here in the North East, where the financial difficulties of the public have been linked by some political parties to our national involvement in the European Union. I'm personally very interested in these politics and we'd love to explore them if it's something interesting to our members.
Written by Patricia Anthony, AEGEE-Zaragoza