From local to European. This is the journey that every active AEGEEan dreams about and this is what Svenja van der Tol is trying to realise applying for the position of Secretary General of AEGEE-Europe. Read on to discover more about her candidature, but also about her life, experience and personality.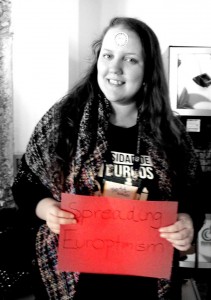 The AEGEEan: Introduce yourself. How old are you? Where are you from? What do you study? Future aspirations?
Svenja: Hello everyone! My name is Svenja and I'm a 22-year old girl/woman (I never know what to call myself) from the Netherlands. I finished my Bachelors in Dutch Language and Culture and now I'm working as a full-time intern for a Publishing and Marketing company. When I grow up, I would like to continue in the field of communication, preferably as a journalist or copywriter. In an ideal world I would get paid to travel and write about that, which would be a nice follow up of my AEGEE life. Since my nickname is Mommy of the Network already, it shouldn't come as a surprise that one day I want to be a real mommy and have a looooooot of kids (she said before actually having had one herself). I think my future aspirations in AEGEE became quite clear with my candidature [she laughs].
What kind of person are you? How is your character, strengths and weaknesses?
If I have to use a hashtag to describe myself, it would be #svenjaoptimism, which, fun fact, my friends actually really use. I'm a happy, optimistic, honest fluff puff girl full of energy who loves rainbow unicorns, talking, eating, laughing and travels. I like to keep myself busy, so you will find me writing, reading or working on something almost all of the time. My strengths are that I am a hard and fast worker, very enthusiastic and therefore able to motivate others, understanding and a good team player. My weaknesses are that sometimes I forget to take some time for myself because I'm so passionate about what I'm working on that I want to work on it day and night and I can be a bit impatient.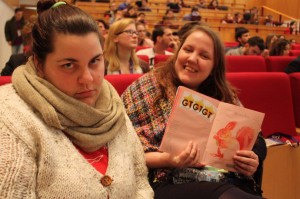 What is your experience in AEGEE?
I started my AEGEE career as the Secretary of AEGEE-Nijmegen's board, where I got my first experience with taking minutes and administrational tasks. During and after this year I was active in different committees, including the advisory board. I've also given several trainings and organised events like a Network Meeting (NWM) and several Summer Universities (SUs).  After my board year, I had learned a lot more about AEGEE-Europe, and decided I want to contribute to it too. First off, I joined The AEGEEan as a journalist and proofreader, where I became Editor of the Network section not too long after. After Agora Patra, Erika Bettin (AEGEE-Venezia) and I decided to run for the position of Editor-in-Chief of the Key to Europe, and I started to help Lia Tuska (AEGEE-Sofia) and afterwards Boudewijn Steenhof as SubCom for the Dutch locals. Around that time I also joined Action Agenda Coordination Team (ACT), where I again used my love for writing and became the Project Manager of the Guidelines and ACT responsible for the Dutch locals. At Autumn Agora Cagliari I was elected as Secretary of the Agora and European Planning Meeting (EPM), meaning that as part of the Chair Team I have been preparing both the EPM and Agora and I was responsible for the report of the EPM. Last but not least, in the past month my tasks for The AEGEEan have been expanded since the current Editor-in-Chief Erika Bettin appointed me as her vice Editor-in-Chief, which is a task I very much enjoy.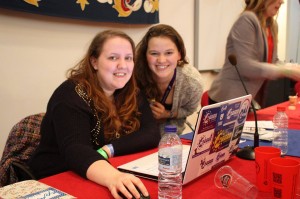 Secretary General of AEGEE Europe, please explain the role. What do you find interesting about it?
Personally, I see the Secretary General as the glue that keeps the rest of the Comité Directeur together. In the different teams I have been in, I was the facilitator most of the time, making sure that everyone could do their work properly and felt good about the team too. I enjoyed this role very much, so I would like to be 'the glue' again. I have a strange love for creating order out of chaos so I also really look forward to working on the administrational tasks. Related to that, I want to continue exploring the possibilities of a secretariat and delve into the archives to look at opportunities to make them available to everyone. During my board years I've learned a lot about representation and communication with externals like the university and several other involved parties. I really enjoyed these contacts, so I look forward to being responsible for the external representation. As Secretary General you are not only working within the Network, but also on behalf of the network to share with the rest of the world how great AEGEE really is. To do that, I would like to develop a media usage strategy and work in close cooperation with The AEGEEan and Key to Europe to properly represent AEGEE-Europe to both in- and externals. As all Comité Directeur positions, the position of Secretary General is quite flexible when it comes to the exact task division. I have worked on quite diverse tasks in- and outside of AEGEE, so I am very happy that I would be working on different projects too as Secretary General. Some of the topics that I'm interested in are the (improvement of) statutory events and, as ACTie, the thematic aspect of AEGEE.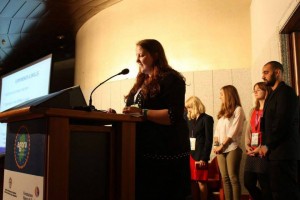 Why are you applying for this position?

As I wrote in my candidature, AEGEE has changed my life a lot in many positive ways. I have gone to places I could never imagine myself going to, met people I now consider my best friends and learnt a lot of new things about myself, but also about valuable skills like event organisation, promotion and teamwork. I will quote myself and say: "They say home is where your heart is, but I'm convinced that actually AEGEE is where your happiness and self-development are." I still believe in that, and I think that as much people as possible should have the chance to explore this wonderful association too, because it has given me a lot and I'm absolutely sure it can give other people a lot too. Besides giving people great experiences, I also believe that we as an association are doing many more great things, for example strengthening young people's awareness of the European project and its benefits, motivating them to be an active citizen or educating them about a diverse range of topics. It's important to continue the things AEGEE did, does and will do, because together we achieve great things and are able to represent the young people of Europe properly. It's also something I would love to be part of and contribute to by taking part in the Board of Directors. I specifically chose the position of Secretary General, because looking at my experiences and characteristics as described earlier I think it's a position that I would be very much suited for.
How have you prepared your candidature?
I've wanted to apply for Secretary General for a while already, so I have spoken to different former and current Comité Directeur members to find out more about their tasks and personal experiences. Over the years I have also tried to acquire experience myself with different aspects of AEGEE, ranging from The AEGEEan to the NetCom and from the Chair Team to ACT, to be as prepared as possible to once be in the board of directors and properly know what I am in charge of. Then, when I decided that the time was right to apply, I have rewritten my application about ten times and let several friends check it to be sure that I was as well prepared as possible.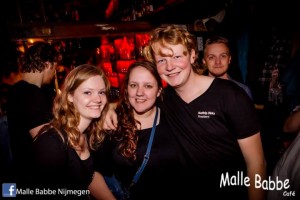 Which is the best part of your programme?
It's hard to decide on a best part, because I have tried really hard to make sure my program consisted of things I know I would be able to reach and that I would like to work on too. However, a task that I very much look forward to working on is that of communication, because I believe it is one of the most important aspects of the job. I do not only want to ensure a good communication within the Comité Directeur and the Network as a whole, but also towards externals, representing AEGEE-Europe in all it's glory. Although it's worked on already right now, I still think there would be space for improvement (as there always is), for example using social media more often to share what is going on within AEGEE. We already know that we are awesome, so now it's time to let the rest of Europe know too [she smiles]!
Why should you be elected?
Because I do not only have a strong motivation, but also a very good working attitude and – I believe – quite a lot experience for the task. Besides that, I would turn the CD house into a bakery if I'm elected, because I love to bake. Rainbow coloured cake has never disappointed anyone [she laughs].
What if you are elected?
I will probably not believe it for a while and then be super-mega-extreme-unbelievably overjoyed for at least a few weeks. Also, I would have to figure out how to explain to my parents what exactly I would be doing in Brussels because they still don't really seem to get it. Afterwards, I will be working hard to prepare myself in all the best ways possible and ensure that I am working for the network as well and as hard as I can. It would be a real pleasure to be able to represent an association as awesome as ours and work hard to make it even more awesome!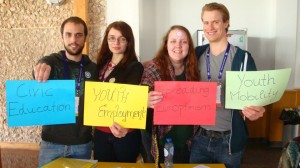 And what if you are not?
Of course I would really prefer to be elected after having had the dream for a few years now, but if I'm not, I have some back up plans ready that I would really like to fulfill too. I will be more than happy to work on some exciting plans we have within AEGEE-Nijmegen and I would like to continue my work as SubCommie, ACTie and The AEGEEan. As I like to say: any time spent on AEGEE, in whatever position, is well spent.
How could it change your life?
As you can read in my motivation, AEGEE has changed me and my life a lot in a positive way, so if I'm elected I would be able to properly give something back for all that it has given me. I expect to learn a lot more during my time in Brussels too, which I'm very excited about.
Written by Karina A. Silivas, AEGEE-Udine