As February is getting closer, everyone is getting more and more excited for the upcoming European Planning Meeting (EPM)  2016 hosted by AEGEE-Leiden. With a very hot topic as the "Refugees in Europe – Europe vs. the Rest: Change of Perspective?" the Core-Team in Leiden is almost ready to present their participants with an unforgettable experience including some very important sessions and, as always, amazing parties. We had the chance to talk with Casper Renting the Vice-Organiser and PR & IT responsible of this EPM who gave us a bit of insight for the organisation and the city life.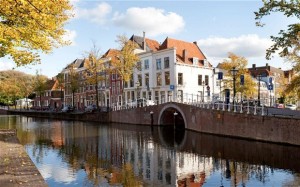 The AEGEEan: AEGEE-Leiden has already hosted some great statutory events. Could you tell us a bit more about the history of your local?
Casper: We were founded on the 31st of October 1985, so we have been there since the very beginning. There has always been someone from Leiden in the Comité Directeur during the first 9 years of AEGEE, something we are quite proud of. We have also continuously organised Summer Universities since the early nineties. For most of its history, however, AEGEE-Leiden was a very small antenna, with only around 15 members, until the year 2000. Since then we have been steadily growing up to the around 300 members we currently have.
Why did you decide to organise an EPM?
We hosted EGEE-3 in 1987 and the 49th Agora in 2010, but we had never organised an EPM/EBM. What better reason could you have? Anyway, that is why, in 2014, some senior members of our antenna started thinking about the idea. After initially losing the 2015 bid to Burgos, we improved our application considerably and won the year after.
How is the organisation going so far? Is everything running as expected?
Haha, mostly! Jokes aprt, we are doing fine. We meet every Monday evening with the Core Team to update each other. We have just found our coordinators and we will soon select helpers. We have applied for various funds and are confident that we will get a positive response. All party locations and almost all meeting locations are definitive. As IJsbrand, our Logistics Responsible said: "If the EPM was tomorrow, it could go through. It would be very stressful for us as CT, but it could work." Still being two and a half months away from the 25th of February, we are sure we will manage everything in time.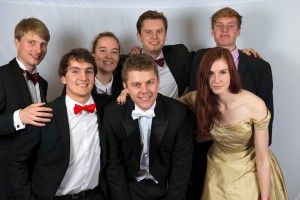 What is that thing that would make this EPM more special than the previous ones?
That is a difficult one. Every EPM or Agora is of course a unique experience and we do not want to sound like Burgos or Lublin were nothing special. But, to name a thing, as well as Bergamo could host the biggest Agora ever, we could host the biggest EPM ever. We can accommodate 350 people, if we will, that is up to whoever is reading this now.
Oh and the legendary European Night will be back on this EPM, so make sure to bring your national cuisine!
How did you come up with the postcard challenge? How is it going?
Every summer, members of AEGEE-Leiden send postcards to the AEGEE-office from wherever they are, and there is of course the Christmas-Postcrossing by AEGEE-Warszawa. AEGEE has some nice traditions involving postcards and we wanted to honour that tradition with this competition. We have now received only 5-10 cards, but as AEGEE people love being close to deadlines I am sure, more will arrive. Besides the big prize, there will be a small prize for every participant and of course we will display the cards during the EPM.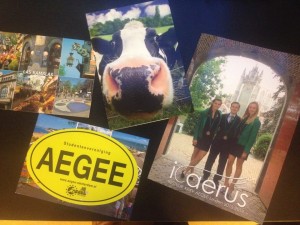 Any spoilers on how do you plan on delivering such a burning topic?
Well, as organisers we are only facilitating. How to deal with this interesting but difficult topic is up to the content managers. We can say, however, that we see the relevance of this topic every day. Our sleeping location was a temporary refugee shelter some time ago. AEGEE-Leiden people organised a day full of activities for the refugees at that time.
What is the one thing that participants must see or visit when they come to Leiden?
There is so much to see! We posted some inspiration on our website, but as an anthropologist I can reccommend the National Museum of Ethnology and the National Museum of Antiquities. A free tourist attraction is the Burcht, a 10th century fortified building in the middle of the city, from which you have a great view over the city.
Is there any advice you would give to antennas that plan on hosting a future European Planning Meeting?
Just go for it, it is a great experience for organizers personally and for the antenna as a whole. However, make sure you have full support from your university and/or local government. We would not have been able to do it without them and I think the same is true for Burgos and Lublin. Furthermore, do not abandon the local level, make sure there are still people organising and visiting local activities. Organising a statutory event, doing something for the network, is wonderful, but it is an (unnecessary) shame if it harms your antenna and the HR it heavily relies on.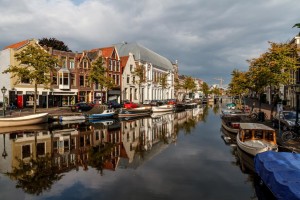 What should the participants expect after their experience from the EPM and the city of Leiden?
Well, there is of course the common things. You will be drained from energy because of all the parties and discussions. You will have made new friends and reconnected with old ones. If you were smart you have seen a lot of Leiden and surrounding cities because you visited a Pre-Event in Amsterdam, Enschede or Heidelberg, or stayed a bit longer to see historical cities like The Hague, Delft or Utrecht. You will have found out that the Netherlands is quite affordable if you know the right places (and we do!) and that Leiden is rich in student traditions. Lastly, you will have many great memories that have one thing in common, they all start with: "Remember that time in Leiden…"
You can visit EPM Leiden 2016 here
You can apply here until the 17th of December 23.59 CET (Login Required).
Written by Theodora Giakoumelou, AEGEE-Athina