In 2015, Human Rights Day has been celebrated with various activities and discussions all around the AEGEE network. This year, ten antennae, namely AEGEE-Aachen, AEGEE-Ankara, AEGEE-Cluj-Napoca, AEGEE-Madrid, AEGEE-Odessa, AEGEE-Patra, AEGEE-Ploieşti, AEGEE-Sankt-Peterburg, AEGEE-Skopje and AEGEE-Tenerife, organised forums, lectures and other kind of events in an attempt to promote and raise awareness about human rights. Celebrated on and around December 10th, the Humans Rights Day activities addressed around 300 people, both AEGEEans and non-AEGEEans, giving them a platform for learning and discussing the human rights-related issues that were relevant to their daily lives.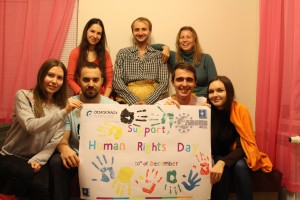 The types of activities organised by the locals varied widely from mini-human library to film-forum; from role-plays to informative lectures. Organised in collaboration with Democracy in Practice, these events opened new windows for the participants to look at human rights issues, as the evaluations gathered from the participants indicate. Not only did the participants learn about the Universal Declaration of Human Rights, which marks the basis for the Human Rights Day, but in some events, they also examined the question of refugees which has been on the front burner in Europe for a long time now.
There were many workshops implemented in common by some antennae. For example, AEGEE-Madrid, AEGEE-Patra, AEGEE-Ploieşti and AEGEE-Tenerife included the workshop called "Three Things", which asks the participants to decide on what three things they would take with them if they were forced to flee their homes. This activity was effective in giving a mock first-hand impression to the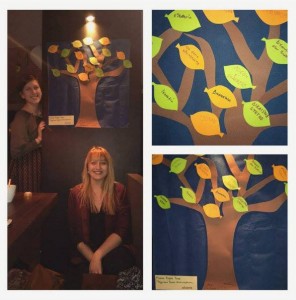 young Europeans of what kind of an experience it is to be a refugee.
Another workshop that was popular among the locals was the "Human Rights Tree". The participants in AEGEE-Cluj-Napoca, AEGEE-Patra, AEGEE-Ploieşti and AEGEE-Skopje had the opportunity to build their own trees that were embellished with the names of the Human Rights they value the most. They also added to their trees how and by what means these rights could be provided in their societies. Along with revealing what the most crucial Human Rights are in their contexts, this workshop familiarized the participants with the articles of the Universal Declaration of Human Rights by providing a platform for comparing their tree with the articles in the Declaration.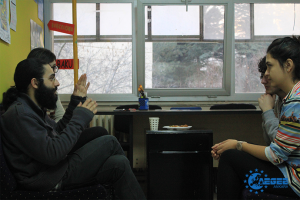 Different from these workshops, AEGEE-Ankara organised a mini-human library that included an Armenian and a LGBT individual as its books. Being subject to excessive prejudices in the society, this event aimed at bringing together the subject and the object of the prejudices in order to contribute to the formation of a society where borders are crossed and Human Rights are protected. In this event, ten people had the chance to communicate and ask their questions to the Armenian and LGBT individuals in person and in private, which eventually broadened the readers' horizons by revisiting their prejudices.
In another event organised by AEGEE-Sankt-Peterburg, the participants were formally informed about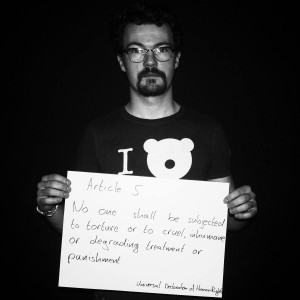 the history of Human Rights, bioethics, euthanasia, abortion and many others, via presentation. Encompassing various sides of Human Rights, AEGEEans in Sankt-Peterburg found a chance to learn and ask about Human Rights as well as doing a Human Rights Photos activity for the celebration of this important date.
AEGEE-Aachen was another antenna that chose to celebrate this day with photos, but in a different format. The participants of AEGEE-Aachen's event wrote the Universal Human Rights on big sheets and everyone took a photo with their sheet. By publishing these photos on social media, AEGEE-Aachen managed to raise awareness about the Universal Human Rights granted to each and every individual and to draw attention to the topic of Human Rights.
Film-Forums were also preferred activities to draw attention to the various aspects of Human Rights. AEGEE-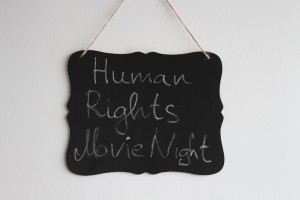 Madrid and AEGEE-Odessa organised events where they watched a movie related to Human Rights, and after the movie they created an environment in which the participants could analyze the movie in relation with the Human Rights and with the cases that encapsulate their everyday lives.
Lastly, one of the most impressive workshops was the "Language Barrier" one, organised by AEGEE-Ploieşti and AEGEE-Tenerife. It was also aimed at showing the difficulties the refugees face in their everyday hassles. In particular, the problems resulting from not speaking the language of the countries the refugees are migrating are acted out as realistically as possible. Many participants expressed their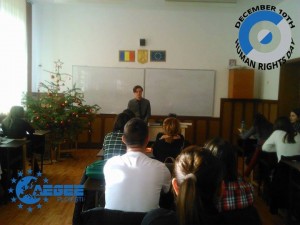 puzzlement and empathy for the refugees who experience these problems on a daily basis, and they said they were moved to act on this matter.
In a nutshell, around the 10th of December AEGEE was busy learning and raising awareness about Human Rights in collaboration with its locals and Democracy in Practice. The organisers did an excellent job in emphasizing the different aspects of Humans Rights with various activities by including altogether around 300 people. However, as many of us would expect, Human Rights are a sensitive and ever-hot topic that should be kept in the agenda at all times and that should be worked on. Therefore, we invite all the AEGEEans to do more activities to promote the proper implementation of Human Rights and to create a Europe where Human Rights are kept above everything else.
If you wish to organise Human Rights Activities, please check the Human Rights Activities Guidelines and fill in this form.
If you wish to organise Active Citizenship Activities, please check the Democracy Activities Guidelines and fill in this form.
Written by Zeynep Eda Alpsoy, AEGEE-Ankara on behalf of Democracy in Practice