There is a body in AEGEE that deals with what is most important in our association: members. It's the Human Resources Committee, working on the wiki, knowledge transfer and mentorship system among others. We spoke with the soon-to-be-former speaker of the HRC, Carmelo De Marco from AEGEE-Agrigento, who was a Member of the Month nominee some time ago.
The AEGEEan: Please describe yourself.
Carmelo: I am from Agrigento, Sicily, in the South of Italy. I am 1.78 metres tall, I'm 25 years old and what I want is world peace!
What? This is not a beauty pageant?  The AEGEEan's interview?!?!  Oh… Ok! So… I'm a luthier (yes, I make guitars), a musician, an engineering student, a traveller, and an AEGEE addict!
… But I'm trying to quit, fortunately without any results!
What is your experience in AEGEE?
I discovered AEGEE in 2012: a friend of mine posted a video on Facebook about a cultural exchange organised by AEGEE-Agrigento in Belgrade. "What is that? Can I participate?" I wrote him, and now I'm here. It completely changed my mind about Europe, about integration, about friendship… It has completely changed me!
Since then, I have been to seven Agorae, six Summer Universities, a couple of pre-agora events, one EPM, one NWM, and I don't know exactly how many RTCs, LTCs, official and unofficial "small" events around Europe as organiser, participant, helper or all of them together. I was HR responsible in my Antenna (Agrigento) in 2012 and 2013. In 2013 I joined the HRC as member. I quickly became Fair responsible for both Agorae and I was elected speaker one year later.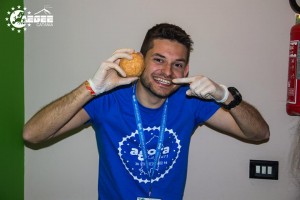 What is the best memory of your life in AEGEE?
In my head, I have a kind of big amazing puzzle made of all the experiences I had in AEGEE. That's why I can't choose only one piece of it as best memory. But I want to share a relevant moment of my life in AEGEE with you: it was during AgorAsturias, my first speech on stage as speaker of the HRC. I was really nervous, and I thought "they will all be there to listen to you, you will have a lot of eyes on you!"  On the stairs my legs were shaking… When I was on stage I looked at the people and I discovered that you can sleep on the chairs in so many different ways. I promised myself I will try them all!
What is the HRC?
HRC is the Human Resources Committee. Our role is to support and to help the development of Human Resources in AEGEE, in all fields. We worked on the Wiki, we created and modified documents and materials related to Human Resources and Knowledge Management, we are still developing some ways to help locals and new members of AEGEE. We want to create online trainings and a well prepared trainers database, that's why we are collaborating, or we will, with the NetComs, the Academy, the ITC and all the bodies of AEGEE.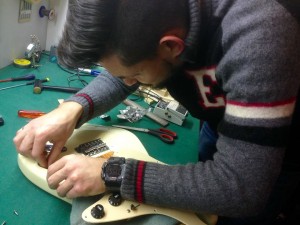 On what the HRC is currently working?
Right now, we have two big projects that we are trying to develop. One is to directly help the locals, maybe with the collaboration of the NetComs, but we still have a lot to do about it.
The other one is the Mentorship System during Agora: if you were there at the last two Agorae, you saw some people with a big blue M on the badge for sure: they were Mentors! The HRC Agora Mentorship Programme aimes to support new AEGEEans during their first Agora through activities such as knowledge transfer, motivation, involvement and inspiration. All the new members that apply have a Mentor with great experience in AEGEE, ready to answer to all their questions (all the questions not related to AEGEE will not have any answer).
When speaking about Human resources, what is the most important thing AEGEE needs?
AEGEE in an association based on people, the most important thing AEGEE needs is the easiest at the same time: you! You are the power that moves our association, AEGEE simply needs people who want to develop and improve themselves, because AEGEE gives you this opportunity, directly or indirectly. You just have to go out on the field and play your game.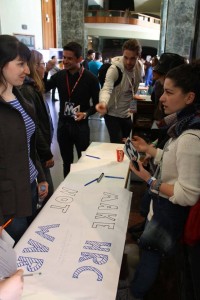 What are your future plans in AEGEE (and in life)?
My "circle" in AEGEE is already at its latest stage, I'm working on the knowledge transfer to share my experience with the new members. My real (or just other) life takes me a lot of time, and if, in the beginning I attended an event every one or maximum two months, now I can go only one or two times per year. Probably I will go to Agora Bergamo, I think as HRC member, but for sure not as HRC speaker [we have elections during these days and I am not a candidate n.a.]. I will be still active in my local, and for sure "See you somewhere in Europe"!
Written by Erika Bettin, AEGEE-Verona