It is said that , on this Earth , there are never two people that experience exactly the same thing, but one fact is for certain: AEGEE is a whole new world, where you can find the most amazing experiences, meet extraordinary people, discover new countries, gain priceless memories and it all starts with a small step.
A few days ago somebody asked me about my best experience in AEGEE and I was completely lost for words (and this is not so usual for a law student that loves to talk). So, I decided to go for a walk down "memory lane", hoping to find the answer to this question. The conclusion was a big surprise for me as well, but now I can say that my best experience in AEGEE was: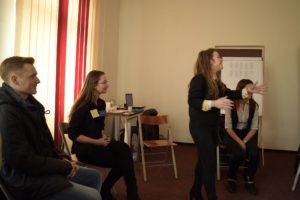 My first workshop as a trainer for Human Rights Day
Considering the fact that I am a law student, Human Rights Day was the perfect opportunity to share my legal knowledge and to raise awareness about the importance of proper information when it comes to our fundamental rights and how a democratic system should look like. But there was a big problem: my shyness and fear of public speaking didn't fit the fact that I was supposed to speak in front of fifteen people for about one hour-and-a-half. At the end of the day, the message I wanted to convey was more important, and all of my shyness jumped out he window, making the event a real success. I can honestly say that this project made me fall in love with AEGEE, but…no, this was only the beginning! My actual best experience in AEGEE was: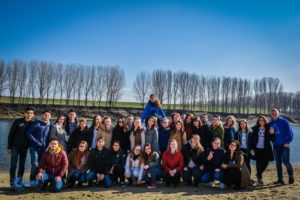 Regional Training Course organised by AEGEE-Chișinău
The amazing people from AEGEE-Chișinău were the first AEGEEans that I was meeting outside my own antenna, and I was really impressed to see that they were treating us like family. Moreover we had the chance to exchange ideas, to meet people from other Romanian antennae and to talk about the upcoming Agora Chișinău. The fact that I was in the middle of the planning for the biggest AEGEE event, the Agora, was really overwhelming and exciting. Not to mention the fact that Agora Chișinău was supposed to be my first Agora… but it wasn't and this makes me think that my absolute best experience was: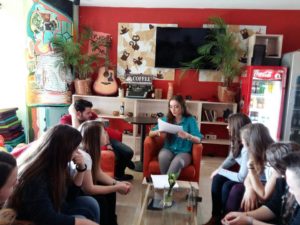 AEGEE Day Celebration
I saw one of my dreams come true: me and my team made AEGEE history, because 2016 was the first time when AEGEEans celebrated AEGEE day. This project was my best experience in AEGEE, because it showed me that I only need one thing to create amazing events, amazing memories and that thing is a well-kept secret: passion. One of my favourite quotes is "Passion changes everything" and it is 100% true, because I was still a newbie in organising a big event, but I had passion and this is what AEGEE does to you in the end: it pushes you outside your comfort zone and gives you confidence in yourself… speaking of confidence, now I wonder if perhaps the next experience was my best experience in AEGEE. I am thinking about: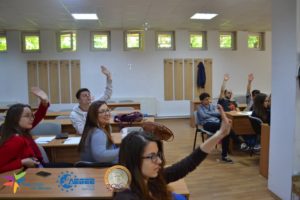 The Conference named: "A Borderless Europe: A blessing or a burden?" 
The people, the topic, the discussions, making new friends or the fact that an amazing European conference was taking place in my own country. I do not know what made it a memory that always puts a smile on my face. This conference was a perfect way to practice my English and to share my ideas, my solutions about Europe and the European Union, because this event was really challenging from the beginning until the end. Once again I was meeting extraordinary people, with captivating life stories and funny, addictive AEGEE stories. I was sitting in a room, on a basic blue chair, but at the same time I was traveling around Europe, because a German guy was telling me about the economical situation in his country, an Italian girl was describing the famous Italian food and a Croatian girl was sharing a small part of her Croatian sense of humour. Events like this bring the following phrase to life: "I was like a kid in the candy store", because I wanted to hear more stories, to discover more countries and cultures, to meet new people, to make new friends and to get more involved in AEGEE. And I did it. Five days after the conference, I was traveling to Bergamo and I think that this was truly my best experience in AEGEE.
Helper at Agora Bergamo
A thousand people were walking into a gym. No, this is not the beginning of a joke, it was the Spring Agora 2016. Bergamo was the place were the word "overwhelming" was not enough to describe the feeling that I had as an Agora newbie. The story started like this: I got accepted as a helper, booked a flight alone, in a country I never visited before, at the biggest AEGEE event… a normal day, right? I am a person that likes to talk and to write, so words are like my super power, but when it comes to expressing my gratitude towards AEGEE-Bergamo, I am at a loss for words. From the first moment, I was considered a member of the AEGEE-Bergamo family and those ten days spent there were the funniest, most challenging , crazy, extraordinary days so far… but this is still not my best experience in AEGEE.
In the past year , since I've joined AEGEE, I am sure of the fact that my best experience is AEGEE is a puzzle made from the small moments, the small steps outside my comfort zone, and the new friendships. The best experience for any of us can be just around the corner. Take any opportunity, book a flight to a new country, dare to experience a new culture, because a small thing can make a big difference!
What about your best experience in AEGEE?
Written by Violeta Croitoru, AEGEE-Iași