Do you remember that feeling, from when you were a kid, and you were looking forward to something so much? Well, that was me, waiting for my Interrail ticket to appear in my mailbox and to start my summer adventure. Article sponsored by Interrail.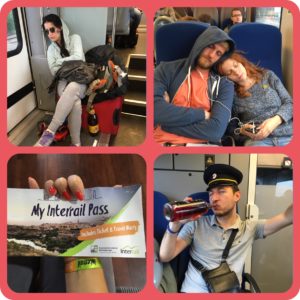 My name is Lucia and I am member of a youth organisation called AEGEE, which is a proud partner of Interrail. One of our projects is the Summer University (SU), a youth exchange, full of cultural activities and non-formal education happening throughout different cities in Europe. As its project manager, I spent my summer travelling around and checking up on its quality and meeting new people.
My trip with Interrail started in Belgrade, where I arrived from Cyprus after checking up on my first Summer University there. Directly after meeting thirty new people and spending some time on sunny beaches I arrived to hot Belgrade and met another forty people. We saw Belgrade, played many ice-breaking games and went to enjoy the nightlife, but since my trip was tightly scheduled, I already had to take a train and move on to Novi Sad the day after.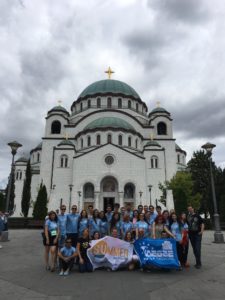 Novi Sad is another nice city in Serbia, where I met forty new people, participated in new sessions and trainings and visited another city to put on my travel map. After moving back to Belgrade, I took a night train towards Ljubljana. To my surprise, a conductor placed two other young girls from Norway with me in my coupé and we spend these ten hours together. They told me stories from their travels and I advised them on what to see in Slovenia.
Unfortunately, sometime during the night, while I was heavily sleeping on the train, somebody stole my money from my wallet and almost caused me a heart attack when I could not find my backpack during the passport control at the Croatian border. Not a nice experience, but a learning one for me to always put my valuable things into my sleeping bag, mainly when crossing non-EU borders.  In Ljubljana, we visited the amazingly beautiful lake Bled, which I definitely recommend to everybody to see at least once.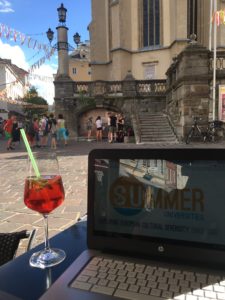 My last Summer University to visit was happening in charming Udine, in Italy. On the way the I met with two Swiss girls – also Interrailers – visiting the same cities as me! I again gave them some tips on where to go, as they were on their way to visit also Bratislava, my home city. I had to change train in Villach, a small Austrian city and I was simply amazed by its beauty and relaxed atmosphere. Udine was really beautiful and charming and I met another forty young people, I definitely recommend visiting it!
After some rest at home, I used Interrail to also visit many beautiful cities in Germany, which is a huge country offering many travel possibilities and great train connections. I visited many cities in Saarland, on the border with France, and the French influence was really visible. Moreover, I also visited the centre of Germany, Kassel, and also Berlin of course.
For my last trip, I went to Prague, my most beloved city, where I met an incredible number of Interrailers, mainly on the free city tours and on the trains around. I talked to many of them and all of them praise the advantage of traveling with Interrail – being flexible and free.
To sum up, my summer simply was the Summer of My Life, thanks to Interrail and AEGEE!
This is a three part article; for part two, click here, and, for part three, click here.
Written by Lucia Gavulová, Summer University Coordination Team