Up in the north-western part of Europe, there is AEGEE-Manchester, one of the few locals in the UK and one of the youngest in the network. From the 4th to the 7th of November, the English local will host the Autumn Network Meeting (NWM) called "Reconnecting Europe". We asked the Network Commissioner, Pablo Palazón, and the Main Organiser, Bryn French, some questions to find our more about this meeting.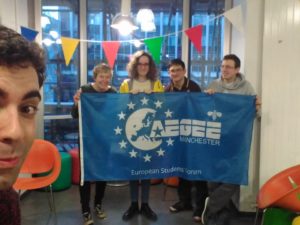 Why did you chose Manchester as the hosting local? 
Pablo: AEGEE-Manchester was only founded a year and a half ago, in an area of the network with little representation of AEGEE. They fought really hard to become an active antenna. Last year, they organised a Regional Training Course (RTC), and were ready for new challenges. They managed to have a nice application and even raised 1000 euros as funds for the NWM; I couldn't say no to such a group of motivated people! It is the first NWM in the UK since Spring NWM London 2012, and hopefully we will see more events from other antennae nearby [he smiles, ed.].
Why did you decide to apply for hosting the NWM?
Bryn: In May, one of our members was elected to be a Network Commissioner, and we thought that with a NetCommie from an UK antenna it would be better to also have a Network Meeting in the UK.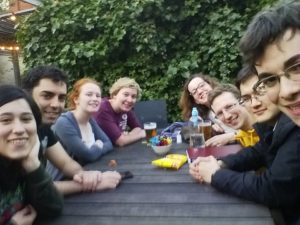 How many participants do you have?
Pablo: We have 26 lovely participants, together with five organisers, Secretary General Katarzyna Sokołowska and myself.
What will be presented during the sessions?
Pablo: The sessions will cover diverse topics, such as human resources, how to divide the tasks in a board, event management, problems that different locals are experiencing etc…. Additionally, this NWM has a thematic part: we will be discussing some aspects of Brexit, the impact that it might have on youth, and whether we think it can happen in other countries.
What is in store for participants (facilities, meals, social program)?
Byrn: We start the programme, at the University of Manchester, with a Brexit Question and Answer session from a professor of politics, a board member from the European Movement, and with the Head of Student Communications and marketing. These three different points-of-view will start us off on the theme of reconnecting Europe. We will then be staying in a historic building in the countryside, in an ancient hamlet called Mankinholes, where our remaining training sessions will take place, as well as all of our home cooked cuisine and social programme. We will have a European night, a British night and a James Bond Casino night, so we are doing our best to keep our programme authentic and local! I always like to give participants maximum satisfaction, and those people, who have experienced the hospitality of AEGEE-Manchester during the Y Vote Bus Tour 2014, RTC 2015, Election Observation Mission or Europe on Track will know that we deliver. Participants can expect a very welcoming and friendly team with good organisation and communication!
Who will be the trainers?
Pablo: Sessions will be delivered by Kasia and me, and an additional three participants are going to give workshops: Alexia Thomas on Civic Education, Philipp Blum on Summer Universities and Daria Shcherbyna representing the Events Quality Assurance Committee (EQAC).
Bryn: The core organising team is composed of John (Treasurer), Silvia (Incoming Responsible), and myself (Main Organiser). Our other helpers from AEGEE-Manchester are Lorna and Claire. We have a lot of different expertise between us – newer members and older members – but together we are a brilliant team and I have enjoyed coordinating everyone and working together.
Did you apply for any fund or did you receive any help from the university?
Bryn: As a student society at the University of Manchester we are able to apply for a special project funding. John and I had to give a presentation to a funding committee, as well as to other student societies to explain why we wanted the money. We were successful, which meant we were able to hire an exclusive venue in the countryside for all the participants for the whole weekend.
Bryn: Since I moved to Manchester, I have so many good things to say about the city, and this is another reason why we applied for the NWM. The people here are friendly, the city is always growing and changing, with lots of buzz about it. It is also very well located within the UK for visiting other cities in the North and it is even just two hours away from London. Apart from the nightlife and activity in the city centre, there are lots of suburbs and also the wonderful countryside less than an hour's travel away.
Written by Erika Bettin, AEGEE-Verona