This year every member of AEGEE can choose from lots of New Year's Events to spend the last days of 2016 with some European friends outside their native city. Many Antennae are planning a NYE, such as: Utrecht, Maribor, Zagreb, Skopje, Naples, Budapest. In this article we will provide you with more information about some of these events. This is part 2. For part 1, click here.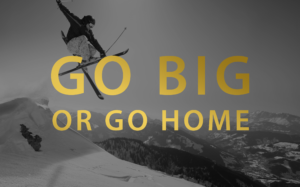 AEGEE-Maribor, 'NYE vol.10'
AEGEE-Maribor's 'NYE vol. 10: Go BIG or go home' is absolutely huge. This Antenna from Slovenia will host more participants than any of the other Antennae will on their NYE: 70. At this event, participants will barely find some time to rest. Besides skiing, which is basically the main activity, they will experience wine tasting in one of the oldest wine cellars in Europe, a trip to Bled where they can take a boat to the island in the middle of the lake, a spa day in Maribor and much more. And if they don't like skiing or snowboarding, that is not a problem. They can choose any of the other bits of the programme like ice-skating, snow games, a trip to Ptuj, one of the best escape rooms in Europe, and more. AEGEE-Maribor is also offering its participants seven epic parties in six different clubs and, most importantly, they will be meeting awesome people from all over Europe.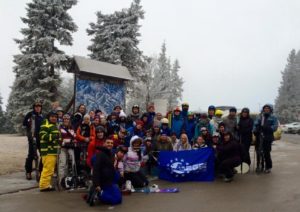 It is a rarity to have skiing slopes right next to a city; at this NYE, you can try your first ski curves with the lovely view of the city of Maribor. And what is better than accommodation in the city centre, which is only a five-minute-walk away form the clubs? Every AEGEE member that already attended this NYE before can tell you that nightlife in Maribor, and Ljubljana, is amazing. This is why the Slovenian Antenna decided to offer its participants a visit to the capital of Slovenia as well. Plus, this year will also be the 10th anniversary of AEGEE-Maribor's NYE.
You can find more information here. Apply for the event filling in the Google form here.
AEGEE-Skopje, 'Win Up'
"Win Up: It's Snow Time Deluxe Edition" is  the title of the NYE organised by AEGEE-Skopje, with help from some very experienced AEGEE members like Ivan Janevski, and Goran and Monika Borovcanska. The social programme of the event is mainly a big surprise. Monika can reveal the same things that everyone can already read in the description, but for  the rest she would really love to see the participants' faces when they experience the activities [she smiles, ed.].
According  to Monika, there will be European Nights (yes, plural [she smiles, ed.]), a treasure hunt through the thrilling city, and very interesting workshops; including a drinking workshop, a snow workshop, a Macedonian Orthodox Christmas workshop. Furthermore, the participants will go ice-skating and wage a snow war. The whole event will be full of interesting games, competitions with lots of surprises, different sports, arts, and more stuff you simply cannot imagine.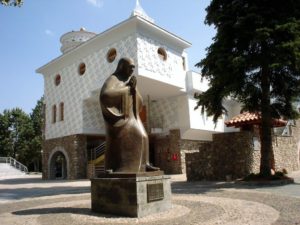 AEGEE-Skopje will provide you with three (or more) meals per day and free drinks. The Macedonian Antenna will show you the modern and the ancient Skopje and, if you wish, you can travel to Sofia as well. They will also take you to the Pirin Mountain at the Bansko Ski resort, where everyone can ski or play snow games, and, when you go back to the hotel, you can relax in the spa. AEGEE-Skopje will host 30 awesome participants.
You can find more information on the event here. Apply to the event filling in Intranet here.
AEGEE-Budapest, "Be the bravest in Budapest!"
The Hungarian Antenna is planning to organise an ongoing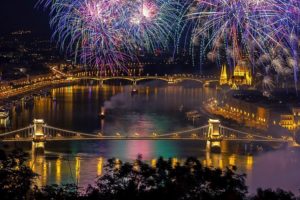 quest during the whole NYE. This means that there will be competitions (challenges, quests, drinking games) where the participants can collect points in different aspects. This does not mean that there will be a first, second and third setting, then everyone will get a title at the end of the event (for instance the most creative, the funniest, the bravest, the loudest, etc…). There are two optional programmes and one of these is a typical Hungarian programme : spa day. This will take place on the first day of 2017. The other optional programme is ice-skating in the beautiful Városliget (popular Hungarian ice-skating place). As for the non-optional programmes, there will be some of the typical Hungarian-AEGEE activities like city-rally (where the participants will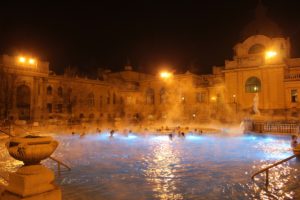 have the opportunity to explore Budapest and its famous attractions), European night, pub-crawl, Hungarian day (Hungarian dancing and cooking lessons). And, of course, wine-tasting. At the beginning there will be ice-breaking games (speed-date), and the organisers will do everything in order to create a friendly atmosphere. Before New Year's Eve the organising team is planning to devote time to write resolutions for the new year and to recall the ones of the previous year.
With this NYE  you can live the unique experience of becoming a true Hungarian and party into the New Year in the historic capital. "You will need your wit and drinking capacity, so get ready for an unforgettable event!" adds Viktoria Patyi.
AEGEE-Budapest will accept twenty lovely AEGEEans and four helpers from their twin antenna, AEGEE-Heidelberg. You can find more information about the event
here
. Apply to the event filling in Intranet
here
and Google form
here
.
Written by Matteo Lai, AEGEE-Cagliari