If you attended Autumn Agora Chișinău, you might have seen this girl with distinctive blonde curly hair and blue eyes giving you badges, running around the plenary hall and always smile to everybody. She is Ana Gancearuc, part of the core team and Incoming Responsible of the Agora. Her efforts, along with the entire team, didn't stay unnoticed and she was nominated as our Member of the Month of October. We asked her some questions and here is the interview!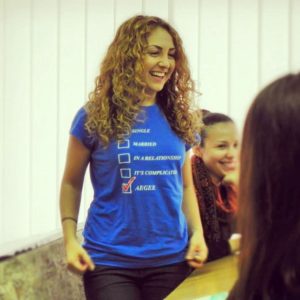 The AEGEEan: Congratulations! How does it feel to win this award?
Ana: Wow! I didn't expect it at all, I'm pleasantly surprised and thankful for those who thought of nominating me! I feel really honoured, thank you AEGEE.
Who is Ana? What is her story in AEGEE? 
Ana has been a member of AEGEE-Chișinău since 2010, after helping organising the Summer University that year, and attended my first Agora in Istanbul, I started to understand what AEGEE is really about.
Then I continued by helping organisng many SU's (but I had never been to a SU as a participant before), LTC's, RTC. I was a board member in 2011 and 2015, continuing with MedCom for 2015-2016 and Autumn Agora Chișinău 2016.
What is your life besides AEGEE?
On a daily basis, I work full time for a telecommunication company, Orange Moldova, as a human resources administrator for the International Operations Department. It means that I'm doing HR work for a British telecommunication company and I love it.
Besides work, I'm trying to have a healthy lifestyle. From nutrition to exercising, activities and time outside spent wisely, I'm a runner and a swimmer, I have done a couple of marathons, and maybe one day I will get to do a triathlon – if I get to practice biking more often [She laughs, ed.].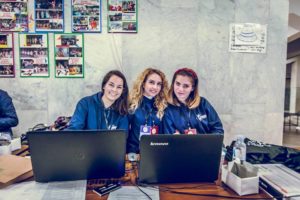 Describe your personality by using the initials of your name(s).
Oh that's a good one! I don't know, maybe the following:
Ambitious
Nice
Altruist
You worked a lot for Autumn Agora Chișinău. What was the best moment? What was the most difficult thing you experienced?
It was a lot of work, indeed. And I took the Agora very personally, maybe because being a member for six years now,  I had never thought we would have the chance to organise an Agora in my hometown. I had to do my best and give it all for a successful event. It was my sixth Agora and I had seen how other events were organised before, how tired and exhausted the organisers were from previous events, but never stopped smiling or helping when needed. I knew from the very beginning what I was stepping into, when I accepted to be part of the core team and to be the Incoming Responsible of the Agora.
The best moment was seeing people happy about the event, their unconditional love and support meant a lot for me. The hardest moment(s) were the sleepless nights. I didn't even know which day it was and for me, Agora passed so fast that it seemed like one long day.
Are you happy about the results and proud of them? Would you change anything, looking back?
I am very happy about the results of my team, my dear local antenna and all the organisers from the All Stars Team that did a great job!
If I would change anything… I don't think we had major incidents, but if I would change anything, I would maybe like to have had less tension if possible, and I would have loved to have more sunny warm days, but we can't control that unfortunately. Overall I'm happy about everything and I would do it all over again. It's post Agora nostalgia!
You recently finished your one year term as Mediation Commissioner. How was the experience? What did you learn?
It was a great experience with a great team on board. As a Mediation Commissioner, you see things from a more inside point of view and you have a better opportunity to perceive things. I can not reveal much, but I think I grew a lot by learning about the situations, issues or conflicts that occur in AEGEE. As an advisor and mediator you have to come up with the best solutions and at the same time not interfere with a personal thought or idea (as mediator you have to stay neutral).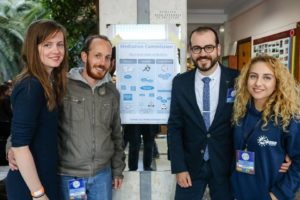 Name one good thing and one bad thing about AEGEE.
Good: AEGEEans, it is because of them that I am still a member of this amazing association.
Bad: Time. We need to allocate proportionate time in order for it to work actively, productive. When you are a student, you can divide your time perfectly, in my opinion. Once you are employed full time, unfortunately you have much less free time and other priorities take over. But that should not be an excuse or a bad thing after all, many of us can combine both just fine and we have many good examples of that in AEGEE.
If you could change anything in the association, what would it be?
At the Agora, I saw many AEGEEans, who weren't informed at all about what an Agora is and what their responsibilities are as a delegate. Many of them were emailing the incoming team, asking them to explain them their duties as a delegate or what Agora is. It would be very good if each board that is elected in every local, enlighten themselves about everything that is happening in our association, what it is, what we do and why, and then inform their members who go to big events to represent their local. Perhaps more trainings about it, regional training coursed with their elected NetCommie or different exchange workshops where more experienced members can share their knowledge with the newbies.
There's always something to work on, especially when AEGEEans are elected for different AEGEE positions. New brilliant minds make changes and bring something new and fresh to the association, and I respect that a lot.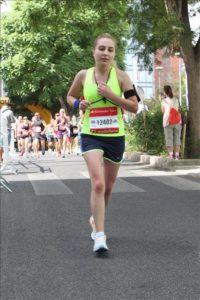 What are your future plans for AEGEE?
That is a tough one.
Before Agora Chișinău I was 100% sure that after the event, I would resign from AEGEE and let the youngsters take control over the local. For now, I would prefer to stay aside and perhaps participate here and there in some events. I found an interesting training for this winter and I might go if I get selected. Maybe I will attend one more Agora, the one in Enschede. It's just that I love the Netherlands and it's a great opportunity to go back there, especially because Dutchies are great organisers. I can confirm that after participating in the EPM in Leiden this year.
I'd like to focus more on my career and personal life for now, but I'm always available if my antenna or AEGEE-Europe needs me.
Written by Erika Bettin, AEGEE-Verona