For a second the possibility of having the Mediation Commission composed only by one person, Damien Latacz, seemed to be reality. Although it would have been fun to imagine him arguing with himself on the Mediation Commission cases, luckily one more person stepped up. The Mediation Commission 2016-2017 is now composed by Damien Latacz and Petra Burusz. He is a polar bear from AEGEE-Aachen (and also Düsseldorf and Hamburg!). French with an engineering soul, he is in his second term as the President of Mediation Commission and he enjoys cooking, hiking and reading. Petra Burusz is a Sociology and Social Psychology student and she is writing her thesis on AEGEE. Unable to spend more than one week in her home country Hungary (she is a member of AEGEE-Budapest), because she is addicted to travelling. They work closely also with the President of the Juridical Commission, Monika Mojak (AEGEE-Lublin) and CD observer, Maarten de Groot (AEGEE-Amsterdam). What is the Mediation Commission? What do they do? We asked them these questions and much more.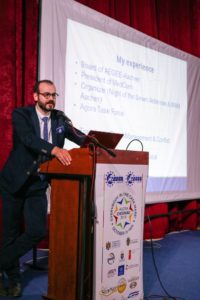 The AEGEEan: First of all, Damien, why did you decide to run for a second term?
Damien: On a personal level, I really like working in the MedCom. It is challenging, but we take our time to provide convenient help to people. I just like it. And there were still some projects and ideas I wanted to work on.
For Petra, why did you decide to run for the Commission? And why only during the Agora?
Petra: I would say the decisions are the best. Honestly, I climbed up in the ladder at the local level, but I thought I needed more challenge. According to my studies as well, I am pretty interested in solving problems, and there was the Open Call for the MedCom during the Agora. So I just made the puzzle.
Let's pretend to explain what the Medcom is and what it does to a child. How would you describe your commission?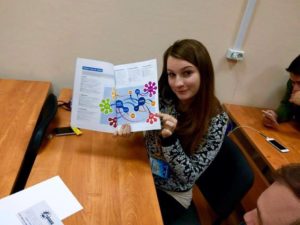 Damien: When two people are fighting and cannot find a solution alone, they ask us for help. We check that they both respected the rules, we talk to them until we understand them both and we try to make them understand each other. At some point, we have an understanding together and they can both continue working happily, without frustrations. That is basically what we do, at a different level of difficulty! Is that easy enough?
Petra: Imagine there is just one bar of chocolate for five children. These five children are yelling at each other, one becomes aggressive to get the whole bar of chocolate, one of them even hits the other one, a child tells this to the teacher and then the MedCom comes and speaks with all the five children separately and have conversations till they are able to find a solution that is good or acceptable according to their rules as well.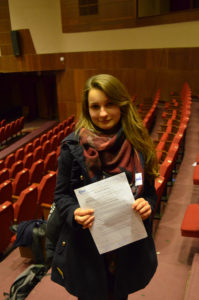 How did the Knowledge Transfer go?
Petra: Right after the elections at the Agora Chisinau we had the last dinner together with the old MedCom and the new MedCom team, and I got to know everything, really everything. First, I thought that there was too much information, but everyone was so kind and helpful to me, and all my doubts flew away. Later on, of course via Skype, we looked up everything step by step. And Damien is there to answer my questions when I need it.
What will the focus of this year be for the Medcom?
Damien: As we are working with only half a team, we had to make choices… So we will continue helping the implementation of the Data Privacy Policy Statement (the Committees are next for Enschede!), we will continue providing support to people asking for our help. We will try to give some workshops and increase the knowledge of the network. But this is already too much for only two people!
How important is the concept of the Mediation, the Conflict Management and the Conflict Resolution in AEGEE?
Damien: I think people underestimate how difficult it can be. Sure, we learn about multicultural communication, etc, but we should go one step further by trying to actively improve ourselves on these topics. I have seen conflict (at least to a small degree) in every team so far in AEGEE. Even if it is not giving damage most of the time, we do not pay enough attention to it in my opinion. It could make us much happier and much better people.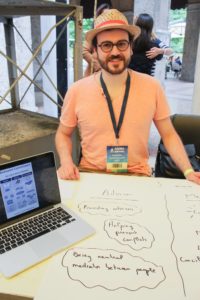 Petra: So many times we are not just able to recognise what the original problem behind is. We can be able to make something differently because the impatient world does not let us stop for a while and think through rationally. Often misunderstanding creates several issues as well and we are just making a mountain out of a molehill. So the mediation and the conflict management lead us to solve the problem and get the point out of it. It is important in AEGEE and in our personal life as well.
What is the typical week for a Medcom Member?
Petra: Our week is from Monday through Sunday. We are both studying and working as well but when we receive a mail, we start dealing with it as soon as possible. But those e-mails are literally unexpected so you never know. Our schedule is also flexible because of it. Furthermore, this year we are trying to attend more events and training so we wake the interest up about this field.
Written by Erika Bettin, AEGEE-Verona