The month of December brought us a new Local of the Month: AEGEE-Eskisehir, a Turkish local that is organising a Fundraising European School with some experienced trainers and is involved in a Project called ''Volunteer Your Future''. In addition, AEGEE members are already preparing their Summer University, this time in cooperation with the Election Observation Project. 
The AEGEEan: After being nominated LoM, tell us a little bit about how AEGEE-Eskisehir began to write history.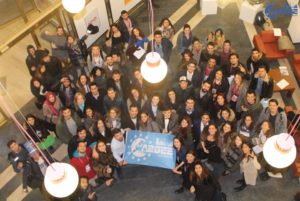 AEGEE-Eskisehir Board: AEGEE-Eskisehir joined the AEGEE network during the Autumn Agora Ankara in 2001 and has a long tradition of organising events that are open to all AEGEE members. From that day on, we had lots of different kinds of events and projects. We do not think to write all of them individually. For example, in 2005, we organised our second biggest event called "What is Europe," an event on what Europe exactly entails and the role of Turkey during the membership dialogue between Turkey and the EU.
The biggest of all was the Autumn Agora Eskisehir in 2007, around 700 AEGEEans hosted by AEGEE-Eskisehir participated. Finally, in 2008 and 2009 we organised the largest thematic event in our history so far; our "Disabled People Project Team" organised the "Empathy Days" – after four years of local success, the "Empathy Days" were included in the 2013 European Boards Meeting in Valletta. We have a long and successful history but still, we work to improve our local and members more!
How did the Meeting of the Turkish-speaking antennas, that took place between 4-5 February, go?
We can say that it was a kind of NWM with Turkish speaking locals. We talked about our issues and every local shared their future plans. According to the results we had from this meeting, we need to do something together to have nice contact as in the past and need to help each other more.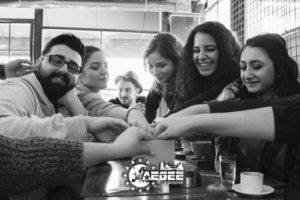 How do you keep your members motivated?
As a board, we try to make our members feel worthful. We want every member of AEGEE-Eskisehir – experienced or new, it does not matter – to feel they belong here. We are working together closely. For sure, enjoying things together! We never say ourselves that "We are friends". As AEGEE-Eskişehir "We are family!"
What did you talk about with the governor of Eskisehir?
In general, boards of AEGEE-Eskisehir go to meet with the governor and mayors of Eskisehir to talk about AEGEE and AEGEE-Eskişehir. We, as the new board, went to meet with him and told him about our future plans. Fortunately, governors and mayors of Eskisehir do not refuse us. They are trying to provide what we need. We are grateful to them!
What is happening next in AEGEE-Eskisehir?
We have lots of plans. For example, in the near future, we are going to have Spring LTC for our members and also members of the other eight Turkish speaking antennas which will be able to attend.
We are also going to have a Fundraising European School with four amazing trainers, between 3rd and 10th of April: Antonis Triantafyllakis from AEGEE-Academy, Daria Andreieva from BEST, Réka Salamon from AEGEE-Europe and Vladislav Andrijako from Euroavia. The participant fee is 75 €, that includes hosting in a villa, three meals per day, amazing sessions in Anadolu University which is one of the biggest campuses in Turkey, city tour, transportation in intracity, lots of fun and surprises! If you want to improve your fundraising skills, do not miss this chance because the deadline is on 23rd of February. So, apply from here!
We also have a local project called ''Volunteer Your Future''. Statistically, knowledge about NGOs and voluntary rate in our country is very low. From this point, we created a project and we will try to raise more awareness about the importance of volunteering.
And of course, the Summer University Project called "Fantastic Elections and Where to Observe Them".  We have cooperated with the Election Observation Project this year, and trainers from EOP will have sessions about the Election Observation's mission and training. We will also visit three beautiful cities and have plenty of activities. So, 15 amazing days are waiting for 25 crazy AEGEEans!
We hope that plenty of motivated members will work for AEGEE-Eskisehir to make it greater. I think lots of surprises will come in the next terms!
Written by Matteo Lai, AEGEE-Cagliari