What first thoughts come to your mind when you think of Switzerland? Cheese, watches, banks, chocolate and crazy prizes for everything. Swiss people are also famous for their precision, perfectionism and punctuality. What else would you expect from people who produce watches?
While planning to go to Switzerland many people choose Zürich as number one city worth visiting. In my humble opinion, you might see most of the city in one day, but if you came for a weekend or more, be ready to pay double price for the same accommodation you would find in another European city. Every city has its own atmosphere and Zürich is a city of business. People in suits and expensive shoes with leather bags always seem to run somewhere. You might find a lot of hipsters there too, but even they look perfect and neat. Parks and public places are very clean and seem a bit unnatural for me because of their aristocratic look.
Paying a visit to Zürich, you might like to visit:
#1 Bahnhofstrasse
If you arrived by train, you might want to walk through this street to Old town. There are a lot of brand stores like Rolex and boutiques in here.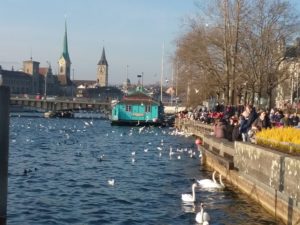 #2 Lake Zürich
Follow down the cosy streets of Altstadt (Old town) with a lot of shops to enjoy nice views of Zürichsee (Lake Zürich).
#3 Flea market "Rosenhof" in Weingasse
It is open every Saturday and there are so many nice things to buy as souvenirs. E.g. a real "Viktorinox" Swiss Army knife for five CHF (four euros 50 cents).
#4 Chocolate boutiques
There are plenty of them everywhere and you might do a little experiment comparing a Swiss chocolate from a boutique for 15 CHF with a chocolate from the nearest supermarket for five CHF.
#5 Frau Gerolds Garden
With warm weather, many people come here to chill in BBQ parties, soothing atmosphere and very nice decorations. A good place to try a traditional Swiss cheese fondue.
#6 Churches
Many tourists feel compelled to visit a church in every city. In Zürich, you have three options: Fraumünster, Great Minster Church (Grossmünster) and Wasserkirche. On the promenade, you will find Fraumünster. It was a female monastery for aristocratic ladies possessed considerable power in the city and even they had the privilege of printing money. The two towers which proudly rise in any picture of Zürich belong to the main cathedral – Grossmünster, which was built in the 12th century. According to the legend, the Grossmünster was founded by Charlemagne, whose horse fell to its knees at the tomb of Felix and Regula – patron saints of Zürich. The tower of the Great Minster – it is a great place to take beautiful pictures of the old centre. Close to the lake, the church Wasserkirche was surrounded by water (from whence the name), but the subsequently Limmatquai is connected to the church with the land. In Reformation Times, Wasserkirche was the first public library of Zürich in 1634. Having a "place of knowledge" – the Church- thus made a significant contribution to the formation of the University of Zürich in the 19th century.
#7 Kunsthaus (free on Wednesdays)
If you like art, you might love this museum which contains a collection of classical and contemporary art, including several paintings by Salvador Dali, Monet, Picasso and Marc Chagall.
#8 Thermalbad Zürich: From an old brewery to a bathing sanctuary
After a difficult day and if you have three free hours, you would love this SPA. What is special here is that there is a heated open-air swimming pool on the top of it from where you can enjoy the panorama of Zürich at any time of the year.
You have not seen Switzerland if you were not in mountains!
From Zürich, take a train to Lucerne (40 mins) and you will be surprised by the contrast from business to the romantic city. Lucerne is a city of art. It can indeed inspire you to write a sonnet or paint a picture. Somehow it happens that while most of Europeans and Americans walk the paths of Felix and Regula in Zürich, most, if not all, Asians go to Lucerne. Which might be good for you: follow an Asian person in Lucerne to see all the nicest sightseeings.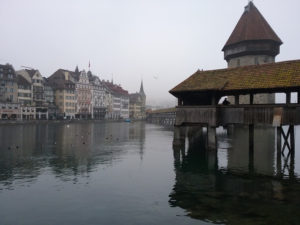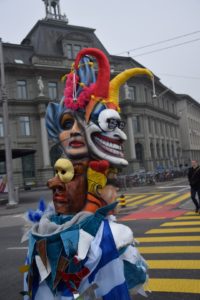 #1 Old town
Even without a guide, you discover most of it because there are so many murals or paintings around, narrating about the purpose of a particular building or historical events.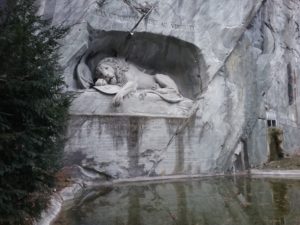 #2 Lion of Lucerne
It commemorates the Swiss Guards who were massacred in 1792 during the French Revolution when revolutionaries stormed the Tuileries Palace in Paris. Mark Twain praised the sculpture of a mortally-wounded lion as "the most mournful and moving piece of stone in the world."
#3 Take a ship from Luzern to visit the Swiss Alps, e.g. Mount Rigi.
You can hike, snowboard and ski from up there or enjoy spectacular views of the Alps at 1,800 metres above sea level. The cogwheel railway leaving from Vitznau is Europe's first mountain railway.
Lifehacks:
Swiss people speak German, but in a Swiss way. So, when you cannot understand what they are talking about, simply ask "Entschuldigung, könnten Sie bitte langsamer sprechen? Deutsch ist nicht meine Muttersprache" (Sorry, can you please speak a bit slower? German is not my native language). However, everyone can speak English there as well.
 You should definitely try traditional Swiss Raclette:  https://www.youtube.com/watch?v=uWcz73qVel0
(It is better to see once rather than describe)
Talk to natives and do not judge a nation by one person. Swiss people might only seem too cold and a bit arrogant, but when you take your time to understand their mentality and try to be polite and courteous, you get to know them better.
And remember a Swiss saying, small is beautiful!
Enjoy your time in Switzerland!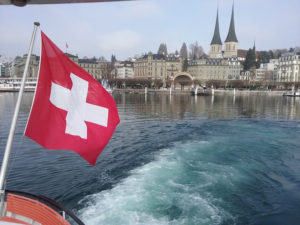 Written by Aliona Sytnyk, AEGEE-Berlin